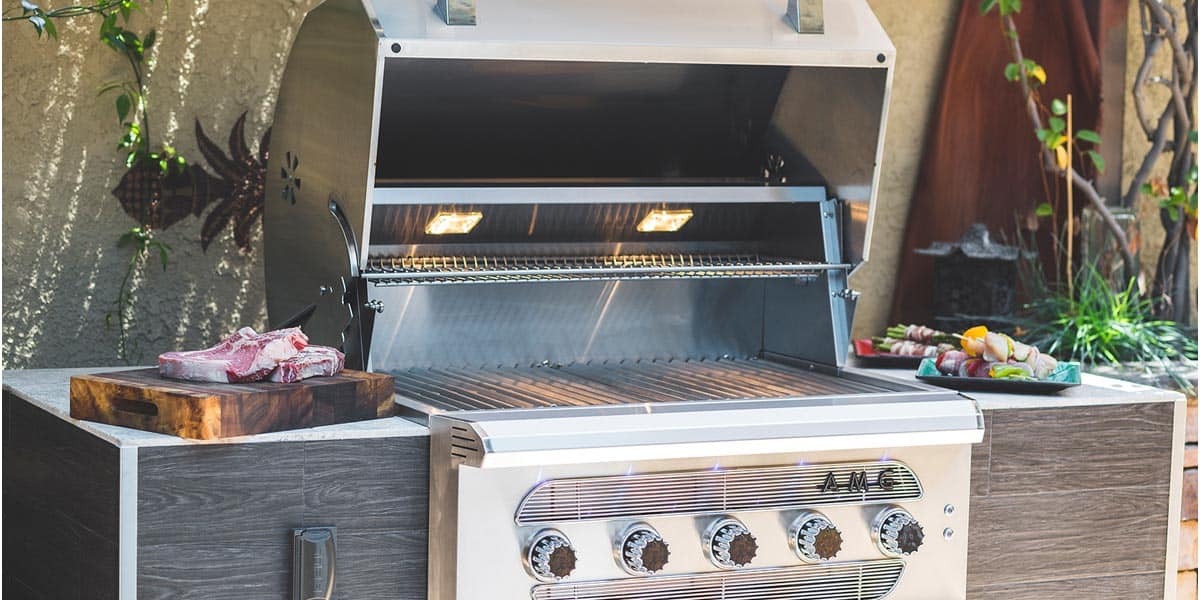 AMERICAN MUSCLE GRILL
The all new American Muscle Grill is a heavy-duty, no-nonsense BBQ that features the ability to burn literally five different fuels. You can do so all at once or separately—isn't that the beauty of choice? "CHOOSE YOUR FUEL" is definitely an important thing to remember. Whatever your preference, wood, lump coal, charcoal, infra-red, propane or natural gas, this monster can do it all. Designed, crafted, tested, and approved in the U.S., this grill is like no other. The 36-inch unit is stacked with 110,000 BTUs of raw horse power, and the 54-inch with a whopping 176,000 BTUs. That means your AMG is ready to cook on within minutes using gas or solid fuels. The AMG has the features and flexibility to be the last grill you will ever need.
Barbeques Galore is proud to be one of a handful of authorized American Muscle Grill dealers in the United States. Come in to one of our stores or call your nearest location for availability and pricing information!
IMAGE GALLERY
SPECS
WORKMANSHIP
Designed, Built, and Factory-Tested in the USA
#304 Stainless Steel Construction
14 Gauge #304 Stainless Steel Burners with Protective Shield
16 Gauge Double-Lined Hood with Spring Assist
ETL Certified (ANSI Z21.58/ CGA 1.6)
Cooking Surface of 1,105 sq. in.
Removable 12 gauge stainless charcoal trays for solid fuel cooking
High air flow design
FEATURES AND INNOVATION
Dual Spark, Solid Brass, Flame-Thrower Ignition
Two-in-One Burner Cover and Multi-Fuel Tray System
Reversible, V-Tech Grates
High efficiency interior cooking lights
Exterior LED Lights
Adjustable Hood Vents for Controlled Smoking
Drip Tray with Easy-Clean Drain System
ACCESSORIES
Available Commercial Grade Rotisserie With 100 lb. Motor
Built in Rotisserie Spit Storage
Infrared Burner can plug and play in 4 of 5 burner positions
Full Width Hood Handle
Comes With Leather Gloves, Grate Tool and Head Cover
CUTOUT DIMENSIONS
35″(w) x 25″(d) x 15″(h)
WARRANTY
LIMITED LIFETIME WARRANTY on hood, basin, front panel, grates, burner covers and fuel trays.
UNLIMITED LIFETIME WARRANTY on stainless steel tube burners.
LIMITED 2-­‐YEAR WARRANTY on valves, rotisserie motor, thermometer, and fixtures.
LIMITED 1-­‐YEAR WARRANTY on all electrical (LED and halogen lighting).
*LIMITED LIFETIME WARRANTY covers defects in manufacturer's materials and workmanship. Warranty claims are valid for original purchaser with proof of purchase and photo documentation of defect. All warranties are subject to manufacturer review.
*Warranty does not cover surface rust or oxidation as they can occur from harsh environments and corrosive chemicals. Warranty does not apply to commercial applications. Warranty does not cover damage resulting from improper installation, abuse, alterations, misuse, or improper care.