Best Outdoor Pizza Ovens For 2022

Authentic wood-fired pizzas are best made outdoors with your homemade pizza dough. Outdoor pizza ovens offer a quick yet enjoyable way to bake a pizza in the nick of time. Although most outdoor pizza ovens will only cook one, maybe two, pizzas at a time, they cook fast.
Begin your search with these top-rated pizza ovens of 2022. There is no better time to update an outdoor kitchen with the best pizza oven of 2022. There are countless new outdoor cooking gadgets out this year that provide a more efficient way of cooking compared to older models of cooking equipment. Outdoor pizza ovens are admirable for their fast preheating times and insanely fast baking abilities. There is no better way to cook the perfect pizza. Looking for a pizza oven combined with a smokeless grill? Check out our new Capt'N Cook OvenPlus salamander grill. Be sure to check out all of our exclusive pizza ovens for sale today!
1. Built-In Look Pizza Oven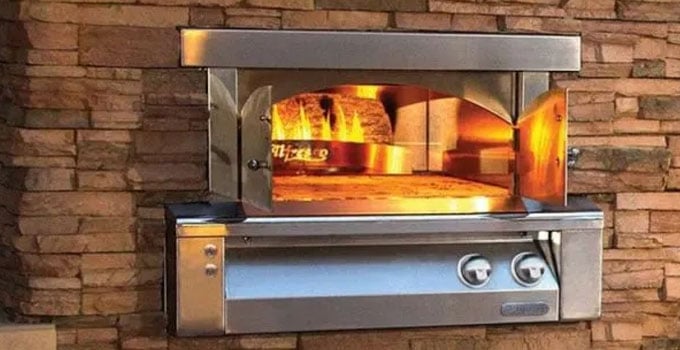 Alfresco Built-In Pizza Oven Plus
The Alfresco Built-In Pizza Oven Plus allows you to do more than just bake pizzas; with the Alfresco, you can roast, bake, or iron-skillet sear food. The preheating time is brief, thus enabling the baking stage to go fast to feed those hungry guests that are lingering and waiting to feast. You can also cook a considerably large volume of food in a short time — Cook most anything, whether it's pizza, steak, a vegetable skillet, or a cheesy casserole.
Reaches over 1,000 degrees Fahrenheit
Gas log burner with 20,000 BTUs
Removable hinges and doors
Double-walled removable top
456 sq. in. cooking space
¾" thick, high-quality ceramic slab hearth
2. Countertop Pizza Oven
Alfresco Countertop Pizza Oven Plus
The Alfresco Countertop Pizza Oven Plus is available in propane and natural gas version ovens. It is an all-around sturdy piece of cooking equipment. Instead of ceramic, the oven is all stainless steel, with a ceramic ceiling and base slabs inside the oven for the best cooking results. It also has removable doors, which is a common need for some chefs who prefer to bake with an open front. With this oven, you can cook quick, 3-minute pizzas or create other pan-seared and oven-baked dishes.
Gas log burner with 20,000 BTUs
Natural gas
40,000 BTUs total
Complete 304 18-8 heli-arc welded stainless steel
8.5-inch opening
Removable hinges and doors
3. Speedy Cooking Oven For Pizza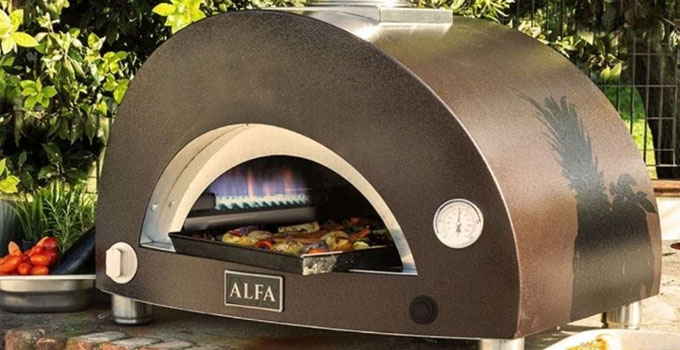 ALFA One Pizza Oven
The ALFA One Pizza Oven cooks pizzas particularly quickly, baking Neapolitan pizzas in 60 seconds after preheating. High-temperature baking is a luxury with more efficient cooking than the function of other outdoor pizza ovens. This is the outdoor pizza oven to buy if you need to cook pizza FAST.
Cooks between 32- and 750 degrees Fahrenheit
Preheating time: 10 minutes
Alfa Forni pyrometer for accurate measurement of temperature
Peephole in the oven door
Double-layered ceramic fiber insulation to prevent overheating
Four oven floor bricks that gradually absorb and release heat
4. Small Outdoor Pizza Cooker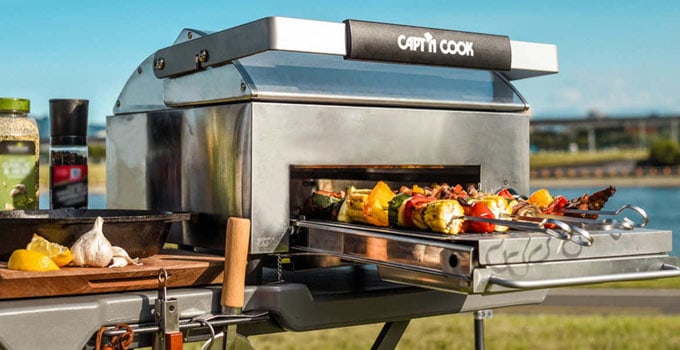 Capt'N Cook OvenPlus Salamander Grill
The perfect combination of a pizza oven and a smokeless grill. It can work as an oven, grill, and gas cooker at the same time. Comes with a free pizza cutter and peel.
Multifunctional - Pizza oven + stove and top-down gas grill combined
Butterfly Burner: No flare-ups
Energy-Efficient: 20 lbs gas tank can offer up to 20 hours of grilling time
Smart Grilling: Consistent temperature for even heating
Floor height: 20"
The pizza oven grill weighs 27 lbs.
5. Portable Pizza Station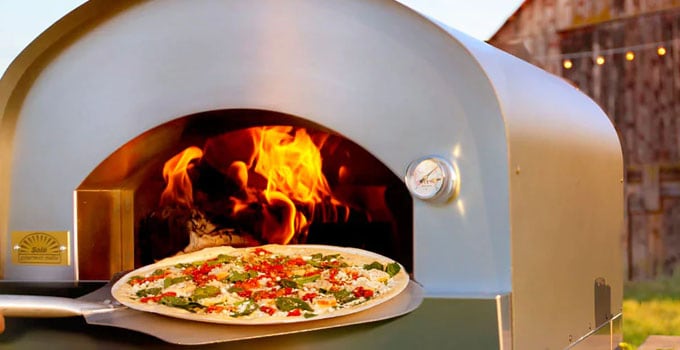 Solé Gourmet Italia Wood-Fired Pizza Oven With Cart
Sole Gourmet Italia Pizza Ovens are built with the finest materials for lasting quality and performance. With a solid weld construction using 3mm stainless steel reinforced with 5mm Corten steel, this pizza oven will give you years of rust-free enjoyment.
Freestanding cart
Wood storage space
Heavy-duty casters
Full 12cm natural rock-spun wool insulation for heat retention
Solid-weld construction
3mm thick reinforced stainless steel
6. Compact Countertop Pizza Oven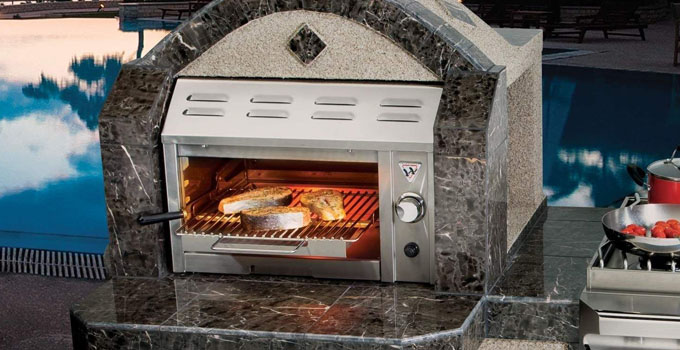 Twin Eagles Salamangrill
The Twin Eagles Salamangrill cooks a regular-sized pizza in 4 minutes and will cook other foods in between 6 and 8 minutes. The burner mounted above the cooking surface where the pizza will be can reach 1700 degrees in 90 seconds.
Propane and natural gas versions available
15,000 BTU infrared burner inside
Rolling cooking grate
13" pizza stone included
Patented technology (U.S. Patent #7,117,866 B2)
Custom vinyl cover included
Best American-Made Grill In 2022
The best outdoor pizza oven overall for 2022 is the Alfresco Built-In Pizza Oven Plus. No other outdoor pizza oven quite has the luxurious appearance and cooking capabilities as the Alfresco pizza oven. It is perfect for brick mounting and creating the most realistically authentic outdoor oven.
All these outdoor pizza ovens are made in Italy and create the best pizzas. Many outdoor pizza ovens can also cook other types of food, like juicy steaks, vegetables, casseroles, bread, and pan-thick pizzas. Nothing compares to the taste of a wood-fired pizza, and the ambiance of using one of the best pizza ovens is unique in itself. Try new recipes and see how fast you can cook pizzas in one of these outdoor pizza ovens. Be sure to explore all of our pizza ovens for sale!