Gas Vs Electric Patio Heaters

You shouldn't have to forego spending time at your outdoor kitchen island during the colder months simply because it is cold outside. Further, you shouldn't have to move the party inside once the sun has gone down, and the warm day has turned into a chilly evening.
This is why you need a patio heater for your outdoor kitchen and patio area. But before you go and buy yourself a new patio heater, consider knowing the difference between a gas and an electric patio heater.
Patio heaters come in different shapes, sizes, and fuel types, so it can be difficult to know where to begin. In this gas vs electric patio heater guide, our experts will help you easily understand the difference between gas patio heaters and electric patio heaters so you can enjoy your time outdoors even faster!
Consider The Style And Size
Depending on the size of your outdoor kitchen and patio area, you may be limited to the size and style of outdoor gas heater you can choose. For this reason, we have put this consideration at the top of the list and have included some of the most common sizes and styles of patio heaters to choose from. When it comes to gas vs electric outdoor heaters, its important to know which type of style and size best fits your home.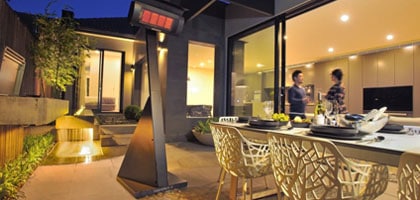 Freestanding Patio Heaters
These patio heaters are not fixed to any object (ceiling, wall, etc.), meaning they are a patio heaters that can be placed virtually in any area or location that it is needed. They require no installation, making them completely mobile and versatile. This means you can take it with you anywhere or move it wherever the guests are.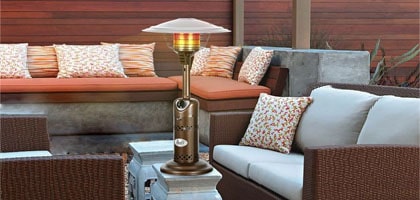 Tabletop Patio Heaters
These tabletop fire pits are placed on a surface, such as a tabletop or counter space, and provide a small amount of heat for smaller settings. They give the appearance of a table lamp, which makes these patio heaters double as table lamps. Their small size also makes them completely portable for camping or any adventure you have in mind!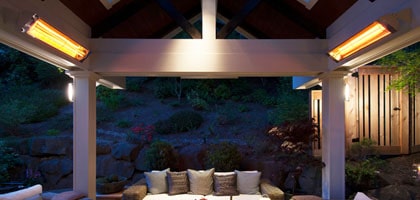 Wall & Ceiling Mount Heaters
These patio heaters require to be installed to a wall or ceiling, making them fixed to the area in which they are installed. The benefit of wall and ceiling mount heaters is that they take up no tabletop area or floor space. The downside to wall and ceiling mount heaters is that they are permanently fixed and don't put out a large amount of heat.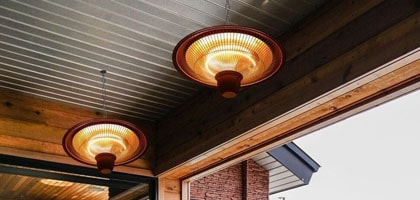 Hanging Patio Heaters
Just like a wall or ceiling-mounted patio heater, these hanging patio heaters require to be installed on the ceiling and are fixed in one spot. These patio heaters act as a hanging light fixture that you would see in a home. Depending on the size of the hanging patio heater, they may provide small or large amounts of heat to your patio area.
Fuel Type
Have you ever asked yourself, "which is better, gas or electric patio heater?" Unbeknownst to most, there is much more to it than just the obvious. An important factor that comes with buying a patio heater is the type of fuel or power it will require. Common gas fuel types are natural gas or propane; otherwise, the patio heater will be powered by standard household electricity.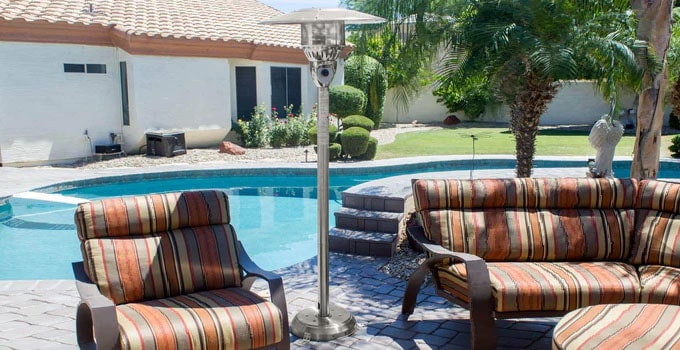 Natural Gas Patio Heater
Natural gas patio heaters require natural gas lines in order to install the patio heater, so this may be an added cost you need to consider if you are thinking about a natural gas patio heater. If your outdoor kitchen or patio is already plumbed for natural gas, this will likely be the most sensible choice for you to make as natural gas produces a large output of heat and do not require refilling the way propane heaters require. As they require a gas line, this means they are fixed in one spot and not portable. You will not freely move this outdoor heater where it is needed or where you would like it to be.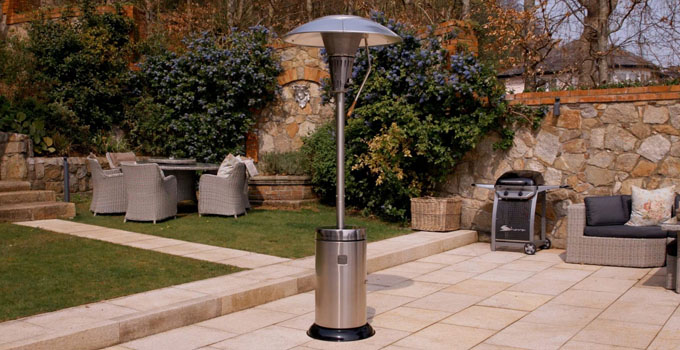 Propane Gas Patio Heater
Typically, propane gas heaters do not require a professional to install, making it easy for you to do-it-yourself. Propane gas is more expensive than natural gas, and you can quickly go through a large amount of propane without even realizing it. A propane gas heater is ideal for those in warmer climates who may not need to run the patio heater for long periods at a time, just during those sporadic chilly nights that are cooler than others. Typically a 20-pound propane cylinder will fuel a propane gas patio heater for about 10 hours, making propane gas patio heaters a costly choice for frequent and prolonged use.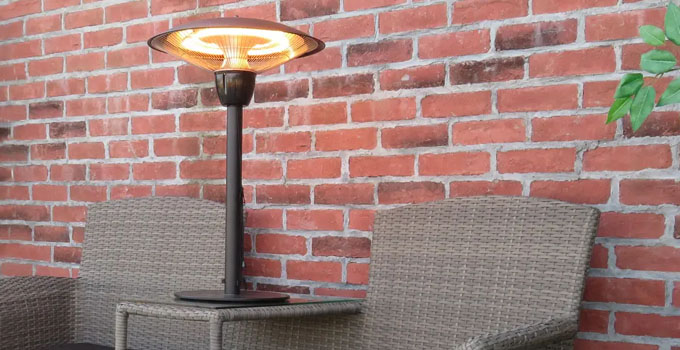 Electric Patio Heater
It doesn't get much more simple and to-the-point than an electric patio heater. Simply plug-and-go. Electric patio heaters are easy to install and cheaper to operate. Electric patio heaters also have a lower BTU than gas heaters. BTU stands for British Thermal Unit, which is the measurement of how much heat is required to raise the air temperature by one degree Fahrenheit. Because electric patio heaters have a lower BTU than gas heaters, the heat that is produced is much lighter than the heat produced by a gas heater. However, electric patio heaters do not require refueling like gas patio heaters.
Things To Remember About Gas Vs Electric Patio Heaters
There are two things you should remember when it comes to the debate of gas vs electric outdoor heater: the average heating area of the heater and if a warranty is included.
The average heating area should be included in the specifications of the heater, but there may also be factors you should consider, such as the average ambient temperature that the patio heater will be heating. This will have an effect on the overall heating area the patio heater can provide.
The other consideration to remember is if the heater has a warranty. Patio heaters are a piece of equipment like any other appliance in your outdoor kitchen and patio area, so it should work properly as well. If you have any issue with your patio heater, a warranty will allow you to get your patio heater fixed quickly and accurately at little to no charge to you, as long as the repair is covered.