Best Outdoor Dining Sets for 2023
The Best Outdoor Dining Sets For 2023

The best outdoor kitchen layout is not complete without a set of dining chairs, outdoor loungers, and a weather-proof coffee table.
Many of the larger hardware and gardening stores sell dining sets, but they often do not have every set available in-store or do not have many options available, in general. The best outdoor dining sets are found online, especially in the year of 2023.
Here are the top-rated outdoor dining sets for 2023, all their features, and the best way to use those sets according to their best attributes. Pay attention to the layout and included pieces for each outdoor dining set and think about how the furniture will fit in with your patio dining space.
Some dining sets will make a living area look cramped and small, while others give it more visual space and comfortability; it all depends on your space.
1. Best Contempo Outdoor Dining Set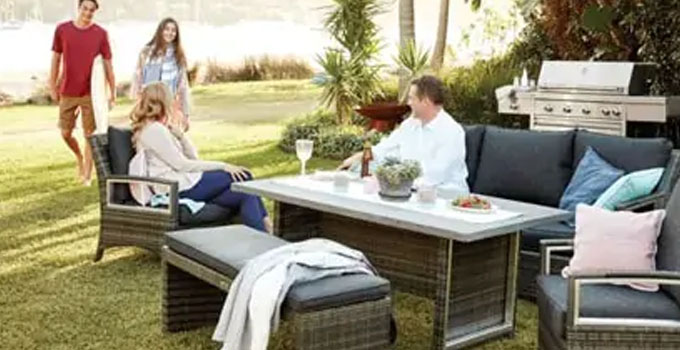 Contempo 5-Piece Lounge Dining Set
The Contempo 5-Piece Lounge Dining Set has a subtly basic design and color scheme with gray cushions and light gray furniture structures. There are no exotic colors, but the design of the dining set speaks for itself because of the shape and ultimate comfort it provides.
Concerning placement, this is the perfect type of dining set you might want if you have an extraordinarily colorful garden or landscape nearby.
Includes: a sofa, two lounge chairs, a bench, and a Spraystone dining table
Rust-resistant
Aluminum framing in furniture
High-density seat foam under the fabric
Plush poly-fill back cushions
2. Best Summerset Outdoor Dining Set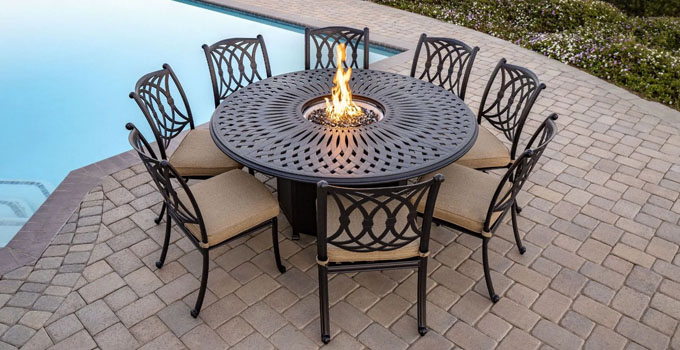 Summerset Dining Set Seraphina
Transform your backyard into the perfect entertaining atmosphere with the brand new Summerset Casual 64" Round Dining Table w/ Fire Pit right in the middle and 8 Chairs for maximum comfort. The cast aluminum rust-free construction makes these durable for almost all weather conditions.
64" round dining table with fire pit
55,000 BTU heat capacity to keep diners warm
Elegant design and ultimate comfort
Cast aluminum rust-free construction
Fire Table
3. Best Gardenline Outdoor Dining Set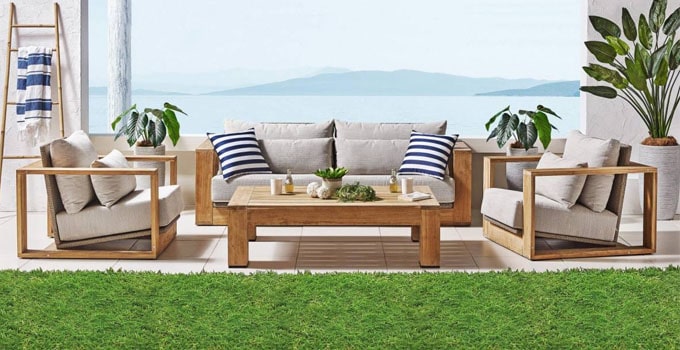 Gardenline 4-Piece Carre Lounge Set
The Carre Outdoor 4-piece lounge set welcomes guests with a 3-seater sofa, two armchairs, and a coffee table. Square profiles are fashioned from teak timber with a natural oil finish enhancing exposed knots and grains made for entertaining, sumptuous foam and fiber cushioning offer impeccable comfort and support.
Frame Material: Teak (3-Year Warranty)
Resistant to UV and harsh weather climates.
Easy to clean, using soap and warm to hot water.
Olefin fabrics are made durable, and resistant to mold, mildew, and moisture.
TTeflon long-lasting thread used in cushion construction
Best Outdoor Dining Set of 2023
The best outdoor dining set for you will essentially depend on the layout, size, and shape of your outdoor living space. Not all patios and outdoor living areas allow for a full-sized sectional couch, two lounge chairs, and a dining table. However, smaller sets are available if that is the problem with your outdoor dining area.
Overall, the best outdoor dining set of 2023 is the Contempo 5-Piece Lounge Dining Set. It has the most straightforward design and can match almost any outdoor eating area. If you are not a fan of dining sets that are elaborate in color and stand-out, then this simple outdoor dining set is what you want.
For a larger outdoor dining set, try the Athena 5-Piece Set. Sectionals are fun to have around a dining table because they encourage more socializing with the guests and create a barrier for the dining area.
No matter which outdoor dining set you choose, remember to think ahead about the decorations you plan to incorporate in the dining space because that could be a huge determining factor, especially if those decorations do not match the cushion fabric or wood color of the furniture bases.
All-in-all, any of these outdoor dining sets could be perfect. Each set is high-quality and weather-resistant, so you never have to worry about the color of the cushions fading or the wood warping.