Best Outdoor Dining Sets for 2022
Best Outdoor Dining Sets For 2022
The best outdoor kitchen layout is not complete without a set of dining chairs, outdoor loungers, and a weather-proof coffee table.
Many of the larger hardware and gardening stores sell dining sets, but they often do not have every set available in-store or do not have many options available, in general. The best outdoor dining sets are found online, especially in the year of 2022.
Here are the top-rated outdoor dining sets for 2022, all their features, and the best way to use those sets according to their best attributes. Pay attention to the layout and included pieces for each outdoor dining set and think about how the furniture will fit in with your patio dining space.
Some dining sets will make a living area look cramped and small, while others give it more visual space and comfortability; it all depends on your space.
1. Best Contempo Outdoor Dining Set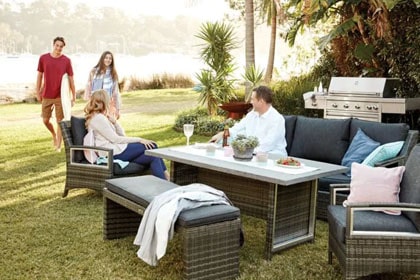 Contempo 5-Piece Lounge Dining Set
The Contempo 5-Piece Lounge Dining Set has a subtly basic design and color scheme with gray cushions and light gray furniture structures. There are no exotic colors, but the design of the dining set speaks for itself because of the shape and ultimate comfort it provides.
Concerning placement, this is the perfect type of dining set you might want if you have an extraordinarily colorful garden or landscape nearby.
Includes: a sofa, two lounge chairs, a bench, and a Spraystone dining table
Rust-resistant
Aluminum framing in furniture
High-density seat foam under the fabric
Plush poly-fill back cushions
2. Best Athena Outdoor Dining Set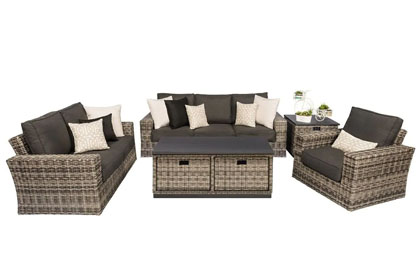 Delta Heat 38" Gas Grill With Infrared Rotisserie
The Athena 5-Piece Set has two pieces of pastel-colored lounge dining furniture with light tan, almost teak-colored, hand-woven wicker bases and frames underneath the furniture. The cushions are grey and take on the tone of whatever color of accent pillows you place on top.
This dining set would look best on a light tan wood flooring of patio or light-colored stones. They could match almost anything, especially in a garden or tropical scene.
Athena Dark Sofa
Athena Dark Loveseat
Athena Dark Club Swivel Chair
Athena Dark Coffee Table
Athena Dark Accent Table
3. Best Ariana Outdoor Dining Set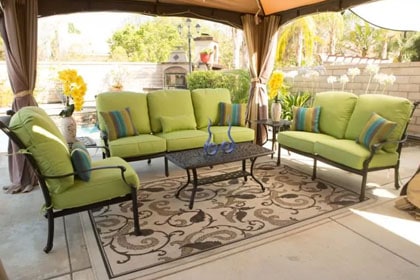 Ariana 3-Piece Set
The Ariana 3-Piece Set is a slightly larger outdoor dining set because it is a sectional, there are a few other pieces you can add on by purchasing them separately.
An important feature to recognize in this outdoor dining set is that the dining table is nice and tall to make eating easier; some outdoor dining sets include more of a coffee table that is short and not ideal for dining, but that is not the case with this set.
Includes: a 3-piece sectional sofa, one lounge chair, one bench, and one dining table
Ariana Deep Seat Sofa
Ariana Deep Seat Love Seat
Ariana Club Chair
Twelve (12) Sunbrella Cushions
Best Outdoor Dining Set of 2022
The best outdoor dining set for you will essentially depend on the layout, size, and shape of your outdoor living space. Not all patios and outdoor living areas allow for a full-sized sectional couch, two lounge chairs, and a dining table. However, smaller sets are available if that is the problem with your outdoor dining area.
Overall, the best outdoor dining set of 2022 is the Contempo 5-Piece Lounge Dining Set. It has the most straightforward design and can match almost any outdoor eating area. If you are not a fan of dining sets that are elaborate in color and stand-out, then this simple outdoor dining set is what you want.
For a larger outdoor dining set, try the Athena 5-Piece Set. Sectionals are fun to have around a dining table because they encourage more socializing with the guests and create a barrier for the dining area.
No matter which outdoor dining set you choose, remember to think ahead about the decorations you plan to incorporate in the dining space because that could be a huge determining factor, especially if those decorations do not match the cushion fabric or wood color of the furniture bases.
All-in-all, any of these outdoor dining sets could be perfect. Each set is high-quality and weather-resistant, so you never have to worry about the color of the cushions fading or the wood warping.