Buying A Gas Grill - Buying Guide

Nothing beats the excitement that comes from getting a new addition to the family. The feeling that you get when you unwrap a spanking new gas grill is out of this world. It's like Christmas morning – on steroids but enough about that.
If you want that warm fuzziness every time you fire up your grill, then you need to choose the best gas grill, or else it could turn into a frustrating nightmare. This guide explores everything you need to know about how to buy a gas grill. Don't go shopping for a new one before you read it!
How To Buy A Gas Grill: Propane Vs. Natural Gas Grills
Before you purchase any BBQ gas grill, you first need to consider what your fuel source will be. This has, in large part, a lot to do with where you intend to place your grill. If you want it on your backyard patio, and there's a gas outlet there, then it only makes sense that you get a natural gas grill.
If this isn't the case and the cost of rerouting the gas line in your home doesn't make financial sense, then a propane tank is the answer to your conundrum, in which case you should get a propane grill.
It is also the only option if portability matters to you but bear in mind that propane costs drastically more than natural gas. If you want the flexibility and convenience of both, then consider getting an LP/NG convertible grill so that you can interchange between both fuel sources.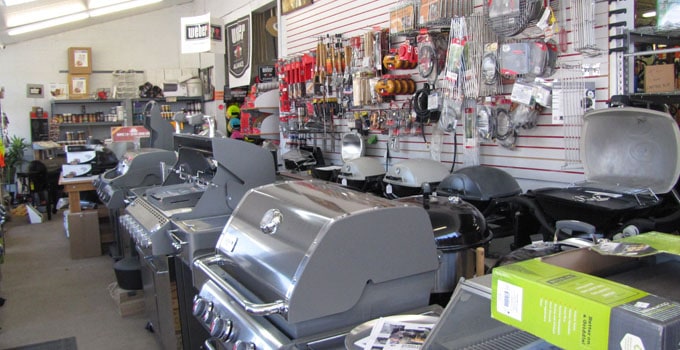 Price
At the risk of stating the obvious, you should buy something that's within your budget. But that doesn't mean buying something cheap and tacky either. A gas grill isn't the sort of thing that you buy every other day. Investing in a good grill means that it could potentially last you a lifetime unless, of course, you're looking to upgrade. The prices of high-quality ones run anywhere from a couple of hundred dollars well into the thousands. The more bells and whistles it has, the pricier it will be.
First, determine what your budget is. You don't have to break the bank to get a new grill, shop for what is in your budget. You can always save up for something you enjoy or, if you're hard up for cash, there are lots of reputable brands that retail for under $300. If you have more money to spend, then the world is your oyster!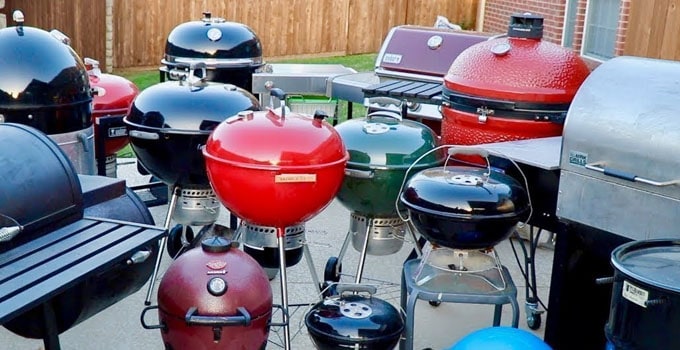 Size
There's nothing more frustrating than having too small a grill when you need to cook a large amount of food. If you know a little something about barbecuing, then you know that grilling meat in batches can be a real drag. After all, you can't have a few people gobbling up juicy, mouthwatering cuts of meat as the rest look on enviously. Besides, having a small grill also means that you'll spend more time than you need to, sweating over it instead of enjoying the fruits of your labor.
The rule of thumb is, if you're cooking for four people, you need a grill that has no less than 300 square inches of cooking space. This figure needs to be of actual cooking space. Some manufacturers include extra rack space areas, such as warming racks as part of the cooking area dimensions. So, keep this in mind when buying a gas grill.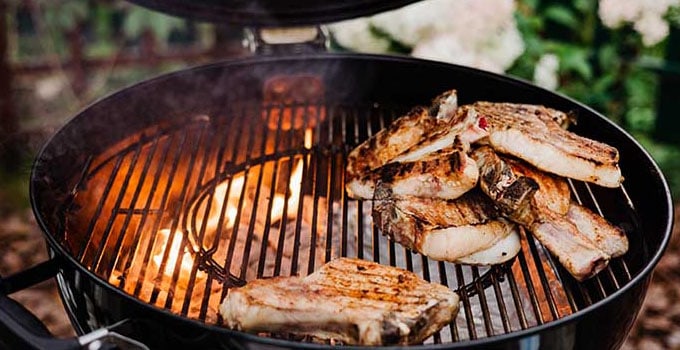 Heat
A higher BTU rating doesn't necessarily mean that it produces more heat. Other factors like size, heat distribution, and retention give a better assessment of a gas grill's performance. For a large grill, you'll need more than one gas burner for even heat distribution, but pay attention to the direction they run. Some run from left to right while others run from front to back. It's easier to set up multiple heat zones when using gas grills whose burners run from front to back. That way, you can arrange foods that require high, medium, and low heat for direct and indirect cooking.
Check for grills that have heat diffusers over the burners. That helps in even heat distribution and protects them from grease. Aluminum burners tend to burn out, cast iron tends to rust. Brass and stainless steel burners are what you should go for.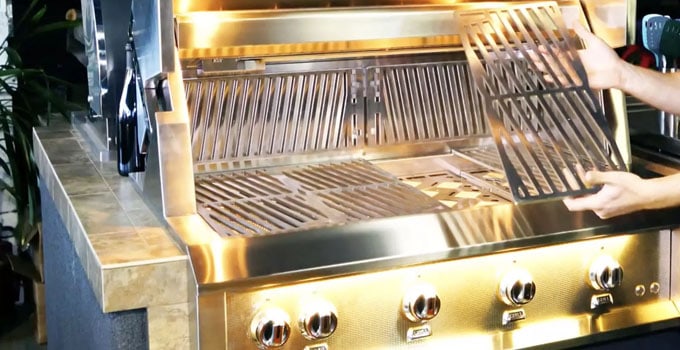 Durability
You'll find a wide variety of gas grills with cast iron, cast aluminum, stainless steel, or enamel-bonded steel construction. Stainless steel and aluminum don't rust. Instead, they discolor over time. Cast iron, on the other hand, retains and distributes heat well but is heavier and can rust if not properly painted. So, pick and choose based on what is most important to you. Nonetheless, you can never go wrong with stainless steel, especially if it has chromium and nickel in the alloy. Bear in mind as well that stainless steel tends to be more expensive than regular steel or cast aluminum.
You also need to consider the general workmanship of the grill. Is it built to last? Are the joints welded together well? Does it have (a lot of) plastic parts? Is it sturdy? All these are important factors to think about when buying a gas grill.
Trust The Process
If you were looking for advice on how to buy a gas grill, the tips detailed in this guide are guaranteed to point you in the right direction. Once you've narrowed down your search, check out the additional features they're loaded with to help you make a decision. Take your time and read the reviews to see what other users have to say about them.
Thinking of buying a gas grill based on the BTU rating? Check out our blog to find out what a good BTU is when choosing a gas grill.