Hestan Grills


Grilling is a perfectionist's pursuit. It is an obsession shared by the engineers, designers and welders at Hestan. Our team experimented, innovated, tweaked and tinkered until they created the most powerful, versatile and reliable grills available. Of course, you also need plenty of refreshment when tending the grill. So the Hestan Outdoor kitchen includes refrigeration and wine storage, as well as pantries, doors, drawers and trash chutes to keep the party tidy.
Hestan
Hestan built-in grills perfect the patio with heavy-duty performance and thoughtful design – earning VESTA awards for Best Gas Grill and Best In Show. Standard widths. Exceptional features. Hestan built-in grills deliver the utmost performance to your custom enclosure with 25,000 BTU burners, infrared rotisserie and LED lighting.
Shop Hestan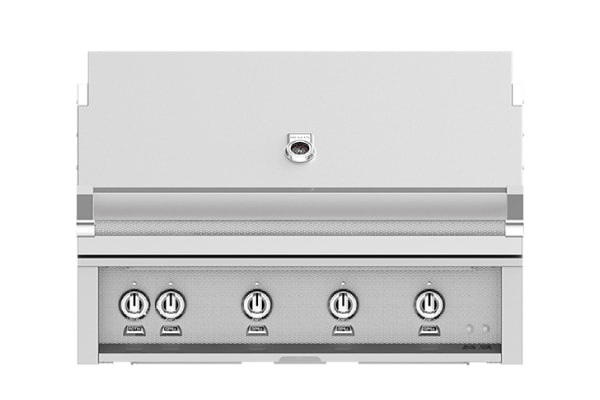 Hestan Outdoor Grill
Hestan deluxe grills deliver high-performance power with superior-grade construction, easy maneuverability and plenty of workspace for food prep. The heavy-duty Horizon Hood™ opens easily and holds place at the desired height for easy access, while the Halogen Stadium Lights.
Shop Hestan Outdoor Grills
Hestan Outdoor Grill Available Colors

Hestan Outdoor Grill Features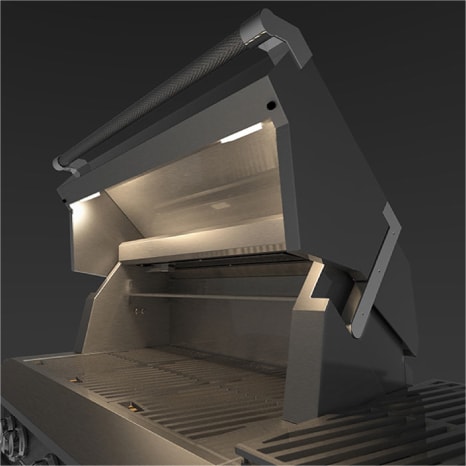 Halogen Stadium Lights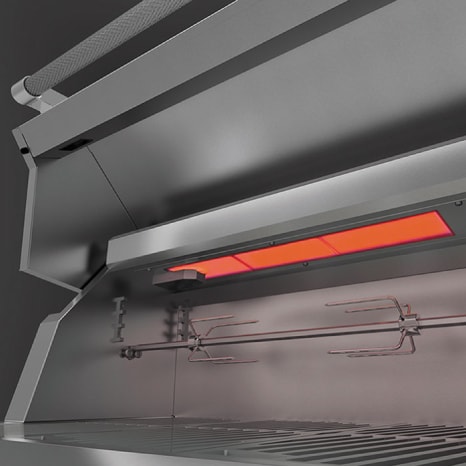 Infrared Top Burner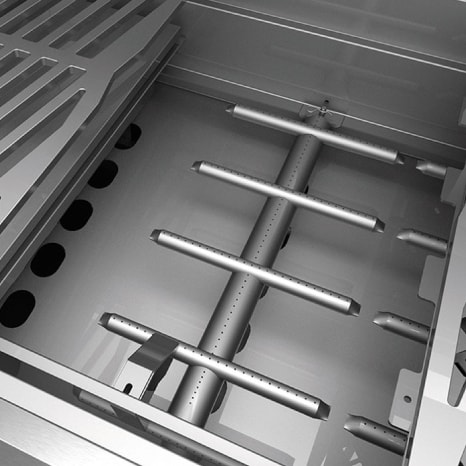 Trellis Burners
Additional Outdoor Grill Features:
Patented heavy-duty Horizon Hood™ opens easily with spring-assisted hinges and holds place at desired height for easy access.
Patented Halogen Stadium Lights™ illuminate the entire cooking area with motion-activated under-hood lighting.
Patented ceramic infrared top burner delivers 12,000 to 18,000 BTUs – perfect for searing/finishing and cooking with the included rotisserie.
Patented Trellis Burner™ design delivers 25,000 BTUs of high-performance power with greater heat coverage and precision control.
Patented DiamondCut™ grates create a superior grilling surface and greater heat distribution with ultra heavy-duty 5/16″ stainless steel (lasered in-house).
Split-shelf warming rack (42" model only) features an upper shelf position for browning and melting under the infrared rotisserie burner, and a lower shelf position for keeping food warm.
High-performance variable ceramic infrared sear burners offer 25,000 BTUs each.
774-square-inch primary grilling surface with 282-square-inch warming rack surface makes room for large cookouts.
Patented flip-to-clean radiant tray with monogrammed ceramic briquettes generates smoky flavor from drippings.
Concealed whisper-quiet rotisserie motor system features a chain-driven, single-speed, 6 rpm, 50 in-lbs motor.
Patented Marquise Accented™ control panel and hood handle with commercial-grade end caps.
Patented stainless steel DiamondCut™ warming rack is lasered in-house with three vertical positions and offers concealed storage when not in use.
One-push automatic ignition system fires up grill with a single click.
LED front control panel lighting makes controls easy to operate even at night.
Available in Natural Gas (NG) or Liquid Propane (LP).
Carbon fiber vinyl cover available.
High altitude kit available.
Trellis Burner™ conversion kit available.
Gas conversion kits (NG/LP) available.
Variable sear conversion kit available.
---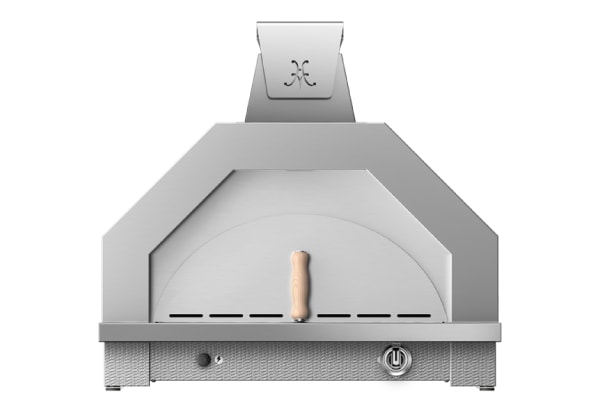 Campania Pizza Oven™
Hestan's Campania Pizza Oven™ turns any backyard into a slice of heaven. Its heavy-duty ceramic hearth stone creates a charred artisan crust, while the unique dome shape traps and recirculates heat for an efficient, even cook. The oven is even perfect for searing steaks and roasting vegetables. Its stainless steel exterior is built to withstand the outdoor elements, while the greaseless interior is easy to clean. Available in twelve signature colors. Stainless steel pizza peel included.
Shop Hestan Campania Pizza Oven
Hestan Campania Pizza Oven™ Features
Raised dome-shape top interior creates recirculation of convective heat to optimize even heat distribution, maximum heat efficiency for cooking, and optimize heat retention. This is combined with the ceramic cooking hearth stone to achieve a crisp base and charred artisan crust.
Heavy duty 3/4" thick ceramic cooking hearth stone designed to achieve optimum heat retention, quick cooking times, and fast turnover between pizzas. The total cooking hearth stone surface area is 23-5/8" W x 19" D (449 sq in) to accommodate both shareable and personal-sized pizzas.
Heavy gauge stainless steel exterior and interior double walled body construction.
Achieve optimal cooking temperatures quickly with industry-leading efficiency and a compact footprint.
Internal baffle design for optimum flue / venting of heat while keeping smoke and heat away from the oven front opening.
Heavy duty industrial-grade insulation completely encapsulates the double walled oven for optimum heat retention, cooking efficiency, and cooling of exterior surfaces
Can be installed as a countertop unit to complement a full outdoor kitchen, or built into a non-combustible structure. See installation manual for more details.
Attractive stainless steel cooking cavity front cover with elegant wood handle which is cool to touch and protects the inside of the oven when not in operation.
Equipped with a safety valve which will shut OFF the flow of gas should the pilot or main burner go out. Once main cooking is complete, the pilot may remain ON when set to the ON position so refiring the burner to cook again is done with ease.
Robust battery powered spark-ignition system with a standing pilot. This allows the unit to not require electricity (non-AGPO33LK installations) for ease of application.
Includes a stainless steel pizza peel to help you safely insert, remove, rotate, and move pizza or other food items around the oven interior.
Includes (4) non marring adjustable legs for leveling on uneven surfaces.
Heavy duty stainless steel flue cap with laser-cut Hestan logo
Patented Zamak die-cast knob for temperature control.
Marquise Accented™ panels.
---
Hestan Island Components & Accessories
Transform your patio into a well-stocked outdoor kitchen with side burners, power burners, storage, refrigeration or the all-important beverage dispenser. Awe your guest and complete the look with matching color panel components.
---
---