Best Kamado Grills For 2023

After visiting the home of your grill-aficionado friend, you may have some very serious concerns about how your grill is sorely lacking. Once you begin exploring the more exotic types of grills, you will begin to realize that conventional stand-alone grills are not so efficient for grilling or smoking.
There is, however, a thing called a "Kamado Grill,"; and they are wonderful. Straight away, their egg-shaped bodies are noticeable, but the shape provides a cocoon-like cooking area for meat and other foods to cook all the way through. All the smoke, juices, and smells get trapped inside the Kamado, cook the food inside to the perfect degree, and out comes amazingly delicious succulent food.
Some Kamado grills have many features, so it is essential to look around and see what each Kamado grill offers. Some Kamado grills are best for maximum cooking space, while others are more for efficient grilling techniques. Any of these Kamado grills could be perfect for your outdoor kitchen. Try out one of these top 6 Kamado grills for 2023 and find out which will provide the best features for your grilling experience.
1. Best Kamado Grill Overall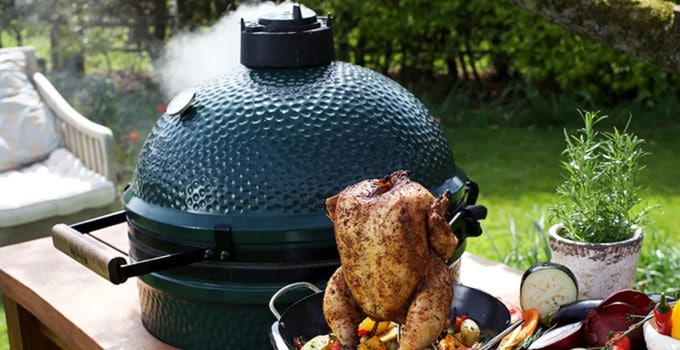 Big Green Egg 18" Large
Large cookout parties require a large cooking grill for all that food. The Big Green Egg 18" Large can handle cooking an outstanding amount of food, with 20-pound turkeys, 6 chickens set up vertically, 8 steaks, or 7 racks of ribs hung vertically in a single grilling session. It can also bake, roast, or smoke food to perfection.
262 sq. in. cooking area
For baking, roasting, or smoking
Weighs 162 lbs.
Grid Diameter: 18.25 in / 46 cm
2. Best Kamado Grill For Parties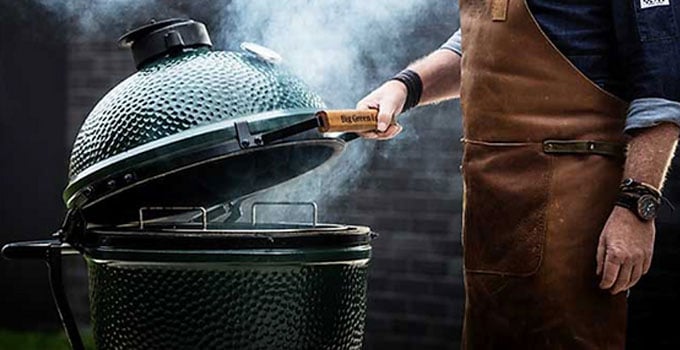 Big Green Egg 24" XLarge
The ultimate portable charcoal smoker, the Green Mountain Grills Trek Prime Smoker Grill with Wifi controller is designed to make your outdoor grilling all the easier. Designed with you in mind, this portable charcoal smoker is perfect for camping, tailgating, festivals, or anywhere you can think of!
2919 sq. cm. cooking area (452 sq. in.)
Weighs 219 lbs
Cooking Area: 452 sq in / 2919 sq cm
XLarge EGG can cook: 2 20-pound turkeys, 24 burgers
3. Best Kamado Grill For Number Of Features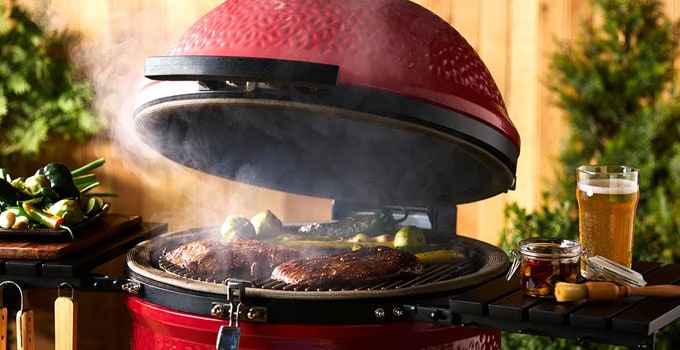 Kamado Joe Classic II 18-Inch Grill With Cart
The Kamado Joe Classic II 18-inch Grill with Cart has an extensive amount of features that make cooking more of a breeze than a task. The multi-level rack design and assisted opening hood make the cooking process simpler than a conventional grill. It also has two side shelves, which are uncommon in most Kamado grills.
Heat-resistant shell
Two sets of grates: 508 sq. in.
Easy-open dome with counterbalanced Air Lift Hinge
Ultra-precise Kontrol Tower top vent
4. Best Ceramic Kamado Grill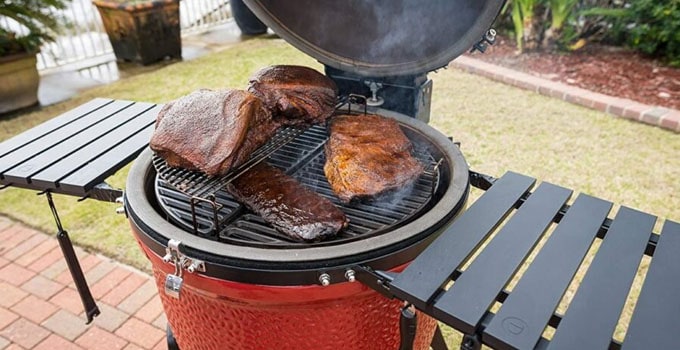 Kamado Joe Big Joe III Grill With Cart
The Kamado Joe Big Joe III Grill with Cart uses the Divide & Conquer Flexible Cooking System – including two half-moon cooking grids and a 3-tiered cooking rack. The overall amount of space you have available to you for cooking in this Kamado grill is upwards of 1056 square inches (with both grates and grill expander).
Includes grate gripper and ash tool
Two half-moon cooking grids
SloRoller insert included
Heat range: 225-750 degrees Fahrenheit
5. Best Kamado Grill For Durability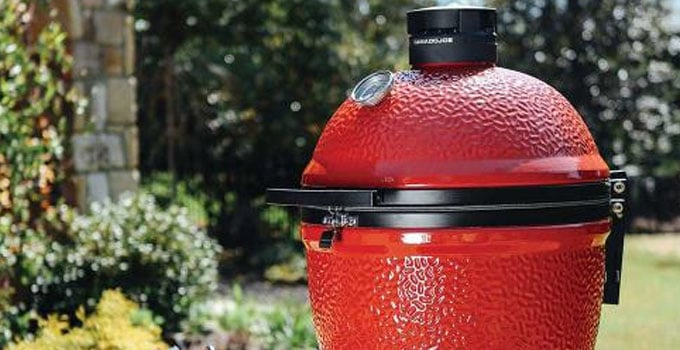 Kamado Joe Classic III 18-Inch Ceramic Kamado Grill
The Kamado Joe Classic III 18-Inch Ceramic Kamado Grill is as advanced in cooking as it is in durability. Its ceramic cast and hyperbolic smoke chamber insert allow airflow to control heat and smoke, making it the perfect culinary tool that not only surrounds food equally with heat and flavor but is built to last. The long endurance of this Kamado Grill along with its 3-tier Divide and Conquer cooking system make this the perfect revolutionary charcoal grill.
Patented Slide-Out Ash Drawer
Heavy-duty Galvanized steel rolling cart
Built-in Thermometer
Cooking area: 508 square
Top Pick for 2023
The overall best egg-shaped grill is the Big Green Egg 18" Large kamado grill. The Big Green has everything you need and just the right amount of space for cooking a table of food. If a larger Kamado grill is what you need, try the 24-inch version of the Big Green.
Durability is a common want in a new grill, including in a Kamado grill. The Blaze 20-inch Cast Aluminum Kamado Grill is the best contender for durability, and it is one of the best Kamado grills for keeping-in heat and overall temperature control. The Blaze Kamado Grill could be the best option for people who live in a rough climate, especially exceedingly-cold environments where temperature control during grilling is difficult.
Most of these Kamado grills are available in-store only. Keep this in mind when you are making plans because you may need to travel to pick up the grill and need a way to deliver it to your home. The extra time will be worth it when you fire up that Kamado grill. They provide a different and better grilling experience than conventional grills.