Kamado Joe Classic II 18-inch Ceramic Grill with Cart - KJ23RHC
Ships in 1-2 Days
When available, usually leaves our warehouse in 1-2 business days
Payments as low as
$45.47
per month.*
Learn more
Short Description:
The Kamado Joe Classic II features a thick-walled, heat-resistant shell that locks in smoke and moisture at any temperature. The easy-open dome includes the counterbalanced Air Lift Hinge and element-proof, ultra-precise Kontrol Tower top vent, while the large cooking surface underneath is crafted from commercial-grade 304 stainless steel. Other featured innovations that come standard with the Classic II include the Divide & Conquer® Flexible Cooking System, the Advanced Multi-Panel FireBox, a heavy-duty rolling cast iron cart, and a patented slide-out ash drawer for easy cleaning. Includes FREE grate gripper, ash tool, flexible cooking rack, and a heat deflector (a $140 value)!
Technical Specs
Dimensions: 46.5" W x 48" H x 28" D
Cooking Surface: 18" diameter / 256 sq. in.
With Grill Expander: 407 sq. in.
With Two Sets of Grates: 508 sq. in.
With Both Grates & Grills Expander: 660 sq. in.
Weight: 188 lbs.
Heat Range: 225°F – 750°F
Includes
Premium 18″ Ceramic Grill with Cast Iron Cart & Locking Wheels
Divide & Conquer® Flexible Cooking System
Air Lift Hinge
Kontrol Tower Top Vent
AMP FireBox
Stainless Steel Latch
Wire Mesh Fiberglass Gasket
Patented Slide-Out Ash Drawer
Built-in Thermometer
Finished Folding HDPE Side Shelves/Handle
Grill Gripper
Ash Tool
Features
Divide & Conquer
Their patented Divide & Conquer® Flexible Cooking System transforms the humble grill grate into the most powerful cooking tool in your arsenal. It's a revolutionary multi-level, half rack design that frees you to cook different foods in different styles at different temperatures all at the same time.
Kontrol Tower Top Vent
Their rust-proof, all-aluminum top vent maintains your exact air setting throughout dome opening and closing, and is fully weather-resistant and rain-proof.
Patented Slide-Out Ash Drawer
While other kamado grills expect you to awkwardly sweep out ash that collects beneath the fire box, the Classic II, Big Joe, and Stand-Alone models integrate a first-of-its-kind drawer that takes the hassles and mess out of emptying your ash.
Air Lift Hinge
The air lift hinge significantly reduces dome weight. The grill dome can be lifted with a single finger giving the most comfortable grilling experience there is.
AMP Firebox
Breakage is eliminated with the new Advanced Multi-Panel FireBox: a six-piece, durable design that radiates and retains heat for hours and hours.
Stainless Steel Latch
The category-leading, ultra air-tight seal of our self-activating latch locks in heat and smoke for the perfect cook.
Wire Mesh Fiberglass Gasket
The all-new, double-thick gasket is engineered to handle extreme temperatures and maintain a superior air-tight seal, with industry-leading heat technology that gives it 10X the life of any other industry gasket.
Warranty
For the Kamado Joe warranty to apply, you must register your grill. All ceramic kamado parts are warranted to be free of defects in material and workmanship for as long as the original purchaser owns the grill. All metal and cast iron parts are warranted for a period of five (5) years. The heat deflectors, ceramic plates, and pizza stones are warranted for a period of three (3) years. The thermometer and gaskets are warranted for a period of one (1) year.
Refer to manufacturers manual for full warranty details.
Customer Reviews
You may also like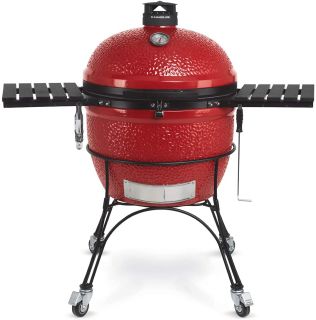 Free Shipping
Special Order
Sale
Accessories Included
Free Shipping
Ships in 1-2 Days
Free Shipping
Special Order