Best American Made Grills

Our American made grills are the perfect addition for your upcoming 4th of July celebration. It's 2022, which means it is time to throw out that old rusted grill on your back patio and upgrade for a highly durable piece of cooking equipment that will maximize the flavor of your food. There is no doubt that gas grills made in USA are the best out there.
There are many American made grills that fit the quota for top functioning features. Whether you need a freestanding, built-in, or drop-in grill, there are plenty of gas grills made in usa available to you. Up your grilling game with your very own USA made gas grills. Take a look at these best American made gas grills for 2022 and think about how you will upscale your cooking for the new decade.
1. Best American Made Gas Grill For Portability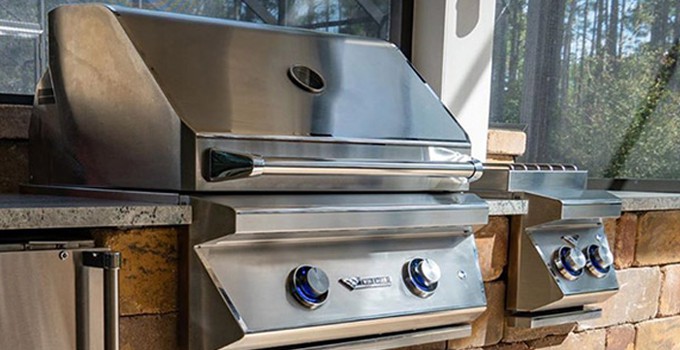 Twin Eagles 30-Inch Freestanding Gas BBQ Grill
25,000 BTUs per burner constructed with 14 gauge 304 stainless steel
Zone dividers with temperature control
Easy-open hood with assist system
Multi-position warming racks
Interior grill lights with hood-activated light switches for evening grilling
Hot surface ignition
2. Delta Heat 32" Gas Grill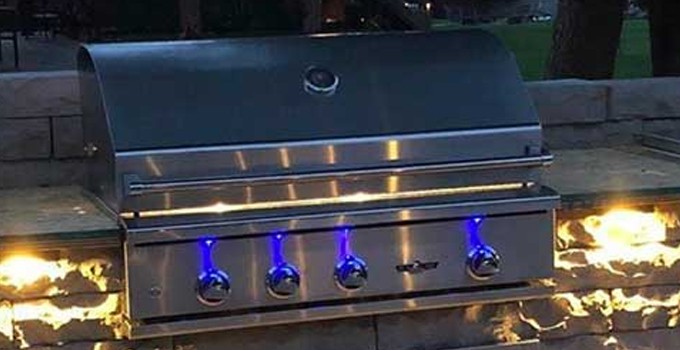 Turbo Elite 4-Burner Built-In Gas Grill
9V electronic ignition for a quick-started grilling session
18-gauge stainless steel U-burners and one IR sear burner
Interior halogen and LED control panel lights for nighttime cooking
525 sq. in. grilling space with 174 sq. in. warming rack
Integrated infrared rotisserie burner
304 stainless steel construction
Easy-to-open hood assist system
3. Best American Made Hybrid Grill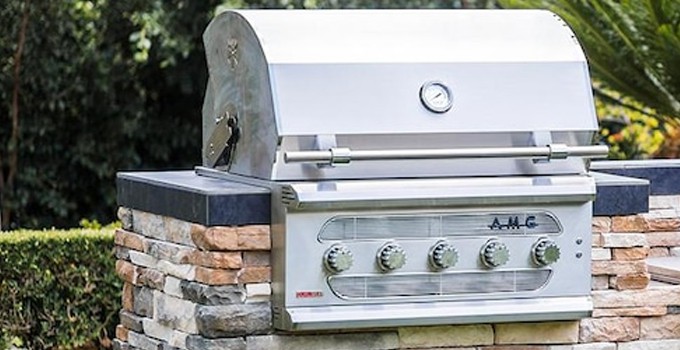 AMG Muscle 36-Inch Freestanding Hybrid Grill
14 gauge 304 stainless steel burners deliver 110,000 BTUs
Designed with five 22,000 BTU gas burners with six solid fuel baskets
Reversible "Hemisphere" Grates
Built-in 3-inch temperature gauge embedded into the hood's exterior
Flame Thrower Ignition
High-quality Vinyl Grill Cover
4. Best American Made Gas Grill For Largest Grilling Area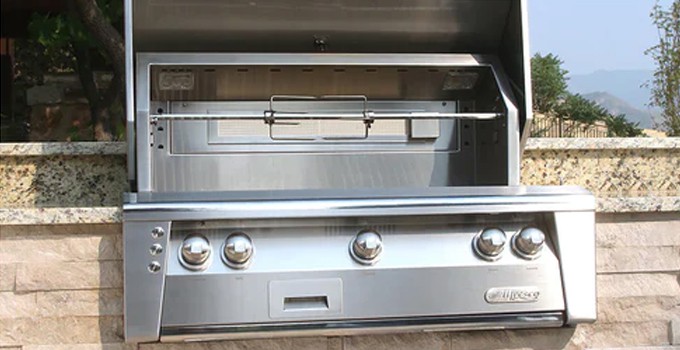 Alfresco 42-Inch Gas Grill W/ Sear Zone
Three 18-SR stainless steel main burners producing 82,500 BTUs
Integrated rear rotisserie system and smoker system
770 sq. in. grilling area
Push-button ignition with sealed 110v AC power source
Spring-assisted hood for easy opening
Made in USA
5. Best American Made Drop-In Charcoal Grill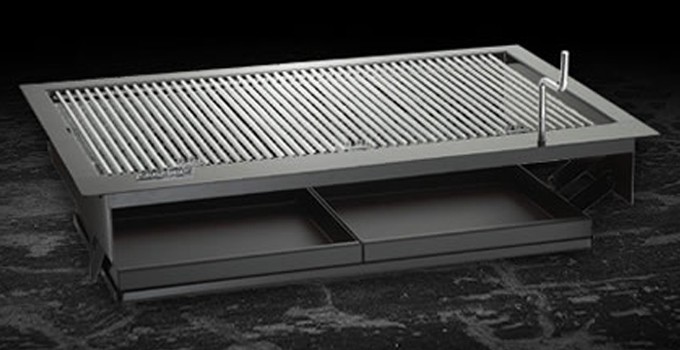 Firemagic 30" Firemaster Drop-In Charcoal Grill
540 sq. in. cooking surface
Heavy-duty
Durable black powder coat enameled steel
Easy access front door to add charcoal or wood chunks
Designed to drop into the top of your island
Crank handle for adjusting the height of the charcoal pan
6. Best American Made Built-In Gas Grill For Rotisserie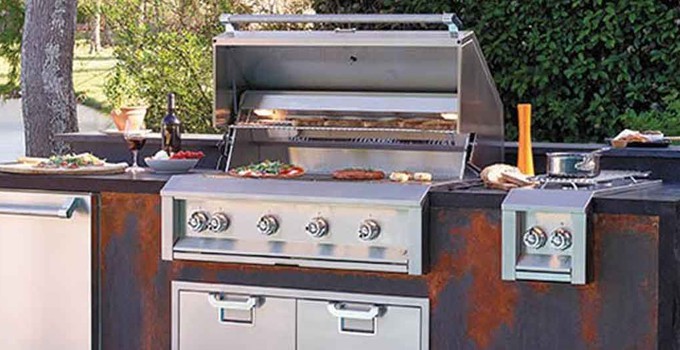 Hestan 42" Built-In Gas Grill
Motion-activated halogen under-hood lighting
Built-in ceramic infrared rotisserie / searing / finishing burner
High performance 321 stainless steel Trellis Burner (25,000 BTUs)
Rotisserie motor system – chain-driven, single-speed, 6 rpm, 50 in-lbs motor
One-push automatic ignition system
Made in USA
Best American Made Grill In 2022
The best-rated American made grills grills of 2022 continue to be found on the best BBQ and Grill site online…Barbeques Galore. Established in 1980, we have over 40 years of grilling experience and can help you find the perfect American Made Gas Grill for your home.
From luxurious to mid price to budget friendly, you can count on BBQGalore.com to offer both the best in quality and affordability…perfect for anyone for absolutely loves grilling.
Each of the American made gas grills described above has all the capabilities needed for searing a perfectly juicy steak and any other type of food you desire. USA made gas grills are the way to go if you want to really enhance your grilling game. Although the ones we have recommended are by far the best, feel free to browse our website for many other American made gas grills and may you and your family have the best grilling experience that money can buy.