What Are Unfinished BBQ Island Cabinets?

We're here to tell you that unfinished BBQ island cabinets are ideal if you are looking for a functional outdoor kitchen that is quick, painless, and easy to install. Unfinished BBQ island cabinets are outdoor kitchen island kits that are made of non-combustible material and are shipped directly to your house. With minimal tools needed for the job, you can have these BBQ island cabinets assembled in no time.
The Different Types Of Outdoor Kitchen Island Kits
The good news is there are many different outdoor kitchen island kits to choose from. The bad news is there are many different kitchen island kits to choose from.
With so many options, you may feel overwhelmed trying to understand which features are included with which outdoor kitchen island. We understand this, so we have broken this down into an easy-to-understand guide to help you make your decision.
1. The Grill Cabinet Kit
An unfinished BBQ island cabinet that is centered around your grill and provides access doors and a storage area below the grill.
When choosing a grill cabinet, you should know what size grill you have (or what size grill you will be purchasing to install with the grill cabinet), as the size of the grill will determine what size cabinet you should get.
Here is a chart to help with the process:
| Grill Cutout Width | Grill Cabinet Needed |
| --- | --- |
| Up to 28 inches | 36" Grill Cabinet |
| Between 28 ⅛ and 34 inches | 42" Grill Cabinet |
| Between 34 ⅛ and 40 inches | 48" Grill Cabinet |
| Between 40 ⅛ and 46 inches | 54" Grill Cabinet |
| Between 46 ⅛ and 52 inches | 60" Grill Cabinet |
| Between 52 ⅛ and 64 inches | 72" Grill Cabinet |
With an outdoor grill cabinet, you are able to begin your outdoor kitchen BBQ island with the potential to add to it any time you want.
2. The Storage Cabinet Kit
Just as the name implies, the storage cabinet kit is designed to provide storage to your outdoor kitchen. You can choose the type of storage cabinet you want the BBQ island to have.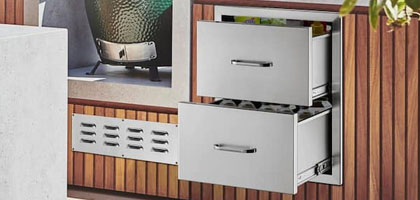 STORAGE DRAWERS
These are typically pull-out drawers that you would find in any indoor kitchen. These drawers provide storage for anything you need; supplies, utensils, tools, whatever you need.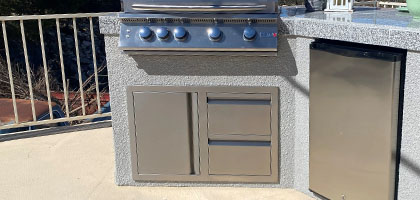 DOOR & DRAWER COMBINATION
This style of storage cabinet kit gives you the best of both worlds. You receive doors and drawers with this style of BBQ island cabinet, giving you ample storage for items big and small.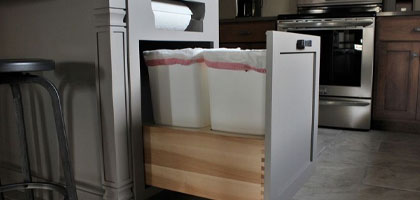 TRASH BIN STORAGE
This storage cabinet discreetly hides your trash bin so that it keeps your outdoor kitchen area neat and clean. When you need to access the trash, just pull the drawer open.
3. The Refrigerator Cabinet
A refrigerator cabinet kit attaches to the cabinet and makes a space for the fridge you will be installing. Make sure you know what size refrigerator you will be adding so that you can install a refrigerator cabinet that will create as snug of a fit as possible. Otherwise, you may be left with a refrigerator cabinet that is much larger than the fridge you will be installing, leaving you with an awkward gap between the fridge and the cabinet.
4.The Corner Cabinet
If your outdoor kitchen island has a corner or L-shape, you will want to look at adding a corner cabinet to your outdoor kitchen. The corner cabinet may combine a variety of options, including a storage cabinet and access doors.
5. The Filler Cabinet
This type of outdoor kitchen island kit is the filler cabinet. A filler cabinet is used to add more counter or surface space to your outdoor kitchen. Whether you need a little or a lot, filler cabinets can get the job done. Filler cabinets are available in 6-inch or 12-inch spacer widths, depending on what you need. Sometimes a little bit goes a long way, and a 6-inch spacer is enough to get the job done.
In addition to providing additional surface area, filler cabinets are also ideal for placing around outdoor kitchen appliances, such as dishwashers, refrigerators, or ice makers, because they can give you the exact space you need for the appliance to fit.
6. The Side Panel Kit
The last type of outdoor kitchen island kit we need to include is the side panel kit. When thinking of the outdoor kitchen BBQ island cabinets, it is easy to get caught up in the big-ticket items, like the grill cabinet and storage cabinet kit, but the side panel kit may be the most important. This is because the side panel kit will enclose the exposed ends of your kitchen island.
Some outdoor kitchen island kits either include the side panels or do not require side panels because of their design. For example, if your outdoor kitchen island is built to be surrounded by walls, you will not need side panels as the panels will be hidden and already enclosed by design.
However, if your outdoor kitchen island will have exposed ends and does not have side panels, you will need to purchase a side panel kit to enclose the ends and give the cabinet an overall better look.
Why You Should Choose An Unfinished BBQ Island Cabinet Kit
As we mentioned in the introduction, unfinished outdoor kitchen island kits are easy to assemble, require minimal tools, and are designed from a non-combustible material. Simply decide which type of outdoor kitchen island kit is right for you and place your order.
The outdoor kitchen island will be shipped to you in a box with the contents lying flat inside for easy and safe transportation. Once you receive the kit, you will put the cabinet together to fit your outdoor kitchen space.
Outdoor kitchen island kits are affordable and easily customizable to fit any design or theme you have already begun to create in your outdoor kitchen area. The material is lightweight and non-combustible, giving you an easy-to-assemble and safe product to construct.