How to Clean Outdoor Cushions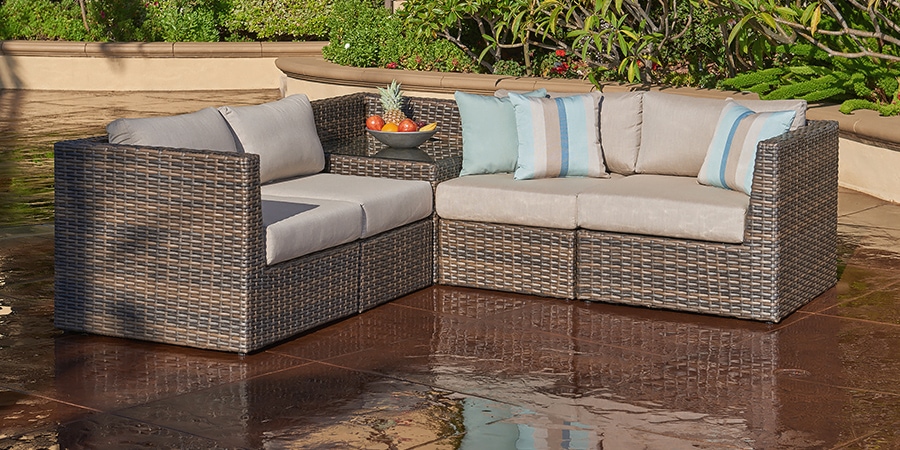 It's inevitable. Your outdoor cushions will need to be cleaned. Drinks and food can be spilled during an outdoor dinner or barbeque, leaving you with a stain that will need to be cleaned immediately. Birds can soil the cushions if they have been left outside with no covering above.
Even if your outdoor patio area is covered, you may think you are safe from cleaning outdoor cushions; however, pollen and dirt can easily sneak in and require you to clean them more often than you had expected.
Now is the time you should know how to clean outdoor cushions and not when it is too late, and the stains have already set in. The last thing you want to do is finally decide to clean your outdoor cushions and realize you don't know how to clean them, and you have no supplies for the job.
However, this may be the exact reason you are here, so take a look at our simple and effective guide to cleaning outdoor cushions.
Product/Equipment List:
Vacuum cleaner
Treasure Garden Upholstery and Fabric Cleaner
Cleaning brush or cloth
Dishwashing liquid
Water
Garden hose with sprayer
How to Clean Outdoor Cushions: A Step-by-Step Guide
Once you have gathered all of your products and equipment, you can get started cleaning your outdoor cushions.
Step 1: Vacuum the Cushions
There will likely be loose dirt, pollen, and hair that will need to be removed from the cushions before you dive straight into cleaning with a liquid. Using your household vacuum cleaner, vacuum the cushions thoroughly so that you remove any loose debris.
Step 2: Spray the Cushions with Cleaner
Once the loose debris has been removed, you will need to spray the cushions with the cleaner. Spray the cleaner on areas that are the most soiled. Use the cleaning cloth or brush to remove the stains you have sprayed. This may take a few minutes to really spot-treat those certain areas.
Step 3: Make a Dishwashing Liquid Solution
Using a gallon of water and ¼ of a cup of dishwashing liquid, combine these two in a bucket and apply the solution to the cushions. Let the solution soak into the cushions for about an hour before you begin scrubbing.
Step 4: Scrub the Cushions
Take your cleaning brush or cloth and scrub the cushions to remove any additional stains, discoloration, or mildew. This may be a quick or lengthy process, depending on how dirty the cushions are. You will have to be the judge to decide when the cushions are clean; there is no set time frame you should follow when scrubbing the cushions.
Step 5: Rinse the Cushions Thoroughly
Once you have cleaned the cushions with the dishwashing liquid solution, you will take your garden hose with spray nozzle and rinse the cushions thoroughly, making sure you get all of the soap out.
Step 6: Let Air Dry
Leave the cushions in a place where they can air dry quickly and effectively.
*If you have inadvertently missed a stain on the cushions or think they need additional treatment, repeat the process as needed.