Best Patio Furniture for 2023

It can be hard to know which patio furniture is right for you and your backyard. Finding the best-rated patio furniture can be a hassle when you don't know where to start. Let us help you start 2023 right with our expertly curated collection of outdoor dining sets, lounge sets, patio umbrellas, and much more!
Whether you're searching for a bistro set to enhance a small space or a full dining table and chairs set to accommodate large outdoor gatherings, you'll find a wide selection of top-rated outdoor furniture designed to meet all your needs and budget. Our experts have curated the best outdoor patio furniture based on factors that will surely elevate your backyard patio space.
Dining Sets vs. Lounge & Sofa Sets
Believe it or not, but dining sets and lounge & sofa sets aren't the same. It can be hard to know the difference between the two, but let us help you tell between the two.
Don't worry if you don't know which will best fit your backyard space. We're here to help you find the right patio furniture to complement your patio, deck, or even porch.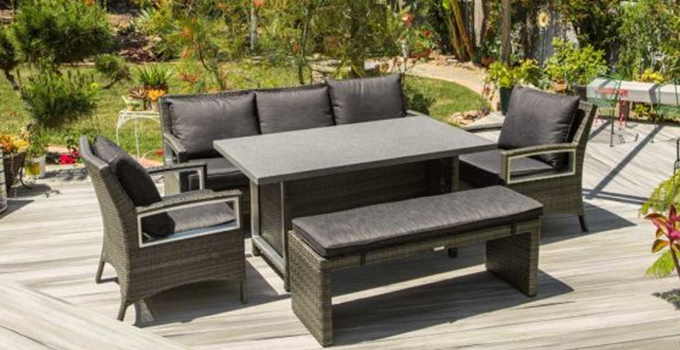 Best Patio Dining Sets
Entry-level grills feature moderate-grade steel that holds up during the summer but might not withstand long-term use. These smokers rust and corrode more quickly than advanced models. Since they have a lower level of craftsmanship, they come with shorter warranties. Expect to use these grills for a few years before moving onto a newer model.
Contempo Lounge Dining 5-piece Set Black Sunbrella Fabric
Including: 1 sofa, 2 lounge chairs, 1 bench, 1 coffee table, 2 throw pillows
Rust-resistant aluminum frames
Sunbrella fabric cushion covers
High-density seat foam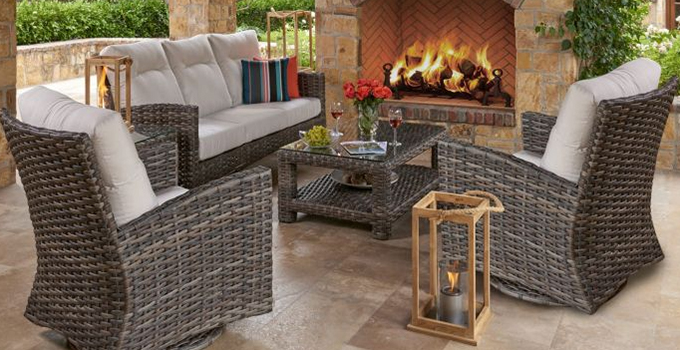 Best Lounge & Sofa Sets
Starter grills often have low-tech controllers that cause temperatures to fluctuate, so you'll have to keep an eye on your smoker. Typically, they're designed for slow-smoking meat, making precision grilling a challenge. Starter controllers reach lower temperatures than advanced grills, but they're suitable for basic meals like hamburgers, brats, and hot dogs.
Grand Stafford 5-piece Set Umbrella Fabric
Including: 1 three-seater sofa, 2 swivel glider chairs, 1 coffee table, 1 end table
Resin wicker construction
Overstuffed, thick-padded cushions
Weather-resistant sunbrella fabric
Outdoor Chairs, Tables & Umbrellas
Just like their names imply, patio bar stools and outdoor chairs are designed to bring comfort and style to your patio or deck. Whether you want to create a formal or casual look for your outdoor living space, outdoor bar stools and patio chairs will surely help you create the backyard of your dreams.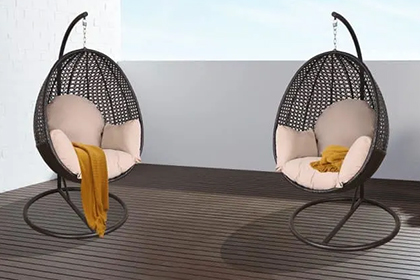 Outdoor Chairs
Bring the backyard patio of your dreams to life with the right patio chairs that best fit your needs. Do you enjoy rustic or simple outdoor chairs? Or maybe you want patio chairs that bring comfort and style to your patio deck? No matter what you're looking for, Barbeques Galore has it all. Check out our collection of outdoor patio chairs.
Peter Pod Hanging Egg Chair
High-quality powder-coated steel frame
Hand-woven, all-weather PE wicker
All-Weather-Resistant Spun Polyester Cushion
1-year warranty available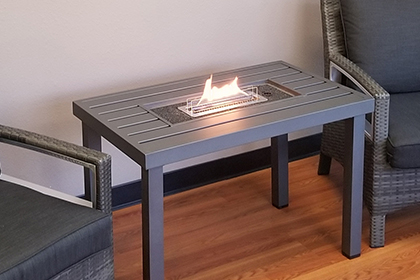 Patio Tables
Just like no ice cream sundae is complete without whipped cream, a backyard patio space is not complete without a patio table. An outdoor table brings functionality and style to your backyard. Patio furniture like outdoor patio tables adds an air of comfort and ease, so make sure to find the one that best fits your backyard space.
Lovin Flame Fire Table w/ 2 x 1l. Fuel
Aluminum Construction
Portable Burner Fireplace
Water-soluble fuel
Safe and easy refueling with a dedicated fuel filler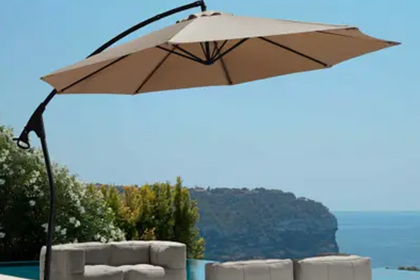 Outdoor Umbrella
No matter the season or geological area, an outdoor umbrella is the perfect outdoor accessory to have on hand. Relax in your backyard in style with the right outdoor umbrella in your backyard. Be sure to explore all of the patio outdoor umbrellas we have to offer and find a style that complements your outdoors.
Treasure Garden 11' Umbrella
Dual-purpose crank & tilt feature for easy adjustment
Bronze base included
360-degree rotation
100% Kevlar mesh lift cord for durability