The Best Charcoal Smoker

If you're not a vegetarian, it's safe to say that there's a good chance you love your meat. But, have you ever stopped to think about what makes steak and bacon so tantalizing to the taste buds? What is so special about meat that, for most people, trumps the mounting scientific data of its detrimental effects on human health?
Well, the key to this conundrum lies in the flavor. You'll be surprised to learn that 95 percent of what most people believe to be the taste of meat, actually stems from the aroma.
If you thought that the mouth-watering goodness that is barbecued steak is out of this world, then smoking it will add a whole new dimension to the experience! The hype surrounding this cooking trend isn't just a backyard competition with your next-door neighbor to see who has the fancier grill. It tenderizes the meat and infuses a unique smoky flavor that can't be replicated using any other barbecuing technique.
If you haven't tried it, you're missing out! We compiled a list of the best charcoal BBQ smokers for 2022 that are guaranteed to give you the best results. Come discover the top charcoal smokers and charcoal grills with smokers!
1. Best Charcoal Smoker Overall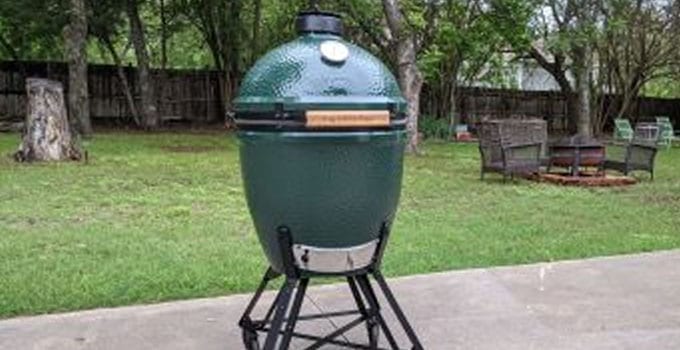 Large Big Green Egg
One of the most popular outdoor charcoal smokers of all time has to be the Big Green Egg. It's a kamado-style egg-shaped grill that is capable of generating extremely high temperatures up to 600 degrees. It is built with a ceramic shell that allows it to hold low temperatures for sustained periods making it the ideal smoking companion.
Heavy-duty ceramic shell exterior
Porcelain-coated cooking surface
Glazed interior for easy cleaning
Cooking area: 262 square inches
2. Best Portable Charcoal Smoker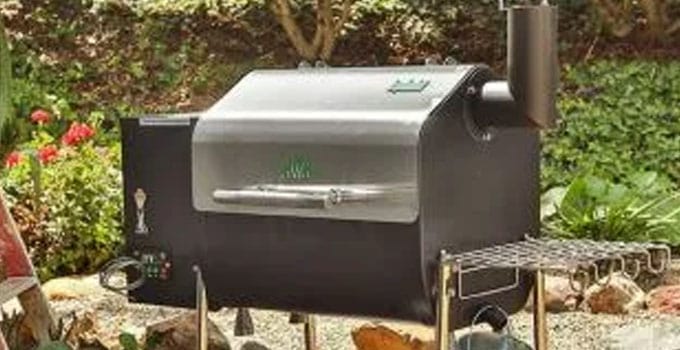 Green Mountain Grills Trek Prime Wifi
The ultimate portable charcoal smoker, the Green Mountain Grills Trek Prime Smoker Grill with Wifi controller is designed to make your outdoor grilling all the easier. Designed with you in mind, this portable charcoal smoker is perfect for camping, tailgating, festivals, or anywhere you can think of!
GMG Server Mode to easily control and monitor your grill on the go
Create fully programmable cooking profiles
150°-550°F temperature range with 5° increment control.
Cooking area: 219 square inches
3. Best Smoker Under $500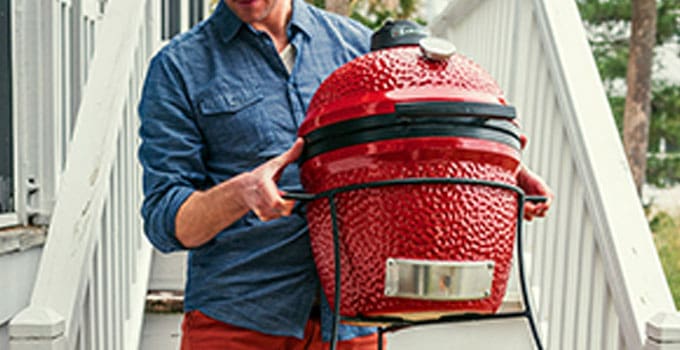 Kamado Joe Joe Jr 13.5-Inch Ceramic Grill On Stand
The Kamado Joe Joe Jr. 13.5-inch grill on the stand is ready to hit the road smoking. Weighing in at 68 lbs., with a heat-resistant ceramic body to lock in heat, smoke, and moisture, this smoker travels lightly, yet smokes favorites like a beer can chicken with ease. The thick-walled ceramic body locks in heat, moisture, and flavor, and the heat deflector plate allows cooks to experiment with indirect heat for more flexible cooking. The stainless steel hinged cooking grate allows you to add charcoal while you're cooking.
Premium 13.5" Ceramic Grill with Cast Iron Stand
5 sq. in. cooking space
Heat range of 225 F- 750 F
Ceramic heat deflector
4. Best Charcoal Smoker For Flavor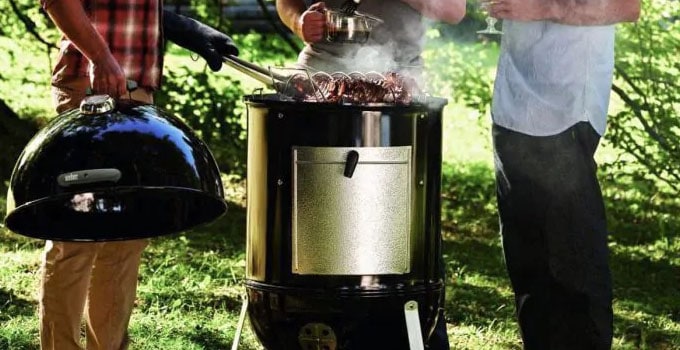 Weber Mountain Cooker 22-Inch Charcoal Smoker
The Weber 731001 Smokey Mountain Cooker 22-Inch Charcoal Smoker is an easy-to-use grill and is the perfect companion for anyone planning to host a big barbecue event. It has ample room to hold up to 60 pounds of meat, which, for perspective, is equivalent to about four large turkeys. Its superior design promotes efficient airflow to hold consistent temperatures for long periods and to give your meat an authentic smokehouse flavor right in the comfort of your home.
Porcelain-enameled steel construction
Built-in thermometer
Cooking area: 726 square
Power source: Charcoal
5. Best Budget Charcoal Smoker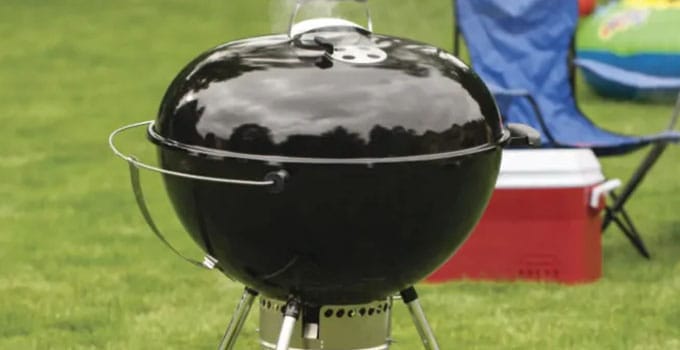 Weber Original Kettle Premium 26-Inch Charcoal Grill
The Weber Kettle grill has been around for nearly seven decades. So, there's a pretty good chance that you've eaten a steak, a hotdog, or a burger cooked on one at some point in your life. The Weber Original Kettle Premium 26-Inch Charcoal Grill adds a new twist to an old classic by incorporating modern features like a built-in lid thermometer for full heat control to take your grilling and smoking experience to a whole new level.
Porcelain-enameled body
One-Touch cleaning system
Built-in thermometer
Cooking area: 508 square
6. Best Freestanding Charcoal Smoker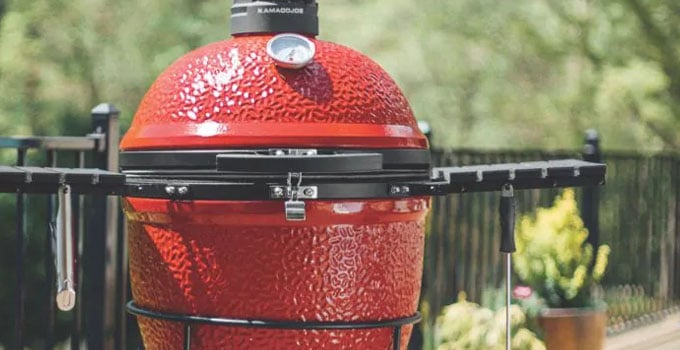 Kamado Joe Classic II Ceramic Grill With Cart
The Kamado Joe Classic II 18-inch Ceramic Grill with Cart is one of the most versatile cooking products that are on the market right now. Its' design is based on an ancient clay-cooking principle that originated in China. It infuses modern-day user-friendly features like low-temperature smoking, high-heat grilling, and other advanced capabilities that guarantee to seal all that smoky goodness and moisture at any temperature.
Ceramic and cast iron construction
Built-in temperature gauge
Cooking area: 265 square inches
Built-in Thermometer
Top Pick for 2022
With so many charcoal smokers in the market to choose from, each one brings something different to the table depending on your barbecuing goals and budget. If you're looking for something versatile, feature-rich, and with excellent temperature control, then you can't go wrong with the Big Green Egg.
Looking for a natural gas grill? Check out our blog for the best natural gas grills for 2022.