Shipping and Delivery
FREE SHIPPING ON THOUSANDS OF ITEMS*
Look for the FREE SHIPPING note on hundreds of grills, heaters, fire tables and more.* For a full list of products, view our Free Shipping page.
ATTENTION! FREIGHT ORDER POLICY
The majority of our freight products will be shipped on standard pallets. Most products that are shipped freight are either too heavy or too large dimensionally for ground shipment. All freight shipments will require access for a semi-truck and trailer to deliver. If you live in an area with limited access or outside of our delivery area, it may be necessary to pick your product up at the nearest freight terminal. We will not be responsible or compensate for additional delivery fees in these areas. If this is a concern in your area, your please contact our customer service team and we will be glad to discuss this with the freight company before the item is purchased.
After placing your order, the freight/delivery company will contact you to schedule a time to drop off your delivery. For this reason, it's extremely important to provide your main contact number and an alternative at the time of check out. For freight shipments going to a residential address, the shipping company will call you the day your order is delivered at the local terminal to schedule a delivery appointment. All residential freight orders require an appointment to be delivered. Oftentimes, the estimated delivery date on the website will be incorrect because of the appointment policy. Do not make arrangements to stay home to accept delivery until the shipping company calls you to set an appointment.
Our complimentary lift gate service is available for most of our standard pallet items. This platform is installed at the rear of the truck to expedite the process of unloading your package. The driver will take your delivery off the truck for you, but it is your responsibility to bring it onto your property. Please take a few minutes to examine the exterior of your package for any visible damage. You should unpack your item at the time of delivery in the driver's presence. In the unlikely instance that you recognize damage, remember to note it on the Proof of Delivery (POD) slip that you'll receive from the driver. Take photos of the noted damage and email them to us at [email protected] In most cases it is in everyone's best interest to refuse delivery of the product if damage of any kind is noted. If you choose to accept the freight, you will be responsible for filing any claims with the freight company for damage reimbursement. We will not be responsible for damaged items that are not noted on the POD. By signing the proof of delivery you accept ownership of the property in its current condition.
WHERE ARE MY ITEMS SHIPPED FROM?
Most items are shipped directly from our main distribution center in Southern California. On occasion, items may be shipped directly from an individual store location when that item is unavailable at our distribution center.
HOW QUICKLY WILL MY ORDER BE SHIPPED?
Orders are shipped 1-2 business days after the date your order was placed. If your order includes Special Order items, the complete order will be shipped 2-4 weeks after the date your order was placed. Customers will be notified by email when their order has been shipped with tracking information.
WHAT SHIPPING METHODS DO YOU OFFER?
UPS: All basic products are shipped via UPS Ground or UPS 2-Day shipping. Shipping times are calculated based on the date of shipment, not the order date.
Freight: Grills and other heavy products are shipped via freight carrier only. The appropriate shipping options are given during checkout. Freight deliveries are curbside delivery only (white-glove services are not included).
Will Call: Orders may also be picked up at Will Call at our Ontario, CA warehouse Monday through Friday. Will Call customers will be notified by email when the order is ready for pick-up; please do not come to pick up your items before this notification is sent.
P.O. boxes cannot be used as shipping addresses; a physical address must be used.
HOW LONG WILL IT TAKE TO GET MY ORDER?
Shipping times are calculated based on the date of the shipment, not the date of the order. Orders are shipped 1-2 business days following the order date. UPS does not deliver on weekends and does not count those days when factoring shipping times. Therefore, orders shipped Thursday or Friday can be expected to be delivered on Monday and Tuesday, respectively. UPS shipping depends on the customer's location. General shipping times range from 7-10 business days.
The freight carrier will contact customer via the phone number provided on the order to schedule the delivery appointment. If the freight carrier cannot reach the customer in a timely manner to schedule this appointment, it will affect delivery dates. Please include a valid and readily accessible phone number with your order to avoid any unnecessary delays. If customer cannot be reached within 48 hours of first attempted contact by delivery company, the customer's order will be returned to Barbeques Galore. The customer will then be refunded the original purchase price of the order, less shipping costs and a 15% restocking fee. Please use the UPS Ground map to estimate your shipping time.
UPS Ground estimated shipping times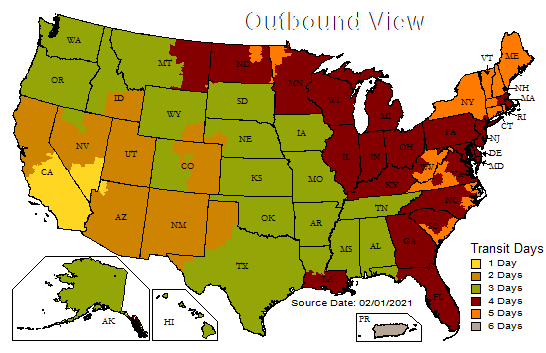 ARE ASSEMBLY AND INSTALLATION SERVICES AVAILABLE?
We offer assembly and installation services, but these must be arranged and paid for through a local Barbeques Galore store. We are not able to offer these services to a location further than 25 miles from a store (see a list of our stores here).
*Products with free shipping will be noted. Excludes orders with hard lump charcoal, wood logs, wood chunks or fire glass (purchase separately to qualify for free shipping). Valid for web orders only in the 48 contiguous United States. Drop-off/Curbside delivery only.