Alfresco Grills



Alfresco grills are built to last. Made with superior materials, these grills are premium products but without the premium price. Alfresco grills, backed by a lifetime warranty, are in reality, a grill for life™.
Alfresco Grills
Immerse yourself in the pleasures of unique flavor creations and the gratification of outdoor cooking. Combining a legacy of innovation and craftsmanship with the most complete assortment of integrated products available, Alfresco is the definition of the luxury outdoor kitchen.
Shop Alfresco Grills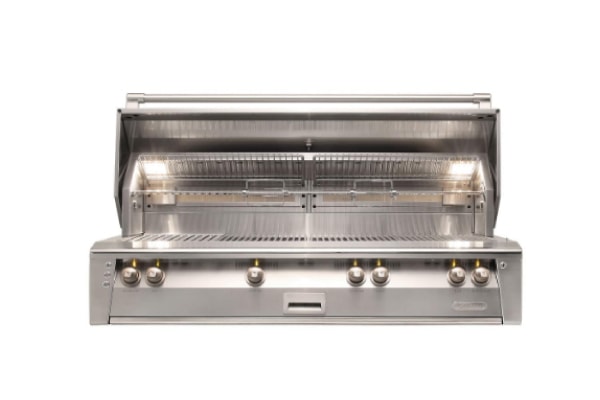 56" Luxury All-Grill
It doesn't get bigger. It doesn't get more powerful. For those who want more, with incredible performance and a massive 998 sq.in. grilling area, the ALXE-56BFG is your new favorite outdoor cooking companion.
Shop Luxury All-Grills
56" Luxury Deluxe Grill
With an integrated dual side burner, the ALXE-56 Deluxe Grill offers a robust 770 sq. in. of grilling space, with additional room for boiling, heating, and other creative culinary needs.
Shop Luxury Deluxe Grills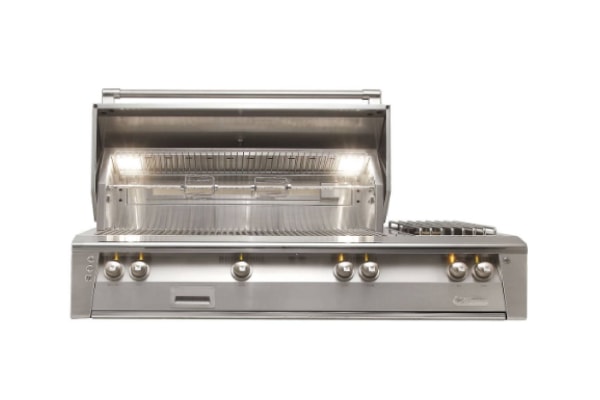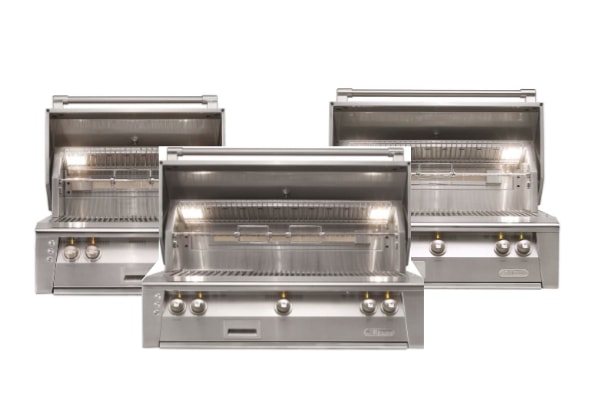 Luxury Grills
Available in 30", 36" & 42"
The go-to grill for any outdoor kitchen enthusiast, you can count on the Alfresco Luxury Grill for beauty, performance, and power for any and all of your open-air culinary aspirations.
Shop Luxury Grills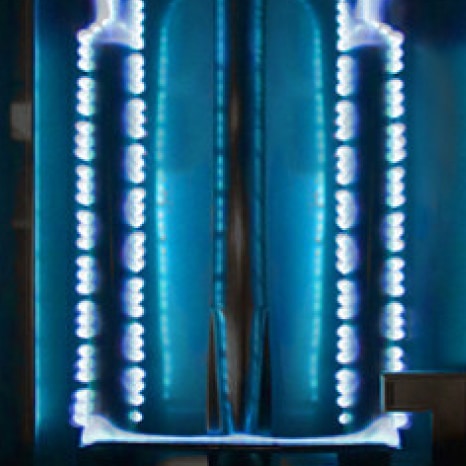 ALFRESCO'S EXCLUSIVE ACCUFIRE™ HEAT SYSTEM
This commercially-inspired fire delivery method creates some of the highest temperatures in the industry, and serves as the suspension system for "The ultimate grilled food" coming from your customized outdoor kitchen. With dual rows of corrosion-resistant, clean-combusting, double-lanced ports and a lifetime warranty, this grill is built to last a lifetime.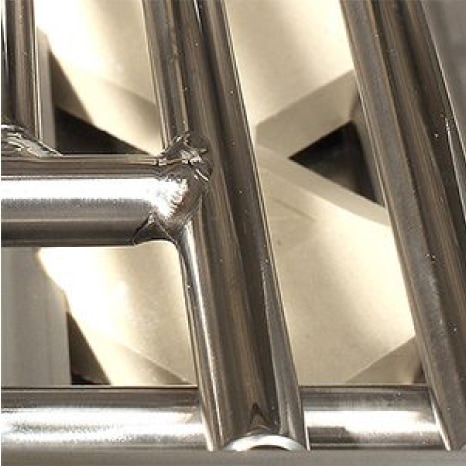 ELECTRO-POLISHED STAINLESS STEEL COOKING GRATES
Sitting over the briquette and "U" burner sections, these ultra-premium grates are made from heavy-duty 3/8-inch round stainless steel rod, and have a special nonstick electro-polished finish.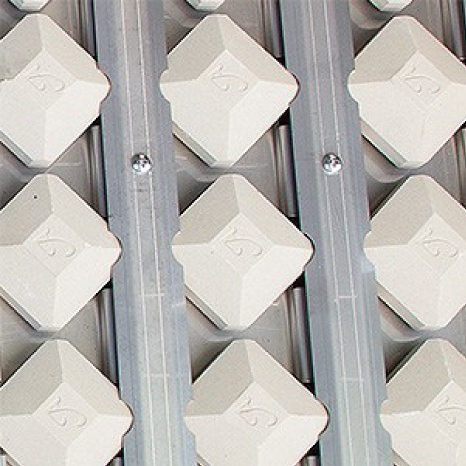 REFRACTIVE CERAMIC 5-WAY HEAT DISTRIBUTING BRIQUETTESEliminates hot and cold spots, making the effective grilling area 100% of the grilling surface. High-density composite material in a flat top pyramid-shape, with a heat-holding cavity underneath, delivers intense heat to the cooking surface. Radiant tray locks briquettes in place.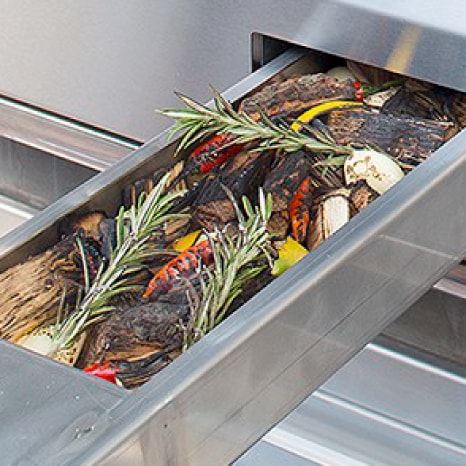 SIGNATURE TASTE™ INTEGRATED SMOKING SYSTEM
With a dedicated stainless steel burner, our exclusive Signature Taste™ smoking system opens a whole new world of flavors for the aspiring outdoor chef. The drawer holds large chunks of wood and herbs, and linear diffusing vents naturally eject smoke at 200º to the food zone.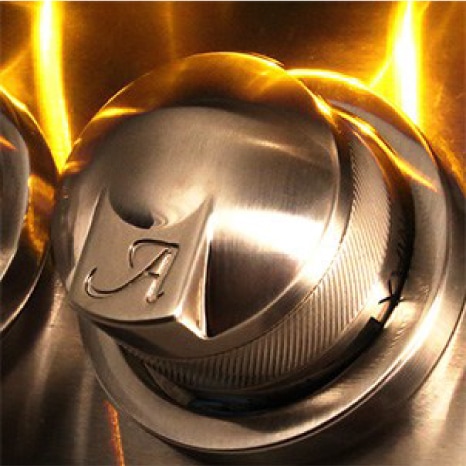 CONTROL PANEL LIGHTING & NICKEL-PLATED KNOBS AND BEZELS
Precise LED front panel lighting projects rich amber beams of light exactly where you need them. Alfresco grill knobs are placed at exacting positions and these corrosion-resistant cooking controls have been designed to specifically address ergonomics and accuracy for the outdoor culinary chef.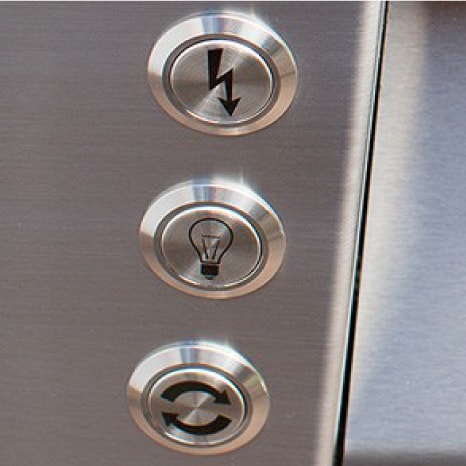 ERGONOMIC CONTROLS
Easy-to-reach, stainless steel push-button ignition, lighting, and rotisserie controls are ergonomically integrated into the front control panel.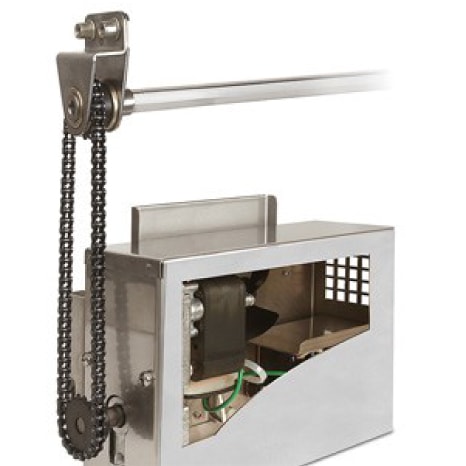 EXCLUSIVE HIDDEN AND INTEGRATED MEGA-DRIVE™ ROTISSERIE SYSTEM
This unique, chain-driven, whisper-quiet food rotation system is perfectly smooth and consistent, and is designed for ultra-roasting from the smallest to the largest of entrées. We build the Mega-Drive™ directly into the grill assembly, allowing for hassle-free, delicious roasted foods.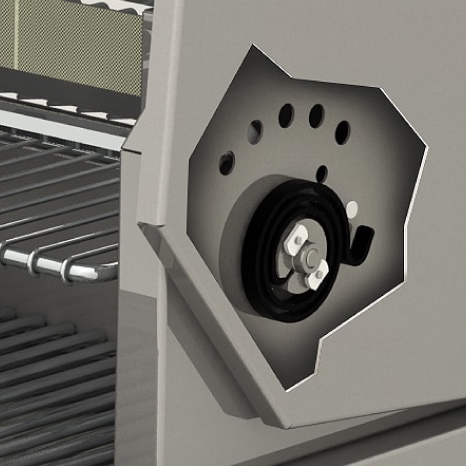 EXCLUSIVE EZ-LIFT™ HOOD-ASSIST SYSTEM
Save your strength. Alfresco's integrated and commercially-inspired spiral torsion hood-assist system offers ultra-smooth, single-finger hood lifting and closing while you cook. Made of non-corrosive stainless steel, the EZ-Lift™ hood design is built for many years of reliable performance.
---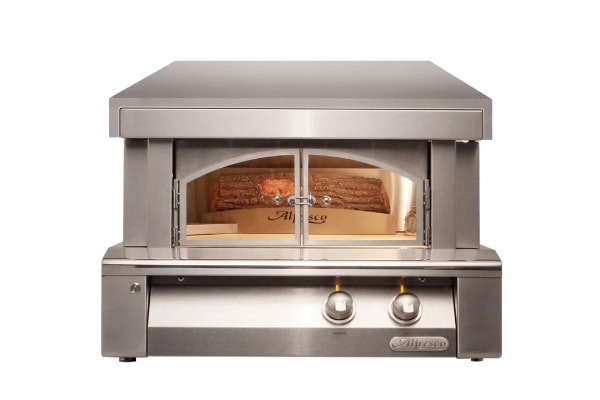 Pizza Oven Plus
Available as Built-in or Coutertop Models
Alfresco Pizza Oven Plus ovens are built to be the most versatile and highest performing gas-fired ovens in the world. Our material, design, and manufacturing process revolves around creating a uniquely high-performing oven that preheats in 15 minutes and can reach extremely high temperatures, allowing you to bake, roast, iron-skillet sear, and of course, cook perfect three-minute Neapolitan pizzas.
Shop Alfresco Pizza Ovens
Fireplace-like gas log absorbs and radically accelerates preheat time as it distributes heat up to the ceramic ceiling slab for intense top-down heat
3/4" thick high-quality ceramic slab hearth and ceiling for even, intense, radiating heat
All 304 18-8 heli-arc welded stainless steel
Full 8.5"opening with stainless steel-framed glass doors
Countertop rear exhaust
High-performance tube-log burner
High-tech, high-heat ceramic infrared hearth burner
Removable hinges/doors
Double-walled removable top
456 sq. in. of cooking space
Halogen oven light
Alfresco's exclusive natural air-cooling plenum keeps control panel
cool to the touch
Available in LP or Natural Gas
---
Alfresco Versa Power Burner
Available as Built-in or Freestanding
The Versa Power™ cooking system offers an unmatched heating range from 400 to 65,000 BTUs of power for total heat control. The unique, specially designed super heavy-duty spider grate can handle from the smallest of saucepans up to 100-quart stock pots. With numerous options to expand its versatility, it is the perfect complementary appliance to complete your outdoor kitchen.
Shop Alfresco Versa Power Burners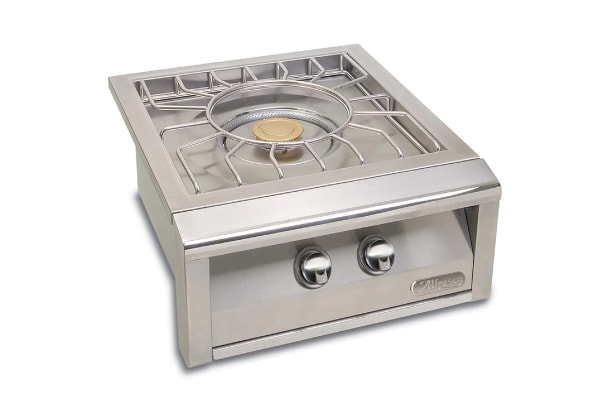 Alfresco Versa Power Features
Power and versatility at your fingertips with numerous options
Unique individually controlled double burner system
Brass center burner adjusts from 400 to 20,000 BTUs
Stainless steel outer tube burner adjusts from 5,000 to 45,000 BTUs
5/16" diameter stainless steel spider grate with removable trivet
The perfect complementary appliance to complete your outdoor kitchen
Ideal for use as European French Top
Available in LP or Natural Gas
---

Alfresco Island Components & Accessories
To complement your Alfresco grill and complete your outdoor space, Alfresco offers a selection of side burners and power burners for tackling any task. Alfresco kitchen refrigeration keeps the guests refreshed with the same elegance and strength you expect from the Alfresco name. Getting the most out of your Alfresco grill can be as simple as having the right accessories on hand. Add some matching access doors and drawers to complete the look.
---
Shop Top Alfresco Products
---