Big Green Egg Kamado Grills

The Big Green Egg – Things To Know
Big Green Egg Kamado Grills are a type of grill made of ceramic. They are known for their heat retention, and because they can reach high temperatures, they are great for cooking steaks, chicken, fish, and other types of meat.
Even though BGE started the kamado craze in the 1970s, their arrival from Japan revolutionized cooking. In 1974, BGE opened in Atlanta, Georgia (USA). The company created by Ed Fisher allowed all Americans to purchase a kamado. The present model of BGE is the result of a marriage between ancient knowledge and cutting-edge innovation.
Here are some things to consider if you're interested in purchasing one of these grills:
The Big Green Egg Kamado Grill is ceramic, which makes it highly durable
It can reach up to 750 degrees Fahrenheit, far higher than most other grills
It is multipurpose cookware that you can use for grilling, smoking, baking, and roasting
BGE is also simple to operate and comes with a temperature gauge and a damper
You may purchase a variety of different charcoals for the Big Green Egg, allowing you to control the flavor of your cuisine
Unlike other brands of grills on the market, this one does not require any additional assembly after it arrives at your door.
Highly durable and lasting for years, it can withstand harsh weather conditions and is ideal for indoor and outdoor cooking
---

Things about BGE to know as an owner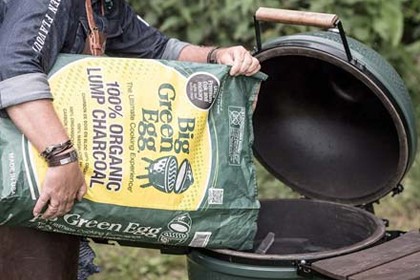 Natural Charcoal & Wood
The BGE distribute heat evenly through the grill to suit every cook's need.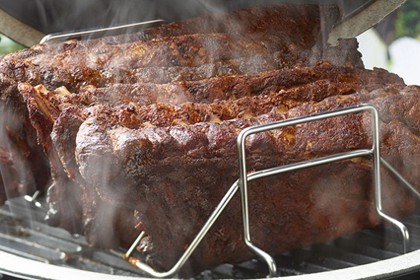 Cooks Food Evenly
The BGE is a smoking device that both produce an excellent flavor and a consistent heat.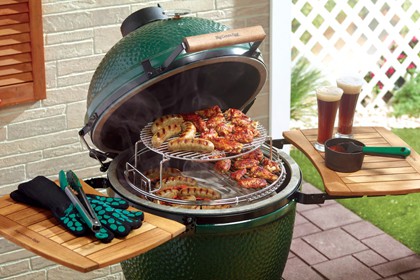 Can Smoke Food
The BGE is a smoker, grill, and oven in one, which makes this a go-to grill for many outdoor cooks.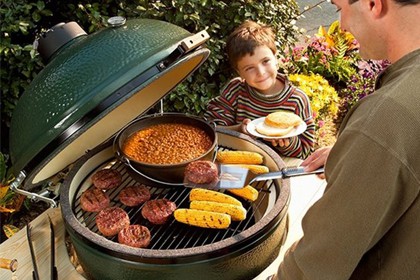 Smoke Versatility
The Big Green Egg is a smoker, grill, and oven in one. This implies you can prepare more than one dish at the same time. For example, you can smoke a ham while grilling chicken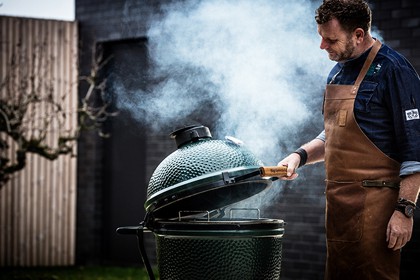 Heat & Moisture Retention
The Big Green Egg is a ceramic cooker known for retaining heat and moisture; as a result, food may be cooked slowly and evenly, resulting in juicy and delicately flavored meat.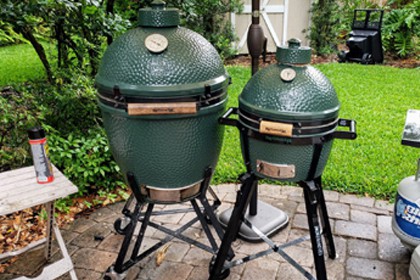 Portable
It's great for tailgate parties, camping, and other outdoor activities. You may also use it on the beach or on a boat. It's simple to transport so that you may prepare food virtually anywhere!
---

Popular Kamado Grill Brands
There are several well-known Kamado grill brands on the market. Some of the most renowned brands include Big Green Egg, Kamado Joe, and Vision grills. Each of these grills has distinct characteristics that set it apart from the competition. These grills are known for their ability to maintain high temperatures.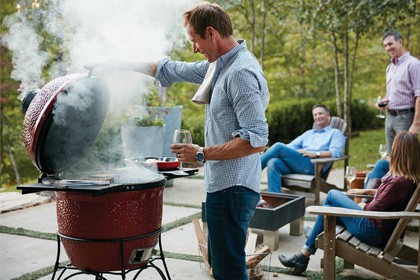 Kamado Joe
Kamado Joe is an American company that produces kamado-style charcoal grills. The Kamado Joe Classic II is their most popular grill. It has a ceramic body, a stainless-steel cooking grid, and a porcelain-coated firebox. A feature that sets Kamado Joe apart from other brands is changing out cooking grids on their grills.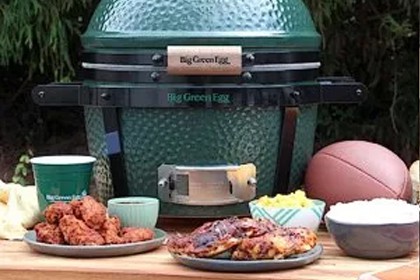 Big Green Egg
The BGE's potentialities are endless. BGE is one of the few kamado grills on the market that uses all-natural materials. BGE also employs a unique double-wall design, ensuring that your grill stays in excellent working order no matter the weather conditions. But perhaps the best thing about BGE is their customer service.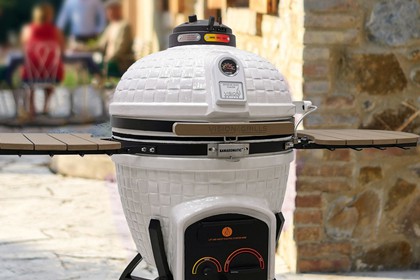 Vision Grills
Vision Grills are a great alternative to the BGE. Vision Grills is a company that was founded in 2002. They're made of high-quality ceramic and are a fraction of the price. Plus, they come with a lifetime warranty. They have stainless steel grills with a ceramic finish making it a simple product to care for and keep clean.