Best Built-In Grills For 2023

Let's face it. Gas grills are a favorite for many because of the sheer amount of convenience they offer.
If you have a hankering for a delicious juicy steak after a long day at work, you don't even need to think twice about it. Simply turn the knob on the grill, throw in your seasoned steak, and get your dinner going in a matter of minutes. Whether or not the grill works as it should, to give you the best results is an entirely different discussion.
You've probably come across them. Grills whose surfaces never get hot enough. Grills that are searing hot in one area and bitterly cold in another – at the same time. Grills barely have enough space for barbecuing multiple burgers at a go, let alone a Thanksgiving turkey.
If you hope to avoid this fate, you've come to the right place. We've painstakingly put together a detailed analysis of the best propane gas grills for 2023 to help take the guesswork out of the decision-making process. Come discover the versatility of the best propane barbeque grill!
1. Best-Rated Built-In Gas Grill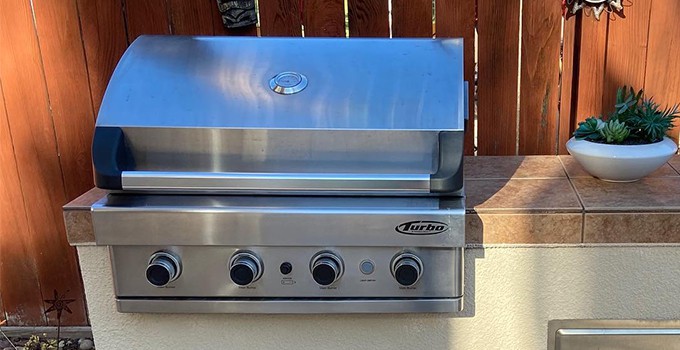 Turbo 4-Burner Built-In Gas Grill
Interior halogen lighting
Four 48,000-BTU burners
Built-in temperature gauge
Sturdy 430 stainless steel construction
Optional rotisserie kit available
Beveled high-grade ceramic briquettes for even heat distribution
2. Best Built-In Grill For High Power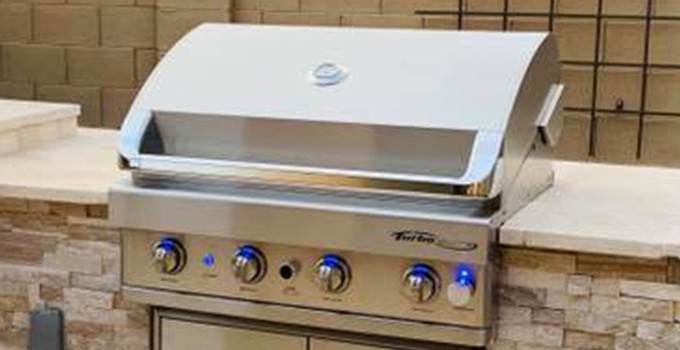 Turbo Elite 4-Burner Built-In Gas Grill
60,000 BTUs of power
Five Burners - four main burners and one infrared rotisserie
Interior halogen lighting
Exterior LED lighting
Rotisserie kit included
304 stainless steel construction
3. Best-Quality Built-In Gas Grill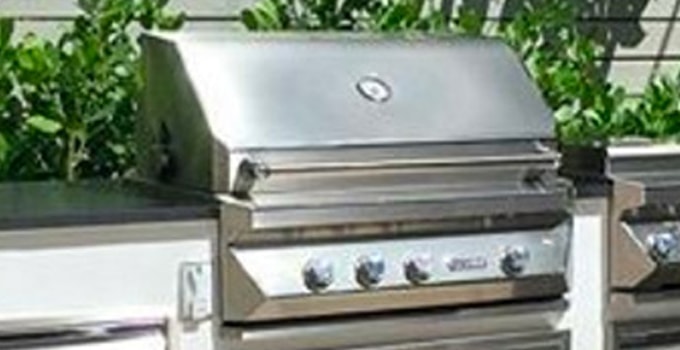 Twin Eagles 42-Inch Built-In Gas Grill
3 main 14-gauge 304 stainless steel burners w/ lifetime warranty
Hexagonal grates
Hood-activated interior lighting
LED control panel lights
Large capacity smoker box
Sear zone and infrared rear rotisserie burner
4. Best Built-In For High Powered Backburner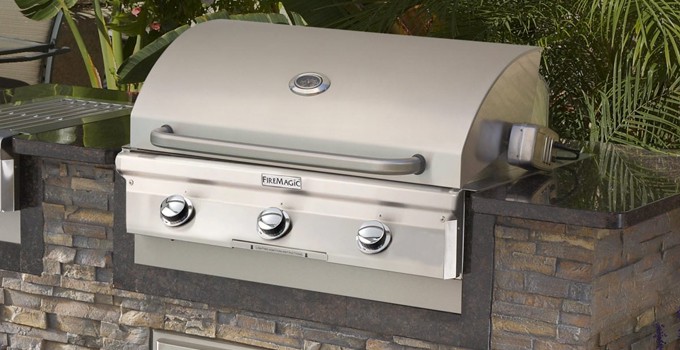 Fire Magic Choice C540I 30-Inch Built-In Gas Grill
Diamond Sear stainless steel cooking grids
Solid brass temperature control valves
Heavy-duty 300 series stainless steel construction and burners
4-prong adjustable meat holder for rotisserie
Electronic push-button ignition
Analog thermometer with polished bezel
5. Best Built-In Gas Grill For Simplicity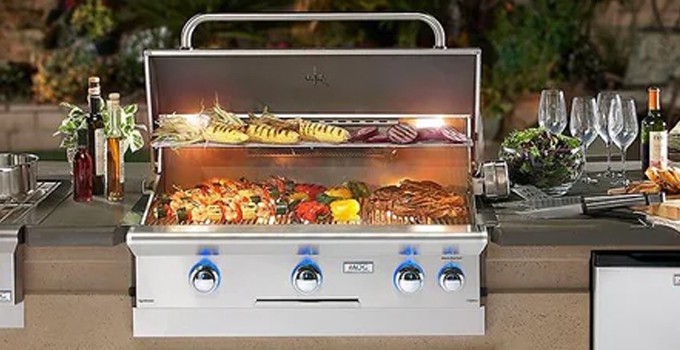 AOG L-Series 30-Inch 3-Burner Built-In Gas Grill
540 sq. in. main cooking surface
57,000 BTUs for the main burners
Analog thermometer with stainless steel bezel
Three main burners
304 stainless steel construction
Stainless steel cooking grid
6. Best Built-In Grill For Open Cooking Surface
Fire Magic E660i Echelon Gourmet Built-In Griddle
30" x 18" cooking area
3/8" thick warp-free stainless steel griddle surface
Easy-to-clean grease pan with removable trays
Expansive 30" x 18" cooking area
Protective stainless steel cover
Available in natural gas or propane versions
Best Built-In Grill For 2023
The best built-in gas grill for 2023 is the Barbeques Galore Turbo 32-inch 4-Burner Built-In Grill and its Turbo Elite counterpart. The Turbo Elite version of the built-in grill has considerably more power.
In close second is the Twin Eagles 42-Inch 3-Burner Built-in Grill with Sear Zone & Infrared Rotisserie Burner. The Twin Eagles grill has slightly better quality and an included infrared rotisserie kit.
For unique features, like rotisserie burners, special lighting, or high-power requirements, choose from one of the top 3 built-in grills. Any of these outdoor kitchen grills could be an exceptional addition to your outdoor kitchen. If you need a particularly unique built-in grill, for more griddle-like purposes, try out the Fire Magic E660i Echelon Gourmet Built-In Griddle.