How to Measure the Cutout for Built-In Grill

Instead of hiring someone to measure cutouts for your built-in grill, have you thought of doing it yourself? Working on DIY projects can be fun, and it helps you express your creative side. Better yet, measuring built-in BBQ dimensions yourself can save you money.
Having an outdoor kitchen with a built-in grill is a dream come true. But how do you make it easy to build? By using an unfinished modular BBQ Island cabinet to help you customize your outdoor kitchen while saving you time. You slide your built-in gas grill into a slot cut into the BBQ island. However, you must correctly measure the cutout to ensure the grill fits appropriately. Make sure you have the grill you intend to use for your outdoor kitchen for better accuracy.
Whether you have a small or large outdoor kitchen space, you need to measure the cutout for the built-in grill accurately. These simple steps will make the process of measuring your outdoor kitchen grill dimensions a walk in the park.
Measuring the Cutout for your Built-In Grill

Getting the correct cutout measurements sometimes can be a daunting task, but it's important to know how it's done. It's a skill you can utilize for many years.
Here is how you can make that dream a reality with these simple steps to measuring the cutout for your grill and save money: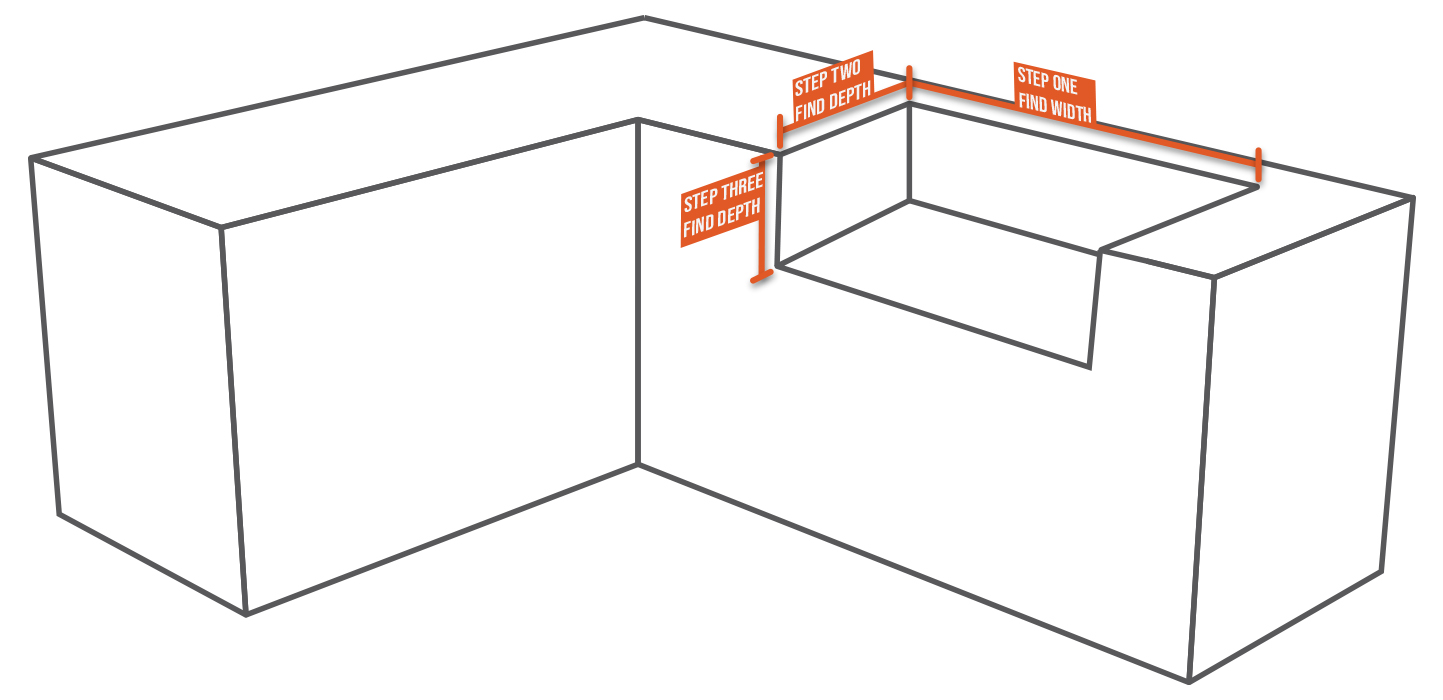 Step 1- Find width
The width represents the measurement of your grill from one head to the other. This measurement is for your grill's head slot. Find the center and measure half the width on either side.
Step 2- Find Depth
The depth of your barbecue appliance starts from its front lip to the back of the unit. It's the distance your built-in grill will slide back into the slot. But it shouldn't extend out or sink back too far.
Step 3 - Find Height
The cutout height is vital for your outdoor grill dimensions. It starts from the top of your grill's head down to the grilling surface. Height represents how deep the appliance will sit in the cutout slot.
Step 4- Measure Twice
Experts highly recommended measuring twice before cutting to avoid unexpected costs, wastage of space and time. You can't uncut an item, so always measure twice to ensure accurate measurements.
---

Optional Built-In Grill Components
Now that you have built your BBQ island and your built-in grill is perfectly fitted, what next? You need to have the right accessories for your outdoor kitchen to be complete. Whether you are a renowned barbeque master or you are just learning some grilling techniques, outdoor kitchen accessories will give the level of versatility that your traditional indoor kitchen cannot offer. Some of the must-have accessories for safety and above-average comfort while barbequing include:
Insulated Grill Jackets
The right way to protect your built-in grill island is by using an insulating jacket. If the material you have used to build your BBQ island is combustible, you must use an insulated jacket on your cooking appliance. Without using an insulated jacket, you might also burn down your outdoor kitchen and your home.
But how do insulated grill jackets work? They shield your appliances and structures around your built-in grill from excessive heat produced when cooking. An added advantage of this outdoor kitchen accessory is protecting the grill's undercarriage from rust.
BBQ Grill Warming Drawers
Warming drawers will give you the flexibility of heating the food or keeping it warm until it's time to serve. They also keep your food free from insects because they are fully enclosed and sealed. Apart from warming the food items, outdoor BBQ Grill Warming Drawers will help you manage storage conditions with adjustable moisture vents and temperature control knobs.
Definitely, BBQ Grill Warming Drawers are a valuable addition to your grill island. You only have to slide your pieces of bread, buns, and other food items inside to enjoy warm and full flavor food. Also, they are great for keeping your side dishes warm as you grill. When serving plated foods, you can stack a few plates in the warming drawer at a lower temperature.
BBQ Grill Side Burners
A common question for many grillers is, "what will I do with a side burner? The answer is almost anything you can do on your indoor kitchen stove. From sautéing onions and peppers while grilling sausages, cooking corn on the cob, warming baked beans while grilling hamburgers, to boiling vegetables are creative ways of using side burners.
Side Burners are there for convenience and as a backup cooking surface. While grilling your chicken, ribs, steak, and other meats on your grill's primary grate, you can use side burners for cooking small foods. Side BBQ burners also shorten your cooking time by giving you the ability to cook more meals at the same time. Think of it as additional cooking space for you!
Building Your Dream Outdoor Kitchen
Now that you know how to measure the cutout for your new built-in BBQ grill, go ahead and bring your dream outdoor kitchen to life! Remember to have fun as you start your newest home project. Always remember that our experts are here to help, so if you ever need any help do not hesitate to reach out to us and our team. We want to help ensure that you have your dream outdoor kitchen!