Barbeques Galore Turbo 32-inch 2-Burner Built-In Stainless Steel Teppanyaki Grill - Propane - TEPANLP
Ships in 1-2 Days
When available, usually leaves our warehouse in 1-2 business days
Payments as low as
$62.97
per month.*
Learn more
Barbeques Galore has manufactured the Turbo line of BBQs for over 40 years.
Shop the entire line of Barbeques Galore Outdoor Kitchen Components; designed to perfectly compliment your new Turbo Grill.
The perfect complement to any outdoor kitchen, the Japanese-inspired Turbo Teppanyaki Grill gives you the versatility to cook up eggs, fajitas, stir fry, and more with the greatest of ease. This grill eliminates any concern you may have about food falling through grill grates, and easily upgrades any outdoor kitchen setup.
Features
Double-Walled Construction: Corrosion Resistance is provided via the Double-Walled 20 Gauge 304 Stainless Steel Construction which is designed to retain heat, prevent discoloration, and weather the elements.

Dual High-powered Stainless Steel Burners: Flaunting a combined total of 40,000 BTUs from the two stainless steel U-Burners, this grill's ultra-fast heating gives you the ability to prepare food and entertain guests with the simplest of ease. Have complete control over the temperature by easily adjusting the heat or shutting off one burner for an indirect cooking option.

8mm Stainless Steel Cooking Top: 8MM Thick Stainless-Steel Griddle Top captures all the heat from the Burner to give you a true Teppanyaki cooking experience. Boasting 457 total square inches of cooking space, you have endless possibilities to cook, stir fry, or grill for you and your whole family.

Blue Led Illuminated Lights: Blue LED Illuminated Lights gives you increased visibility to easily dial to the correct temperature any time of the day or night. AC/Transformer is included, and an electrical outlet is required for use.

Red Gas Indicator Lights: Designed to inform you when gas is flowing to either burner, The Red Gas Indicator Lights leaves you in control of the grill's power and shut-off and know exactly where the power is coming.

Available As Built-in Or Freestanding: Choose either a cart model that comes equipped with a 304 Stainless-Steel Cart that features side-shelves with ample space for prep work and a fully enclosed bottom for additional storage for your tools or propane tank.

Matching Turbo Knobs: 3 Types of Knobs are included to give you the opportunity to match the look of the unit with any Turbo Grill you may have.

Gas Hose & Regulator Included: The Turbo Teppanyaki w/propane comes complete with a gas hose & regulator standard. The Natural Gas configuration is included with the natural gas regulator.

Stainless Steel Lid: A Stainless-Steel Lid comes standard with every purchase so you can protect your culinary investment.
Dimensions:
Overall Width: 32 inches
Overall Depth: 24 inches
Overall Height: 10.5 inches
Cutout Width: 30.5 inches
Cutout Depth: 20 inches
Cutout Height: 9.5 inches
Weight: 131 lbs
Includes Turbo Elite and Grand Turbo sets of knobs to match your grill.
Need an Install Kit? We recommend this one for your Turbo grill: Install kit for Turbo Built-in Grill Propane
---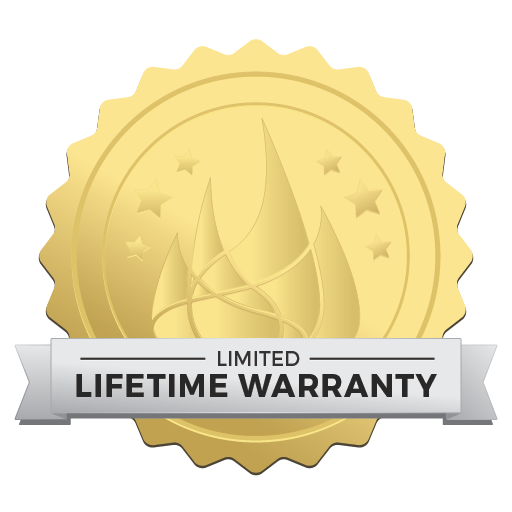 Limited Lifetime Warranty
Purchase your new Turbo grill with peace of mind with our best-in-class Limited Lifetime Warranty. All essential components are covered such as the burners, griddle plate, and stainless-steel exterior construction.
Customer Reviews
You may also like