Barbeques Galore Turbo Elite 38-inch 5-Burner Built-In BBQ Gas Grill - Propane - BTE3821LP
Ships in 3-4 Days
When available, usually leaves our warehouse in 3-4 business days
Short Description:
Available in either 4 or 5 burners, the all 304 stainless steel Turbo Elite allows you to enjoy the luxury outdoor kitchen experience at an economical price. The New Turbo Elite Grill upgrades the grilling experience with the addition of double interior and exterior lights, rotisserie and a rear infrared burner and top quality stainless steel construction.
Click here to Learn More About Turbo Grills, and click here to Learn About Turbo Offers, Customer Reviews, and More!
Barbeques Galore has manufactured the Turbo line of BBQs for over 40 years.
Shop the entire line of Barbeques Galore Outdoor Kitchen Components; designed to perfectly compliment your new Turbo Grill.
Available in either 4 or 5 burners, the 304 stainless steel Turbo Elite allows you to enjoy your very own luxury outdoor kitchen at an economical price. The revamped 2021 Turbo Elite Grill enhances the grilling experience with the addition of double interior and exterior lights, rotisserie and a rear infrared burner, and top-quality stainless-steel construction.
Features
Radiant Heat Dispersing System: Comprised of beveled, high-grade ceramic flame tamer briquettes in stainless steel holders, our Radiant Heat Dispersing System® provides you with a more even cooking surface than direct heating burners alone. The ceramic briquettes minimize the flames from flaring up and reduces the amount of energy consumed. The briquettes also help eliminate annoying hot and cold spots by radiating heat throughout the whole grill. Additionally, they are easy to clean; just flip them over and burning off any excess residue from your food.

Benefits Of Our Ceramic Briquette Radiant Heat Dispersing System:


Creates an even source of heat throughout your grill.
Helps to lessen flare-ups that can burn your food.
Assists with preventing excessive hot and cold spots.
A radiant source of heat to give a convection style cook.
Reduces the amount of energy needed to heat the grill.
Adds delicious BBQ flavor to your meal when drippings hit the heated briquettes.
Easy to clean and replace.
Much more functional then typical metal heat shields found on other grills.

Double-Walled Construction: Corrosion Resistance is provided via the Double-Walled 20 Gauge 304 Stainless Steel Construction which is designed to retain heat, prevent discoloration, and weather the elements.

Stainless Steel Cooking Grates: Built to last, the Stainless Steel Cooking Grates offer you the most durable and easy-to-maintain cooking surface available. The Turbos 8MM cooking grates maximize the transfer of heat to food. You get a total of 753 square inches of cooking space on the 4 Burner Grill and an astonishing 940 square inches of cooking space on the 5 Burner Grill.

Cast Stainless Steel Burners: Equipped with either 4 or 5 commercial quality Cast Stainless Steel Burners and boasting 12,000 BTUs per burner, the 4-burner model touts a combined total of 60,000 BTUs, while the 5-burner model flaunts an impressive total of 72,000 BTUs of pure grilling power (including 12,000 additional BTUs from the standard infrared back burner). The heavy cast steel burners far outshine the average "tube" burners typically found among other grills.

Motorized Rotisserie Kit: A standard feature for the Turbo Elite Grill, the Rotisserie Kit allows you to leave the lid closed as the spinning motion ensures that each part of the food item is cooked evenly without burning. Boasting an impressive 40 lbs. of turning weight, the high-quality rotisserie motor can handle almost any large piece of meat you throw at it.

Rear Infrared Burner's 12,000 BTUs of power heats the food directly and allows food to retain more of its natural juices when using the included rotisserie kit.

Integrated Temperature Gauge: Integrated Temperature Gauge allows you to easily view the internal temperature without needing to open the hood, which allows you to keep the heat within the grill.

Blue Led Knob Lights: BBlue LED Knob Lights provide an alluring aesthetic when entertaining guests during your evening cooking. AC Power/Transformer included; electricity outlet required to use.

Dual Halogen Interior Lights: Dual Halogen Interior Lights come standard on both models and easily lights everything under the hood to make cooking after dark a breeze.

Available As A Built-in Or Freestanding: Choose either a cart model that comes equipped with a 304 Stainless-Steel Cart that features side-shelves with ample space for prep work and a fully enclosed bottom for additional storage for your tools or propane tank.

Removeable Upper Warming Rack: Removable Upper Warming Rack allows you to simultaneously keep hamburger buns, hot dog buns, and other foods hot while also grilling your favorite patties or steaks. 166 square inches available on the 4 Burner; 212 square inches available on the 5 Burner.

Removable Drip Tray: Removable Drip Tray easily slides out from underneath the front of the grill and allows you to catch and clean any extra grease that has flowed into the tray.

Upgraded Smooth Start Built-in Ignition System: The Upgraded Smooth Start Built-In Ignition System is standard on the Turbo Elites. The ignition system is built into each valve to allow for lighting your grill as easily as your stovetop and have complete control of which burner you would like to use when cooking indirectly.

Optional Accessories Available: Add a stainless steel, nonstick Smoker Box to infuse your grilled food with delicious smoked flavor. The Turbo Stainless Steel Griddle is perfect accessory for cooking eggs, bacon, stir-fry, quesadillas, and so much more on your Turbo Elite grill.
Dimensions:
Width: 39.75 inches
Depth: 25 inches
Height: 22.6 inches
Cutout Width: 38.5 inches
Cutout Depth: 19.75 inches
Cutout Height: 9.5 inches
Weight: 206 lbs
Need an Install Kit? We recommend this one for your Turbo grill: Install kit for Turbo Built-in Grill Propane
---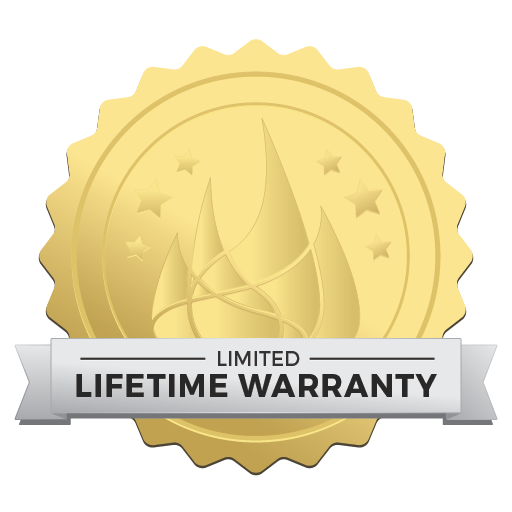 Limited Lifetime Warranty
Purchase your new Turbo grill with peace of mind with our best-in-class Limited Lifetime Warranty. Essential components are covered including cooking grids, stainless-steel burners, and all other stainless-steel parts.
Customer Reviews
You may also like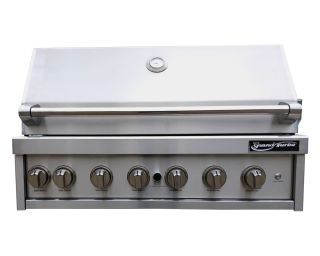 Free Shipping
Special Order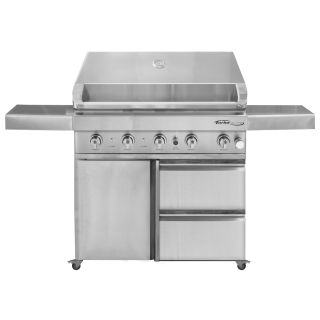 Free Shipping
Ships in 1-2 Days