Why Buy Artisan Grills?
Call or Chat for Best Price Available!
Low Price Guarantee
Free & Fast Shipping
Largest Selection of Products
Our Experts Can Find the Right Artisan Grill for You!
Limited Time Only: Mail-In Offer Available
Learning Center
Shop More Artisan
Island & Components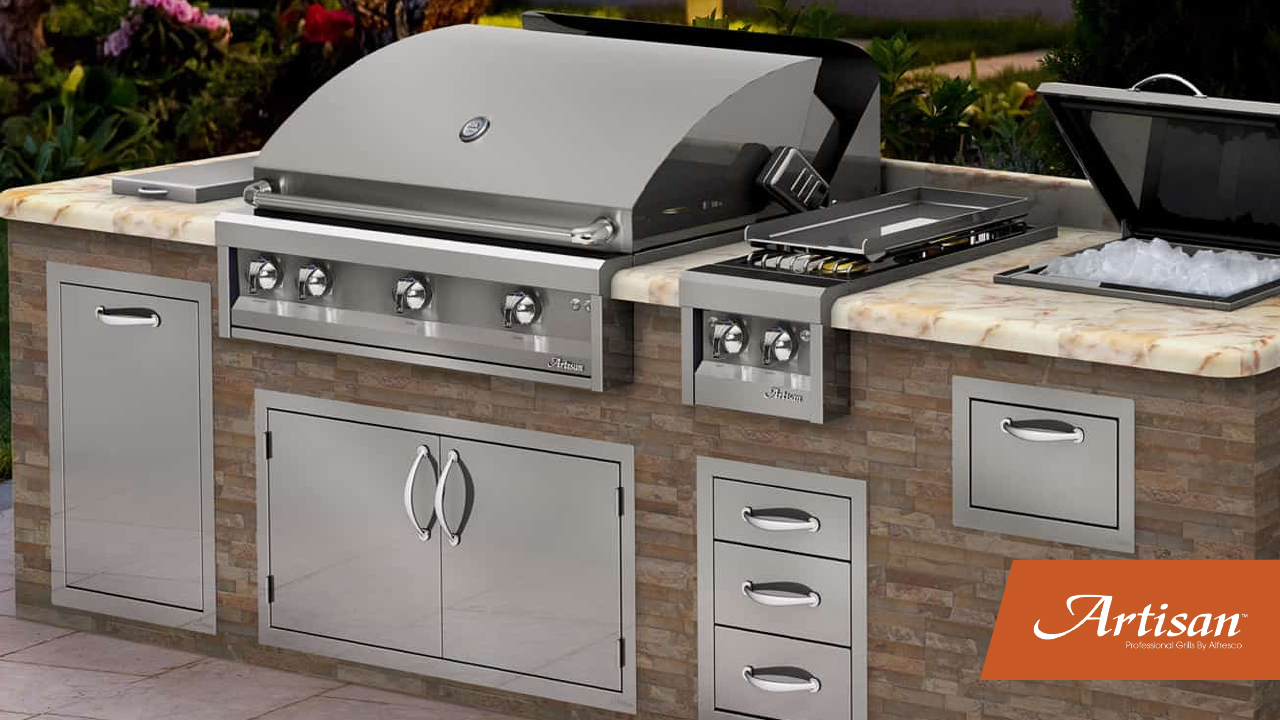 Go to filters
Find the Best Artisan Grills at a Low Price
Designed and manufactured in the USA, Artisan Grills have a classic, retro design that lures our customers in droves. They are built from top-notch 304-grade stainless steel and have a spring-assisted hood that's a breeze to open.
It's also double-lined with polished edges coupled with seamless welds that deliver an alluring appearance. This type of hood design adds a layer of durability to the grills as it safeguards them from the discoloration that may be caused by intense heat. In a nutshell, the hood is double-insulated for optimum heat retention.
As a USA-produced luxury brand of grills, outdoor parts, and accessories, there's no denying that Artisan has some of the most powerful products.
For instance, the U-shaped stainless steel burners feature two rows of ports per burner. As a result, this generates intense heat while ensuring uniform heat distribution across the grill's surface.
Artisan offers two grill series that we have in stock; Professional and American eagle. The latter series contains the features mentioned above and comes in 26-inch and 32-inch models. If you want better bang for your buck, then consider the Artisan Professional grills that come with a few extra features such as:
Interior Halogen Grill lights that come in handy in low-light conditions.
LED control panel lighting
A rotisserie kit and back burner
Warranty
Artisan grills are backed by a 10-year warranty that covers all stainless steel components.
The burners are backed by a 15-year warranty.
The flame tamers come with a 3-year warranty.
The igniters and other grill components are covered for one year from the date of purchase.
Artisan Grills are an ideal fit for your kitchen if you gravitate towards stainless steel gas grills that come with ceramic briquettes. Nonetheless, we understand that choosing the ideal grill for your home can be an uphill battle. Therefore, we're here to assist every step of the way. After all, we take pride in your satisfaction.
Do You Still Have Questions?
To that end, we're a one-stop-shop for all your grilling needs. Therefore, it's no surprise that we have a boatload of replacement parts and accessories for Artisan and other grills.
These include everyday essentials such as igniter modules, light bulbs, trays, cooking grids, U-burners, briquettes, grease trays, ceramic pieces, knobs, and thermometers.
Regardless of whether you're in the market for a new grill, replacing worn out parts, or upgrading your current setup, we're always here to help.
Today, get in touch to gain insight into our product availability, new offerings, and shipping times.