Benefits of Outdoor Bars

Advantage of Charcoal Grills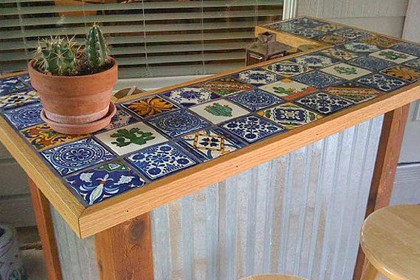 Take on a DIY Project
Watch your ideas come to life with an easy DIY, nothing says mine like something you have crafted.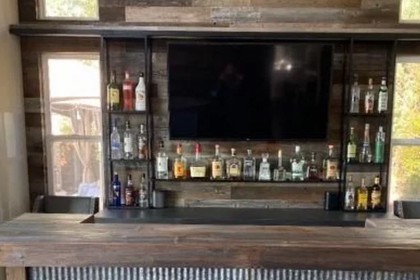 Your Favorite Drinks in One Place
Finally! You get to be the one to curate the list of beers on tap and stack it with nothing but your favorites.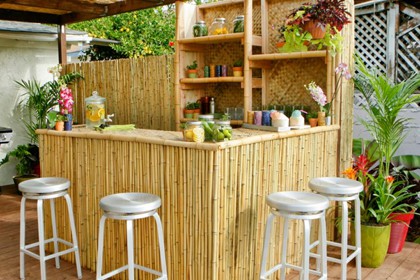 Manage the Guest List
You can make it a party of one or five, determine who stays, who leaves, and who does not show.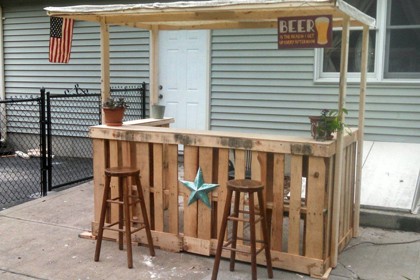 Inexpensive
Cut down your budget by designing and developing your bar island. Hiring a contractor is not cheap.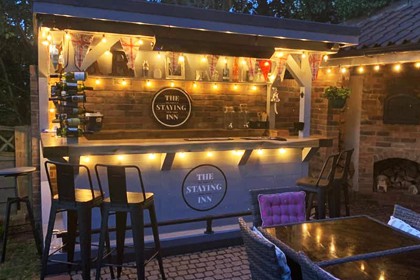 No Last Call
Make the decisions, select the closing time, how loud the music plays, and what is on the playlist. You're the boss!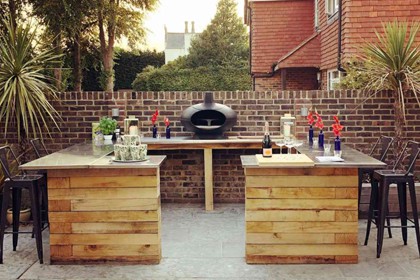 Save on Cost Long-Term
The purchasing cost is low long-term because a keg or a bottle is much cheaper than buying a pint or glass.
Is Building a Home Outdoor Bar Complicated?
Setting up an outdoor bar should be a walk in the park with the proper materials. Just take a little bit of time to figure out all the amenities you will need for your dream bar. You will need to start with the basic framework, but with things like outdoor kitchen kits and one drop-in component, it will take form in no time. Then, add other essentials like the backyard grill and outdoor refrigerator. Finally, apply a few exterior finishes, and stoking the area with your favorite beverages and knick-knacks.
Assembling the outdoor kitchen pieces is simple and affordable. All it takes is a bit of creativity and elbow grease.
Outdoor Bar Essentials
Begin with the island frame kit as the foundation of the bar. The equipment provides structure during the building phase and eventually avails storage space for your outdoor bar. Installing the island frame kit is the most uncomplicated route of building a backyard bar.
You can then fill the adjacent areas with your preferred bar accessories. You can include the outdoor refrigerator, outdoor grill, sinks, and everything in between. The wet works— skins, icebox, bar center— are essential elements for your outdoor bar. They should be at the core of your design, enveloped by other functionary outdoor cooling components.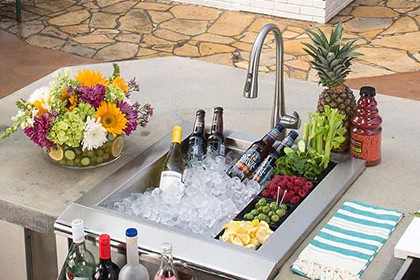 Outdoor Bar Sinks
A sink is a central element in an outdoor bar design plan, no matter how absurd this statement seems. Imagine hanging out in a backyard bar where glass cleaning takes place in the sprinkler— now that is odd for sure. Sinks allow you to quickly clean glasses, store ice for chilling drinks, or rinse out a bar rag.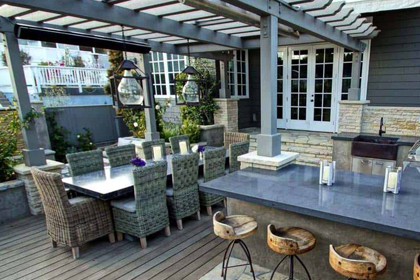 Outdoor Bar Centers
The bar center is the one solution for all your outdoor bar needs. It comes readily equipped with every essential element for a successful party in your backyard— from the sink, ice bins, towel holders, speed rails for liquor and mixers—and sometimes even blenders. All that would be left is the grill!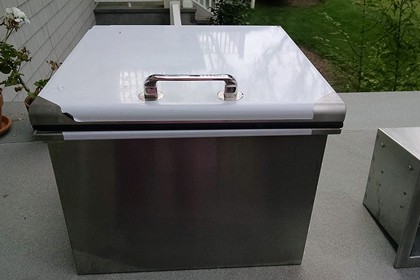 Outdoor Ice Bins
As the name suggests, ice bins are insulated containers that are used to store. They also have a drain to suck up melted ice—this slows down melting in the process. Ice bins are perfect for entertaining. Pair them with an ice maker, and you will forever enjoy chilled drinks in the company of friends and family.
Outdoor Bar Elements
Aside from the outdoor bar fundamentals, other outdoor pieces make maneuvering your backyard bar that much easier.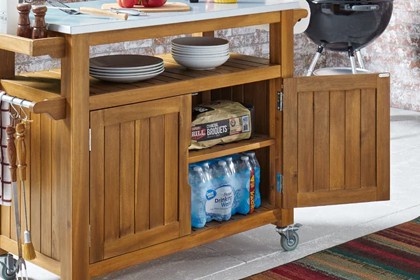 Cabinets and Dry Storage
Storage space is essential for your outdoor kitchen equipment between uses.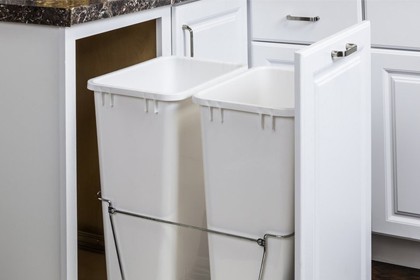 Trash and Recycling
No need to worry about loose garbage flying around with a built-in trash can.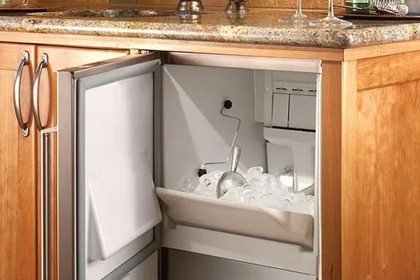 Ice Maker
Get ice quickly in a never-ending supply for your outdoor kitchen.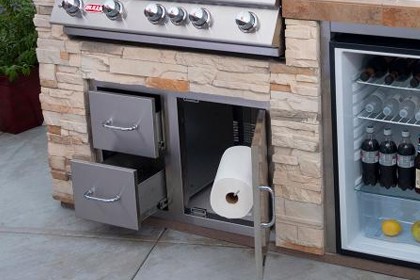 Paper Towel Holder
Paper towel holders provide easy access to clean towels in your outdoor bar.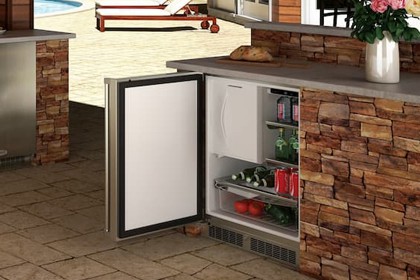 Refrigerators
Keep your vegetables, snacks, and other foods fresh with an outdoor refrigerator.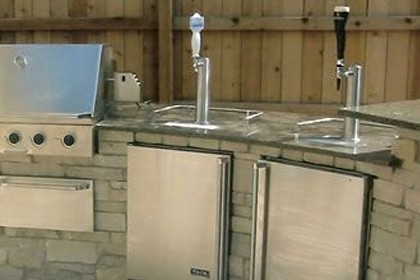 Kegerator
Have your favorite drink on tap, no need to constantly be looking for a bottle opener
DIY Residential Outdoor Bar Examples
It's easy to think an outdoor kitchen is going to be too much to make yourself or to not even know what you will need. Don't worry, it doesn't matter if you are going to be doing this all on a shoestring budget yourself or if you are going to be hiring a contractor to incorporate every bell and whistle you see, your outdoor kitchen is going to be great because it is yours. Here is just a taste of the work that can be done on both sides of the aisle:
Affordable DIY Outdoor Bar
A DIY outdoor bar is a simple project. It requires simple elements to run bar-nothing fancy. Some essential components include an island, which you can purchase and assemble at home. The island comes with a sink, outdoor refrigerator, ice maker, double access doors, and outdoor bar stools.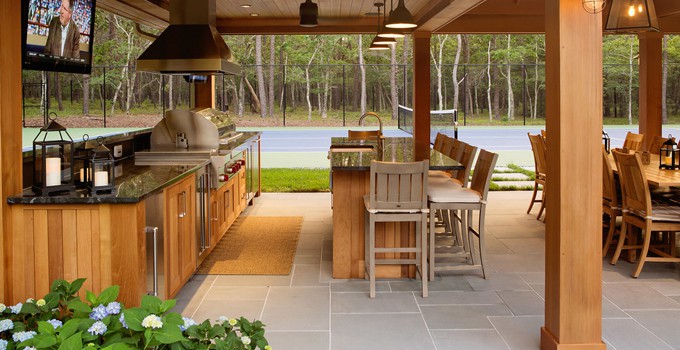 Luxury Entertainment Outdoor Bar
If luxury is your thing, you can up the features and quality of your outdoor bar. Add to your island components that make things easy to operate and the party group larger. Add things like an outdoor refrigerator with an incorporated freezer, double access doors, an ice maker, a kegerator, and outdoor bar stools.