10 Essential Charcoal Grill Accessories

Grilling is the perfect way to serve up plenty of good food for a crowd while enjoying the outdoors and socializing with guests. The flavor and aroma of those smoky, savory meats and sides are an unparalleled taste sensation that can't be replicated. Charcoal grills are an excellent tool for anyone who loves to BBQ, from beginners looking to improve skills to long-time grill masters. These recommended charcoal grill accessories will help you use your grill's every capability to the fullest as you delight your family and friends with the succulent foods you serve. From thermometers to determine the ideal doneness to maintenance tools that keep your grill in top shape, Barbecues Galore has the grill accessories you need that make grilling fun, without breaking your budget.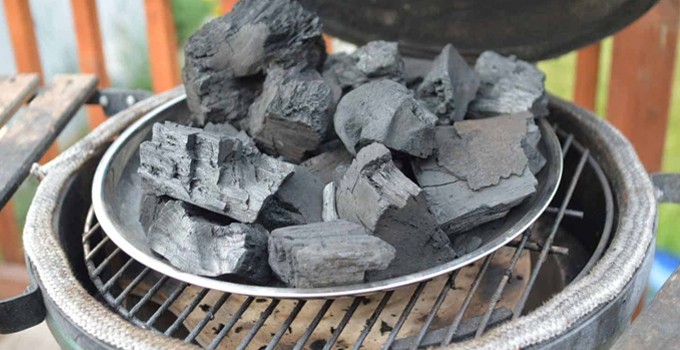 Lump Charcoal
Choosing the right type of pellets or charcoal is an essential step in grilling delicious foods on your BBQ charcoal grill. Lump charcoal is considered by many to be the best choice for these reasons:
The pure carbon of lump charcoal contains zero additives that can have an unpleasant chemical smell and flavor.
Lump charcoal burns hotter and longer, so you can manage the fire more easily to grill everything to perfection.
Enjoy an easier clean-up since there is far less ash produced with lump charcoal than with briquettes.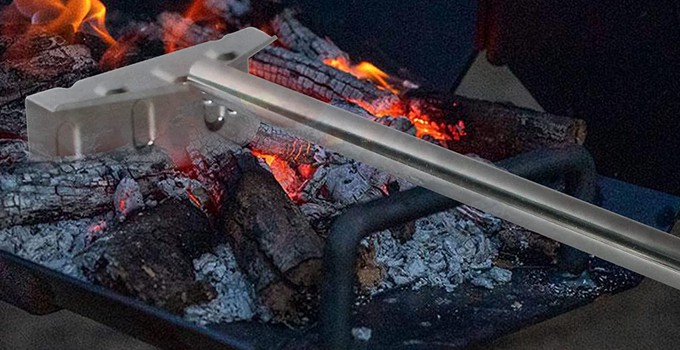 Charcoal Ash Tool
A charcoal ash tool can simplify the grilling experience. An ash tool is generally made from durable stainless steel and has a straight or rounded blade attached to a handle.
The ash tool is excellent for safely and easily shoveling or moving the lit charcoal around the grill to create areas of direct and indirect heat.
It's also great to clean the grill after you are finished by scooping up and removing ash.
A long handle allows you to reach every area of the grill.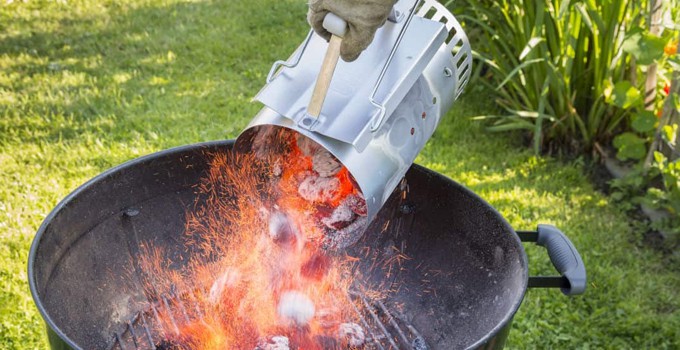 Charcoal Chimney
The charcoal chimney is one of those barbecue grill tools that has enduring popularity. Charcoal chimneys are convenient to carry anywhere else you may want to grill up.
Quickly and safely light your grill without the smell or taste of lighter fluid.
The easy process requires that you place lump charcoal in the metal cylinder above the grate, and crumpled newspaper below. Light the newspaper and once the coals are heated, add them to your grill.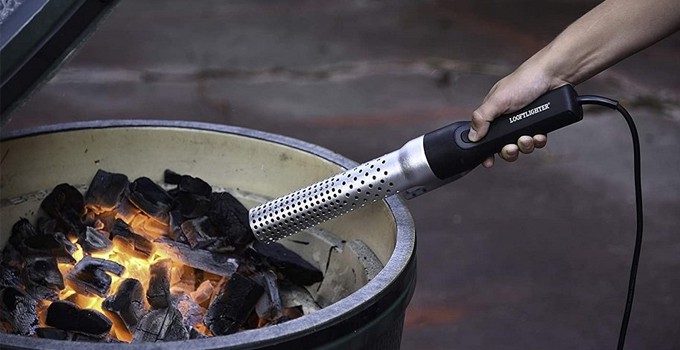 Electric Charcoal Starter
Another fast way to light your charcoal grill without using chemicals is with an electric charcoal starter. Choose from a variety of models to find the type that you prefer.
There are electric lighters that use a flame, some that provide a continuous stream of hot air to ignite your chosen grilling fuel, and arc lighters.
Each one can light a grill in just a few minutes.
Some versions must be plugged into a power source, while others require occasional recharging.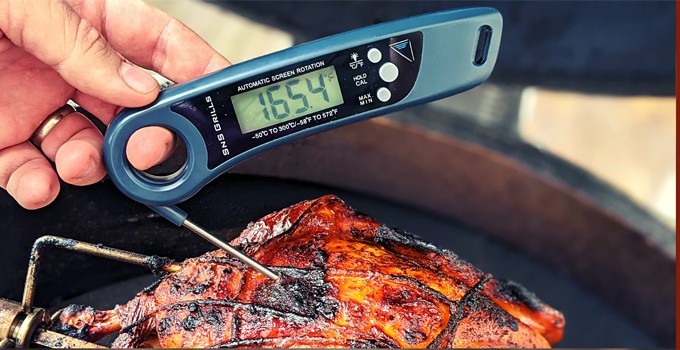 BBQ Thermometer
One of the most important bbq tools that all grillers should have is a thermometer to take away the guesswork in grilling times. Undercooked food can be unsafe to eat, while overcooked meats may become tough.
A thermometer allows you to grill each piece of meat until the desired temperature to please every preference
Use them to check the temperature of the grill before you add the food.
BBQ thermometers come in various models such as infrared surface thermometers, instant-read models, and wireless versions.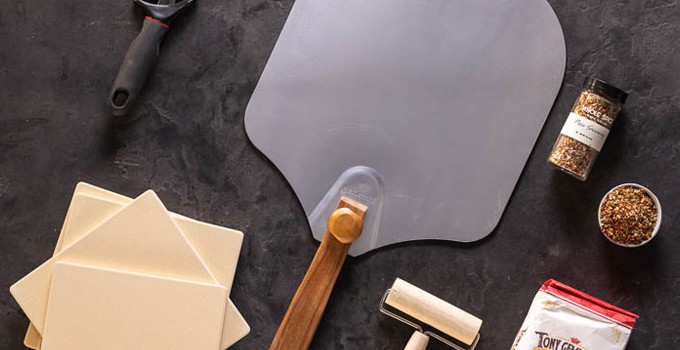 Pizza Grilling Kit
Outdoor cooking isn't limited to steak, burgers, or chicken. Try some unique BBQ accessories like a pizza grilling kit to add a new amount of variety to your skill set with a dish you know and love.
Pizza stones are a wonderful solution to make delicious wood-fired pizzas to satisfy your guests.
Make a variety of pies to please even the pickiest of eaters.
The pizza stone can be used to bake all kinds of foods that would normally be reserved for your kitchen's oven such as bread and desserts.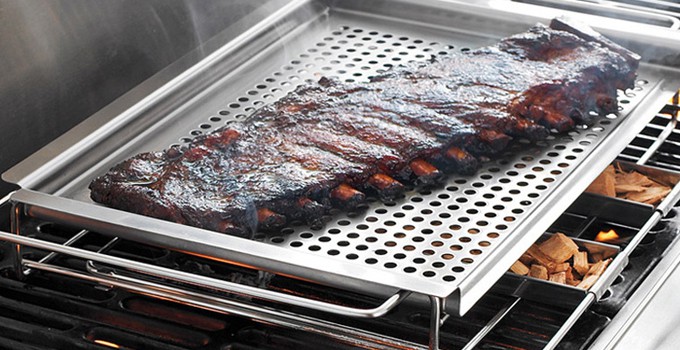 Grill Racks & Toppers
If you want more grilling options to serve up your favorite foods, then grill racks and toppers are wonderful BBQ accessories to have on hand.
Use a grilling basket to evenly cook smaller foods such as vegetables and shrimp.
Opt for a chicken roaster to get a perfectly tender and juicy bird every time.
Use a multi-purpose griddle to cook up a full breakfast of pancakes, bacon, and eggs.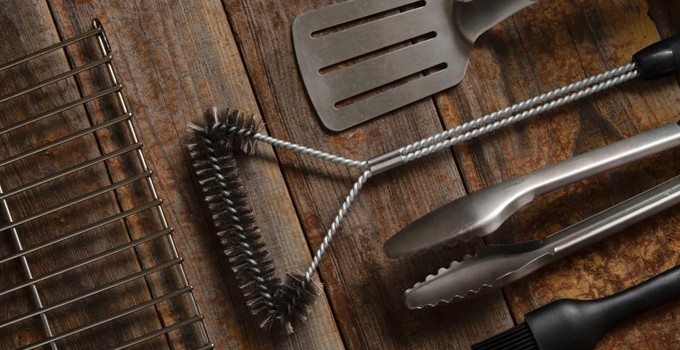 Grilling Tools
No one wants to be in the middle of a cook and be left wishing they had something to make their job easier. That's why barbecue charcoal grill accessories are the best friend of anyone who enjoys grilling.
Tongs and spatulas are ideal to flip food for even cooking and to safely remove items from the heat when finished.
A good basting brush is crucial to slather your chicken and burgers with your favorite sauces for extra flavor.
Use meat handler forks to shred a hot roast to make into sandwiches for an easy and crowd-pleasing meal.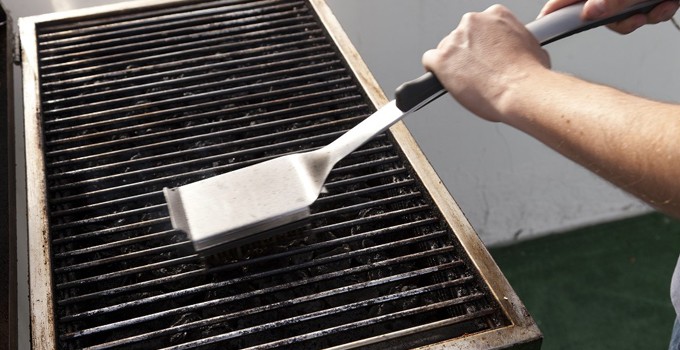 Grill Brush
A good grill brush is one of those grill accessories that everyone needs to have to make after-cooking clean-up simple and easy. A clean grill will last longer and is easier for spontaneous use.
If you leave your grill dirty, it will be prone to wearing down long before its intended lifespan is met.
It only takes a few minutes to clean the grates when you are done and keep your grill clean and ready.
Use a large brush for the main cooking surfaces, and smaller detail brushes to reach into small spaces.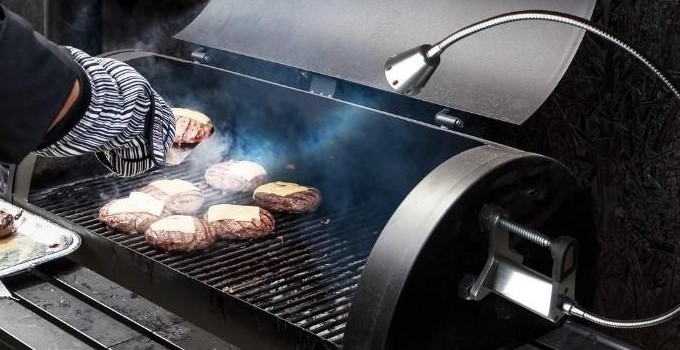 Grilling Light
Do your cookouts tend to last long into the evening, but have to be cut early because it was too dark? Nightfall is no longer a cause to stop the grilling party when you have grill lights to rely on.
Grill lights are another of the most useful charcoal grill tools that every serious griller should have.
You can illuminate the entire grilling and food prep area, or use specialized tools to attach to your spatulas.
Keep the fun going strong with LED lights, or magnetized lights to lengthen your grilling hours.