How to Buy a Pellet Grill and Smoker

Do you want to enjoy the convenience of a propane grill with the flavor of a charcoal grill? A pellet grill is what you are looking for. The article serves as a guide to buying the perfect pellet grill.
What is a Pellet Grill?
A pellet grill is a new type in the market that uses pellets as a form of fuel derived from wood shavings. Pellet grills are easy to use and function as grills as well as smokers. A temperature sensor controlled electronically feeds pellets to the fire pot, heats it, and maintains the set temperature of the grill.
Why Buy a Pellet Grill?
The benefits of a pellet grill over a conventional grill are tremendous. For instance, it enables better temperature control. A pellet grill features an innovative electronic temperature gauge that functions as one found in an oven. The technology allows you to choose the cooking temperature, thereby eliminating the inconvenience of opening or closing the vents like in a charcoal grill. The temperature control technology also lets you monitor whatever you are cooking.
Unlike conventional charcoal grills or gas grills, you can cook at low temperatures for longer with pellet grills. Pellet grills have increasingly become widespread in recent years. However, with many options available, finding the right pellet grill smoker is a question that lingers in many buyers' minds.
Pellet Grill and Smoker Configurations
There are two types of pellet grill and smoker configurations to choose from—freestanding and built-in grills.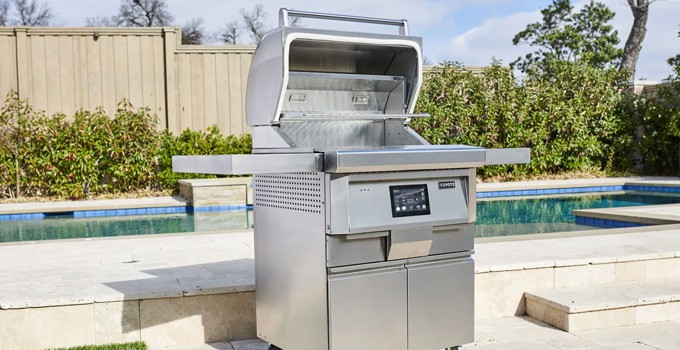 Freestanding
A freestanding pellet grill or smoker is configured to offer mobility. They are suitable for buyers interested in a portable grill for their backyard. Some freestanding pellet grills or smokers include shelves for storage and prep spaces. This model of pellet grills is also great for camping and tailgating.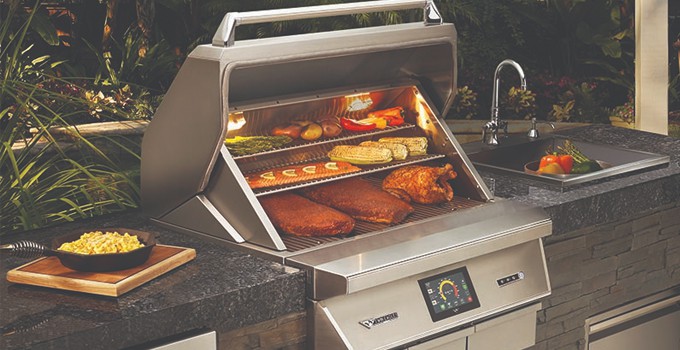 Built-In
A built-in pellet grill is designed to fit a custom enclosure. Unlike the freestanding pellet grill, this configuration is for buyers interested in an immovable pellet grill or smoker. Built-in pellet grill configurations are often on the high-end of configurations and offer a sleek outdoor kitchen look.
Grill vs. Vertical Smoker
Pellet cookers are sometimes referred to as pellet grills, pellet smokers, or even pellet grill-smokers, among other names. While it may seem confusing, pellet cookers go by many names, mostly because of their diverse range of functionality. A pellet grill is designed to maintain low-and-slow temperatures and reach grilling temperatures. Some grills feature gas side burners attached to their barrels. It is important to note that these grills are designed to smoke and bake at lower temperatures
On the other hand, a vertical pellet smoker is engineered specifically for low-and-slow smoking. The key distinction between a pallet grill and a pellet smoker is that the former can cook at just about any temperature. Vertical pellet smokers are somewhat similar to upright configured electric smokers. However, they are engineered to create combustion using gravity feed of pellets. Vertical pellet smokers can hit up to 450oF but generally operate at around 150oF for smoking delicate foods.
Pellet Grill Temperature Controllers
Another criterion for selecting a perfect pellet grill or smoker is to consider the extent to which the appliance can run itself. This requires considering how temperature controllers operate in managing pellet consumption and stoking the fire to achieve desirable levels of heat and smoke.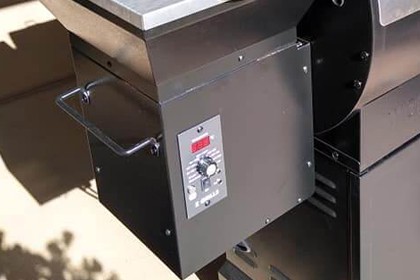 Non-PID Controllers
The non-PID controllers are old-fashioned controllers that offer pre-set temperatures. These controllers are common among entry-level pellet smokers with the least temperature control technologies. We recommend remote grill thermometers to accurately estimate the temperatures inside the grill when using the non-PID device.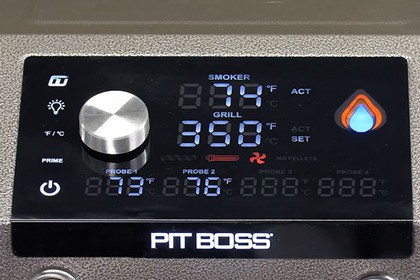 Pellet Grill PID Controllers
The growth of pellet grills saw an impressive rise in technologies such as PID controllers. The PID controller innovation includes running calculations based on fan speed and pellet rates, among other factors, to maintain a constant temperature. Unlike non-PID controllers, you can set and maintain a certain temperature for a pellet grill or smoker.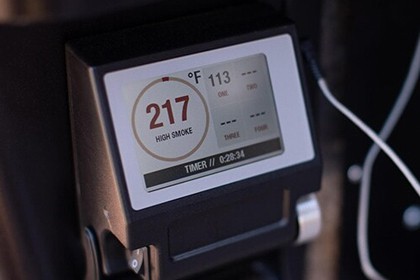 PID-Plus Interfaces
In some pellet grills, PID controllers are equipped with more sophisticated technologies such as Wi-Fi capabilities and smartphone companion apps. Such capabilities would allow you to monitor cooks and send automated alerts, sometimes even remotely. Thus, enhanced PID controllers have subcategories called PID-Plus Interfaces.
Pellet Smoker
Buyers are often interested in the quality, performance, and features of pellet grills when purchasing. Based on these features, pellet grills and smokers can be categorized into four different classes—luxury, premium, practical, and entry-level. These criteria help you choose a pellet grill that satisfies your budget, lifestyle, and preferences.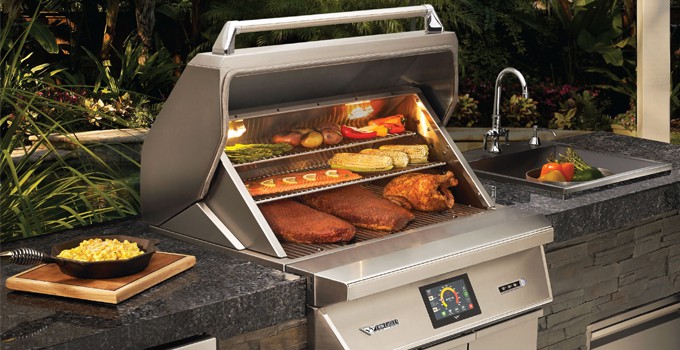 Luxury Pellet Grills
Produced entirely from high-quality stainless steel for purposes of durability
They are either in the form of built-in or freestanding configurations for outdoor kitchen appliances.
Consist of the widest temperature range of any pellet grills for everything between slow-smoking and searing.
The actual temperature in the chamber regularly is the set temperature.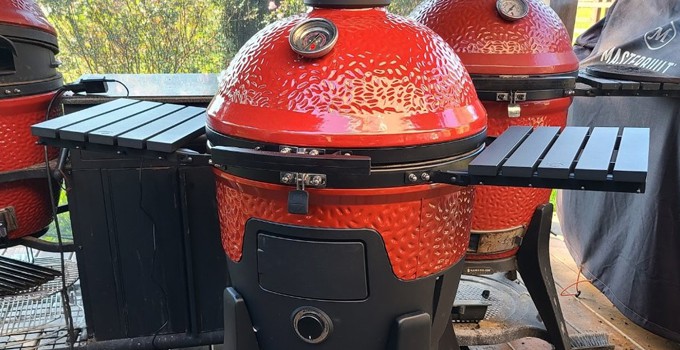 Practical Pellet Smokers
Features a combination of powder-coated or painted steel and stainless steel
Temperature ranges between 200oF and 600oF, allowing baking, grilling, and smoking.
The interior temperatures of chambers do not always reflect the set temperatures.
Some of the pellet grills in this class have a special mechanism to allow for direct flame grilling.
Premium Pellet Smokers
Includes double-walled insulation and s stainless interior that ensures long-lasting durability and almost timeless esthetics to your smoker.
Features a downdraft exhaust to ensure smoke remains within the barrel until it completely circles your food to provide maximum flavor from the smoke.
Built with a pill-shaped barrel to create more vertical space to fit a much larger amount of food.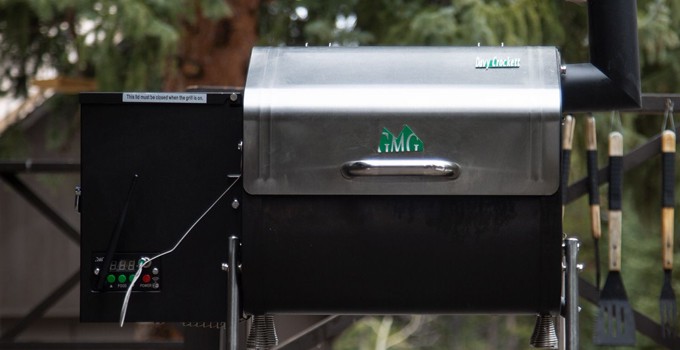 Entry-Level Pellet Grills
These are the most affordable class as far as pellet grills or smokers
Designed for low-and-slow smoking, but can reach higher temperatures
Cooking versatilities are also limited because of the reduced maximum temperature
They mostly use non-PID controllers resulting in fluctuations in temperatures and smoke production.