How to Buy Flat Top Grills & Griddles

Who do you turn to when you are reviewing flat top grills and BBQ griddles for the backyard? The professionals of course.
Our experts at Barbecues Galore can assist you when you are looking for your perfect grill. Flat top grills and BBQ griddles are one of the most adaptable cooking appliances available. They add a certain sophistication to your outdoor dining experience, letting you experiment with ideas you never thought possible.
Why limit yourself to cooking steaks and sausages outside? There are so many more types of food you can cook on your flat top grills and BBQ griddles. With a flat solid surface, you can think about all those small items that would normally fall straight through a traditional grill. Your creations that begin as a liquid can also be cooked outdoors - think fried eggs, pancakes, omelets, and fried rice..... All of these are impossible to cook on a grate.
Once you have decided what kind of grill to buy, there are a few things for you to consider when you are researching flat top grills. The range of flat top grills and BBQ griddles at Barbecues Galore will include the perfect cooktop for your requirements. To help you get started, there are a few steps that we go through to determine which appliance is best for you.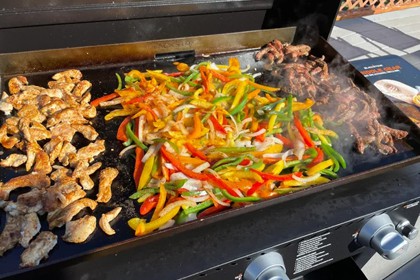 Quality
One thing we will not compromise on is the quality of the cooker.
Predominantly constructed with 304 stainless steel, our flat top grills and BBQ griddles have great corrosion resistance and resist discoloration due to weathering. Plate thicknesses determine how quickly flat top grills warm up. Another advantage of a thicker plate is its ability to resist warping over many years of service.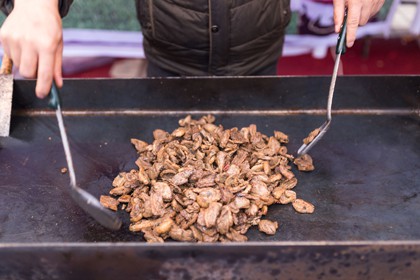 Performance
How flat top grills perform is another area to consider. Three variables to think of are heat retention, evenness of heating, and temperature range.
Our cooking systems all provide even heating to minimize hot and cold spots on the cooking surface. This will allow you to uniformly cook your meals. Keeping your cooking consistent will keep smiles on your guests faces and have them coming back for more.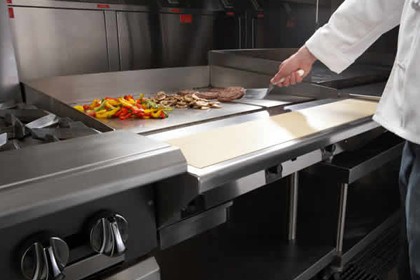 Features
As the saying goes, you get what you pay for when it comes to features. Mid-range grills will have the accessories you would expect, allowing you to personalize and enjoy your cooking a little more.
A functional, more economical version will have the basics, but nothing fancy to let you experiment. On the other hand, all out and grab yourself one of our top-of-the-range flat top grills. You are sure to be the king of your backyard!
What is a Flat Top Grill
The major difference between a flat top grill and a traditional grill is the surface. A flat-top grill is similar to a griddle, having a flat surface that you can use as a frying pan. Both flat-top grills and BBQ griddles are designed to heat up quickly.
The fact that the surface is a solid plate gives flat top grills some advantages over a traditional grill. It is a versatile cooking appliance, that will allow you to cook many items outdoors that would be difficult if not impossible on traditional grills. Think breakfast – fried eggs, hash browns, pancakes, and bacon all on the same hot plate!
Which Flat Top Grill Configuration is Good for You?
You have three options when looking for a flat top grill. Which one you choose will depend on whether you want to create an oasis in your backyard, cook wherever you go or just have a grill handy when friends drop by. The three options are: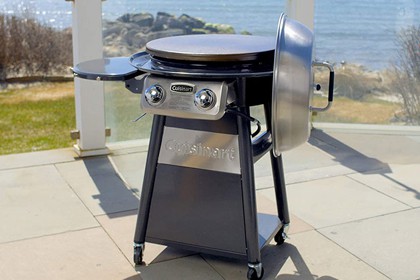 Freestanding
A freestanding grill gives you the ability to move your grill around. With the grill being mounted in a wheeled cart, moving around your flat top grill is easy. Perhaps you would like to keep it undercover, but this area is not ideal for cooking? Just wheel it out when you need it and return it to its storage area after use.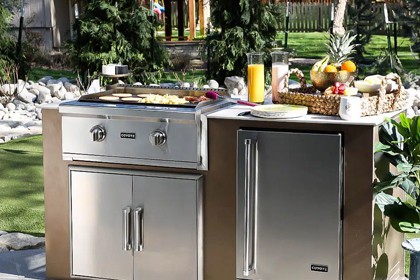 Built-in
Are you at the stage where you want to turn your backyard area into an entertainment paradise? Well then, a built-in flat top griddle is the way to go! Why not combine a traditional grill, side-by-side with a griddle to give you maximum choices?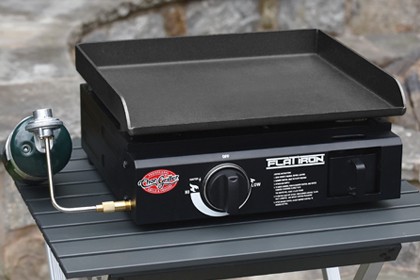 Portables
Why limit your cooking prowess to the backyard? Take your grilling to the great outdoors or wherever you please with a portable flat top griddle. Imagine being in the great outdoors, the smell of bacon, eggs, and hash browns combining with the smells of nature - what a way to start the day!
Which Flat Top Grill Size Fits You Best?
They say bigger is better, but this is not always the case, particularly when it comes to buying flat top grills or BBQ griddles. The size of the grill that is best for you will depend on how much you want to cook. Will you be cooking mainly just for the family, or do you love having everyone from 10 miles around over every weekend?
You should also consider how many different things you like to cook at once. Do you want to be able to cook some things at a lower temperature in certain areas?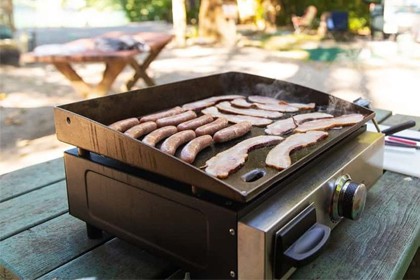 Small
We consider flat top grills to be large if they are more than 34" wide. It is not very often you will come across flat top grills of this size. They generally consist of up to 6 burners, giving you the cooking space to cater to most of your larger gatherings.
Medium
This will cover most of the BBQ griddles that you will come across. Think somewhere between 27" and 34" across the cooking plate for medium flat top grills. It is also ideal for most gatherings you will have in your backyard.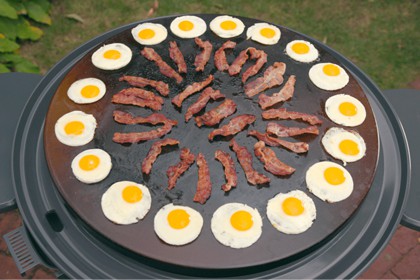 Large
Anything smaller than medium-sized BBQ griddles makes this group. These grills are still great to cook on, you will just be limited by size and/or quantity. They generally have 1 or 2 burners and are perfect for a quick getaway or when space is limited.