The Benefits of Charcoal Grills

A charcoal grill uses charcoal to cook your food directly over high heat, infusing it with a smoky flavor. With a few adjustments, you can grill, smoke, bake and sear your meat at virtually any temperature. The steel grates give you plenty of room for meat and vegetables while collecting the drippings underneath. Select grills come with features like removable ashtrays and gravity-fed charcoal.
With a charcoal grill, you'll develop your cooking style that produces seared vegetables and hot, juicy meat. Direct, indirect and dual-zone cooking bring out different flavors and textures in your favorite dishes. Shop Barbeques Galore for top charcoal grill brands like Turbo Grills, Kamado Joe, and Weber Grills, then load up the grill and host a barbecue for your neighborhood.
Advantage of Charcoal Grills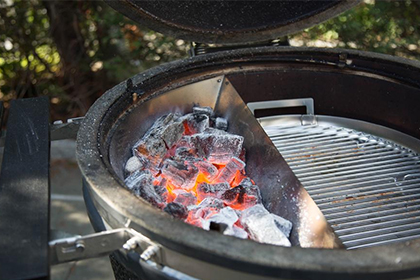 Dual-Zone Cooking
Direct heat sears the meat and provides a rich, smoky flavor, while indirect heat slow-cooks your food to create tender, flavorful barbecue. Charcoal grills give you the ability to easily try both methods without any extra or expensive fancy equipment.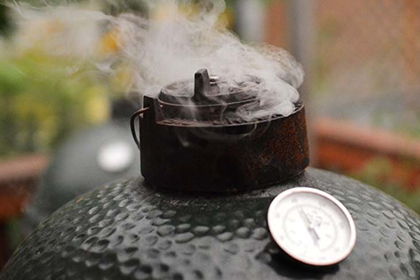 High Heat Temperature
Charcoal grills have no maximum temperature limit. You can make the temperature as high as you want and need, feel free to experiment with different cooking techniques and temperatures. Just remember to take safety measures while you cook.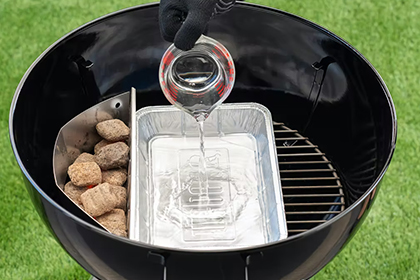 Moisture Retention
Charcoal grills cook your meat with infrared heat, which cooks the meat directly and keeps it from drying out. This locks in moisture while you cook the meat on the grill. Instead of tough, chewy meat, you'll serve your guests an entree that's full of juice when you cut into the meat.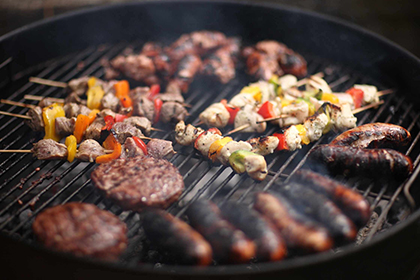 Cooking Versatility
With direct, indirect heat, and dual-zone capabilities, you can cook virtually anything on a charcoal grill. Cook up more than just hot dogs and hamburgers! Don't be afraid to try baking bread or pies on your grill for dessert, crispy and cheesy pizza, or smoke sausages on the grill for hours.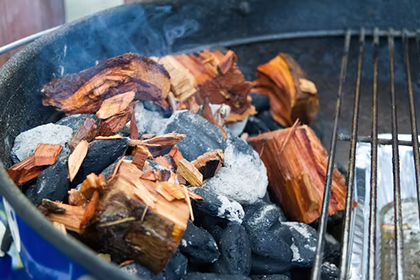 Easy Smoking
To smoke meat, simply gather your charcoal and wood chips, place them on one side of the grill, add the meat to the other side of the grill and check the temperature during the smoking process. All you have to do is wait for the grill to cook the meat evenly and infuse it with a smoky aroma.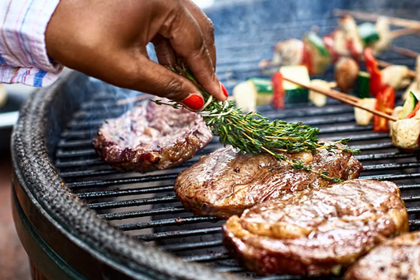 Cost-Efficient
Most charcoal grills are cheaper than gas grills and charcoal grills don't require the expensive equipment that you need for gas grills. The cooking method is simple: load up the charcoal, place food on the grate, and wait for it to cook. Charcoal and wood chips are relatively affordable.
Many Uses of Charcoal Grills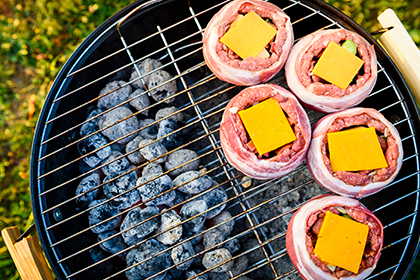 Indirect Heat Cooking
Slow-cooking your meat preserves moisture, prevents charring on the outside, and cooks large slabs of meat evenly. Indirect cooking can take hours, but it results in soft, juicy meat with a smoky flavor that you won't achieve with direct grilling.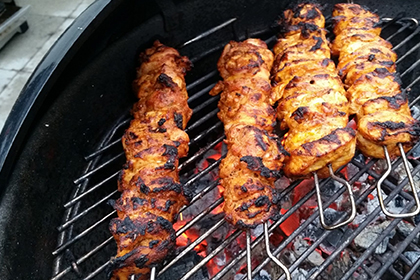 Direct Heat Cooking
When you cook with direct heat, the drippings fall into the coals, adding flavor and aroma to the smoke. The direct heat method also preserves moisture to keep the meat from drying out. You'll enjoy rich, buttery meat infused with flavor from fats and oils.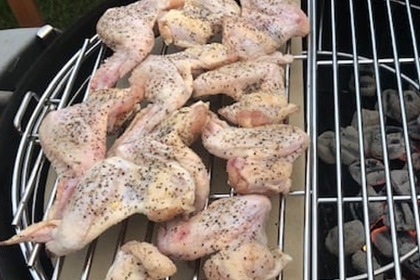 Dual-Zone Cooking
To smoke and grill your meat at the same time, simply pile your coals on one side of the grill. Place one meat over the coals for direct heat, and keep other foods away from the coals for indirect heat. Some grills have features for dual-zone cooking, but you can use this method on any grill.
Charcoal Grill Specialty Features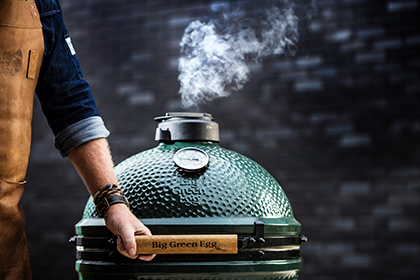 Ceramic Charcoal Grills
Ceramic is a thermal insulator that traps heat and withstands high temperatures. As a result, ceramic grills trap the heat inside, slowly cooking the meat while preserving the juicy flavor. These grills take time to heat up, but they distribute the heat evenly so the meat doesn't burn or stay raw in the middle.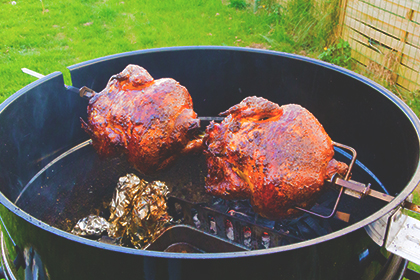 Auto-Starters & Rotisseries
These grills contain rotisserie poles that you can raise and lower to skewer the meat over the charcoal grate. The poles support large animals like suckling pigs and whole chickens so you can feed large crowds and parties. Automatic starters light the fuel before you start cooking, turning a chore into a simple process.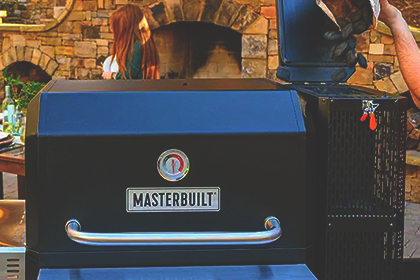 Gravity-Fed Charcoal
With gravity-fed charcoal, the grill does all the work so you don't have to reload. These grills store the coals in a section attached to the side of the grill. When the coals heat up, the heat and smoke enter a section below the cooking grate. As the coals burn to ash, the charcoal on top slides down and keeps the grill running.
Top Charcoal Grill Brands
Turbo Grills
Turbo Grills are tough, sturdy, and made from stainless steel that withstands high temperatures and harsh elements. With sleek, professional exteriors, they look like restaurant grills without the hefty price tag. The stainless steel grates are easy to clean and heat the food evenly while you cook.
The Turbo Charcoal Grill offers a clean, efficient design with ventilation, double-walled construction, and an adjustable tray. View the temperature at a glance with the integrated temperature gauge. For buns, garlic toast, vegetables, and other ingredients, place them on the warming rack so they'll be hot and ready to serve.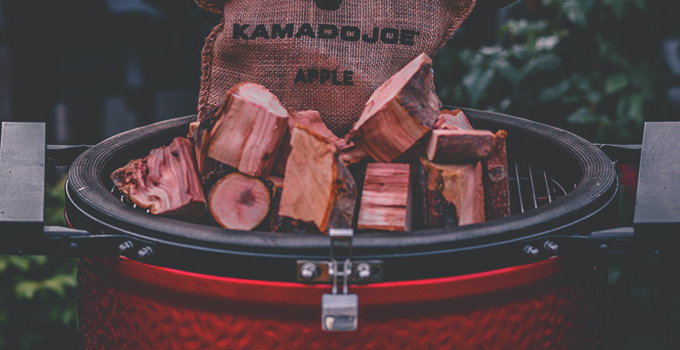 Kamado Joe
Kamado Joe's red ceramic grills are instantly recognizable--and they're renowned for their quality, durability, and efficiency. The ceramic traps heat and moisture inside the grill so the meat won't dry out. After hours of slow cooking, your meat is bursting with juice and flavor.
Select grills come with additional features like the AMP FireBox that retains heat for hours, slide-out ash drawer that empties your ash in seconds, and aluminum vent that prevents excess air from escaping. The Divide and Conquer feature allows you to simultaneously cook different foods at separate temperatures.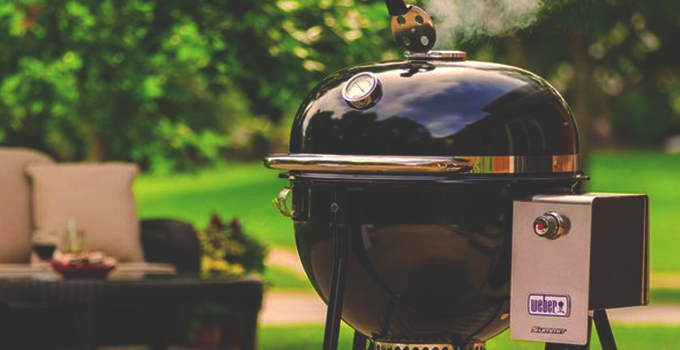 Weber Grills
Weber Grills keep it simple with sleek, efficient designs that focus on essential features. Select Weber grills are lightweight so you can take them on camping, fishing, and hiking trips without hauling around a heavy grill. Others feature the classic Weber design with new technology that makes cooking easier.
The porcelain exterior withstands rust, weather, and sun exposure while trapping heat inside the grill. Ash catchers and cleaning systems keep the grill free of debris, while glass, nylon, and aluminum reinforce the structure. Stick with the classic black, or experiment with different colors like green, copper, and ocean blue.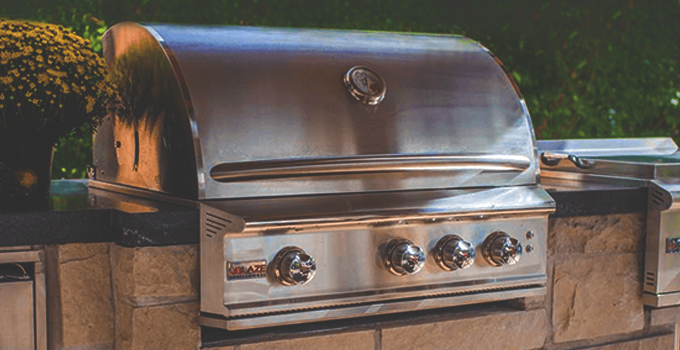 Blaze BBQ Grills
Blaze BBQ Grills offer plenty of space so you can serve large parties in your backyard. The sleek commercial design cooks restaurant-quality food at home without charging you for features that you don't need. To clean the grill, simply wipe down the stainless steel that's double-lined to maintain appearance and durability.
Additional features include a removable ashtray, adjustable vent, four cooking grates, and grate hooks that make it easy to add more charcoal. Adjust the trays to increase or decrease the food temperature while cooking. Check the built-in thermometer to ensure a consistent temperature without lifting the lid.