The History of Kamado Grills

Over the years, the kamado grill has been developed into a barbequing work of art that produces meat and vegetables grilled to perfection with unmatched flavor and juiciness. It's something very special that reached a sort of perfection in the old days, yet with further refining, these grills have advanced to a state of 21st century super-grill supremacy. So, with all this fanfare, you're probably wondering, what's so special about a kamado grill?
What is a Kamado Grill?
Kamado charcoal grills have a design uniquely their own in the grilling world. They're generally made of ceramics, which have tremendous heat-retention capabilities, and their shape is uniquely egg or cylinder-shaped.
Kamado enthusiasts have come to know that their unique ceramic construction pours the flavor into what's cooking, with no hot metal fumes tainting the meat. Also, a kamado's venting system makes temperature control a snap, allowing the grill master to work with temperatures between 225 and 750 degrees Fahrenheit.
Bake, smoke, or grill on a kamado grill, there are many tricks a skilled cook can use with these grills to produce unmatched flavor. Kamado grills offers many options and versatility in cooking. With all of this going for it, the kamado goes above and beyond the capabilities of any other grill.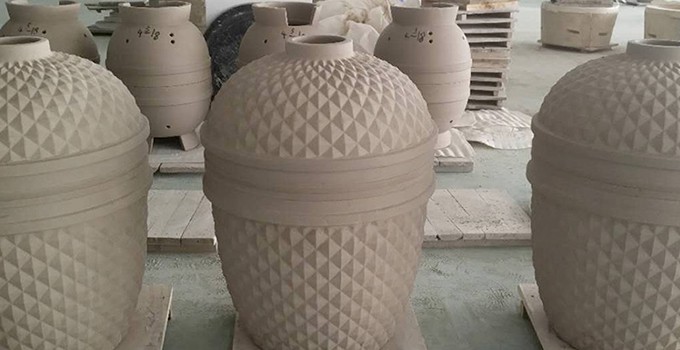 Origins of a Kamado Grill
The original kamado grill came about in Japan over 3,000 years ago. The very first cooking vessels that led to kamados were made of fragile clay. Over the years the domed lid and draft door became common features of kamados in Japan.
While they were originally called "mushikamados," which translates to "steam cookers," the term "kamado" became popular around the time of World War II, when United States servicemen brought them back to America from Japan after the war. Some of the servicemen started importing the kamado once they were home. By the 1960s, the Japanese kamado grill was being manufactured on a small scale in the United States, mostly for hobby use among grillers in the know.
The kamado was so special, it inspired industrious designers to add to the basic design. Today, good old American innovation has produced kamado charcoal grills that are among the finest grills available.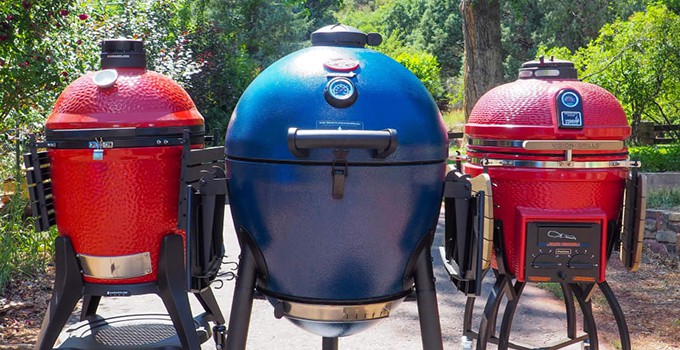 Modern Kamado Grill
The first serious kamado grills in the United States were made by the Big Green Egg company. These kamados use refractory ceramics, a space-age material that allows for a higher threshold of heat, topping out at 1,200 degrees Fahrenheit with some models.
Before long, numerous companies developed many kamados of all shapes, colors, and sizes, pushing the envelope of kamado design. Along with the variety comes innovation, like electric starters to help fire things up, and multi-level grill designs for a versatile cook space. Some grills include rotisserie attachments so you can put chickens on the spit, pizza stones for baking bread, or of course, making pizza.
Brands available today include Kamado Joe, Big Green Egg, Vision Grills, and Primo Ceramic Grills. Every brand has a character all its own, with its own set of features. Every grillmaster knows to sit down and consider which feature combination fits their needs best.
Popular Kamado Grill Brands
Several kamado grill companies offer cookers that are uniquely their own, with top-end grilling creations. There is something special about their kamado grills. Some grills have outstanding features, while some companies have developed a reputation for dependable grills that meet the needs of discerning grillmasters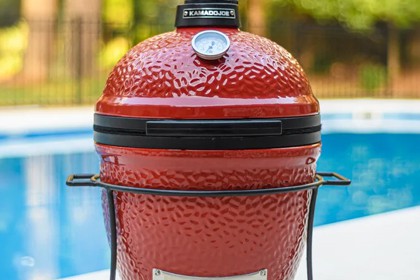 Kamado Joe
One of the leading kamado manufacturers, Kamado Joe offers feature-rich kamado charcoal grills to meet the challenges of the most sophisticated barbeque masters.
Versatile: Grill, roast, or smoke anything your heart desires! With its split-level cooking, multitasking is an easy breeze.
Large Capacity: Grill up to 20 burgers on the Big Joe grill or roast a feast of steaks, kabobs, sausages, and more.
Accessories: Kamado Joe include a pull-out ash pan, a rotisserie kit, and a lifetime warranty.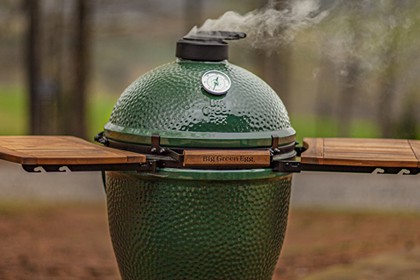 Big Green Egg
One of the leading kamado manufacturers, Kamado Joe offers feature-rich kamado charcoal grills to meet the challenges of the most sophisticated barbeque masters.
Large: Their largest grill can handle two 20-pound turkeys, 11 large chickens, or 14 racks of ribs at one time.
Versatile: Smoke meats and vegetables without cooking them, making the Big Green Egg a good choice for smoking-savvy barbecuers.
Warranty-Guaranteed: Offered with a limited lifetime warranty and 5-year metal parts warranty.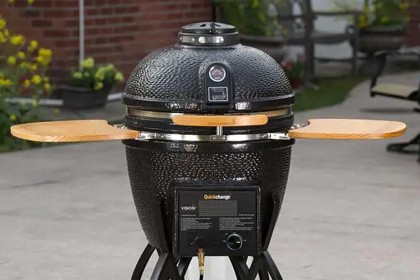 Vision Grills
Enter the 21st century with Vision Grills, a brand of award-winning modern kamado grills and designed with some of the most advanced features available.
Authentic Flavor: With charcoal-fueled cooking and ceramic construction, you can expect authentic flavor that will satisfy everyone.
Temperature Control: Grill like a pro with electric ignition and dialed temperature control to indicate smoking, grilling, and searing points.
Illuminated: Features LED lights to brighten your grill during the night.