How to Buy a Kamado Grill | Buying Guide

The kamado grill has a long history stretching back to ancient China and Japan and has retained its longevity, versatility, and superior performance to everyday use. Traditional kamado charcoal grills are made using ceramic, but you can find modern designs featuring metal construction.
However, if it's your first time, you may not know where to start and what you need.
Our experts have created this piece to cover the four crucial points to help you learn where to place your grill and choose the best grill shape. We also cover finding top brands and differences between ceramic and metal kamado grills.
Which Kamado Grill Shape Is For You?
Kamado charcoal grills have two common shapes: oval and round. However, most designs have a stunning resemblance, so you might think they are all the same. The shape affects how air/heat flows within the grill and overall performance, so the minor differences between models are worth noting. You can choose any shape depending on your preferences. Here are the key things to note about each build and its offers.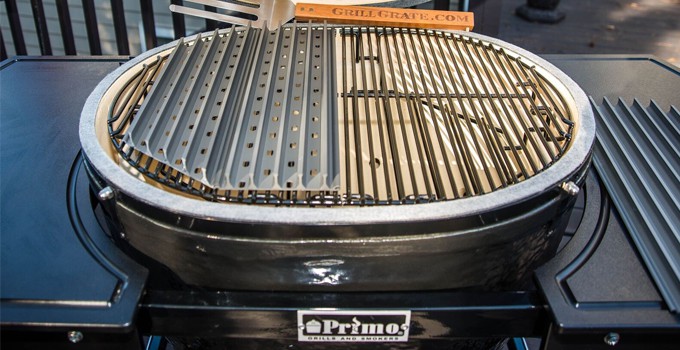 Oval Kamado Grills
Oval and round Kamado grills may appear the same, but the oval shape has many perks on a kamado grill.
Dual-zone cooking. You can place a center divider to cook some meals, such as grill burgers over direct heat from the charcoal and use indirect cooking for veggies and large meat cuts.
Versatile. The ability to leverage direct flames makes oval kamado grills more versatile.
One Size Fits All. Odd-sized foods, such as whole turkeys and briskets can fit perfectly in oval Kamado Grills. You can also cook with long-handled pans and pots or other strangely configured cookware.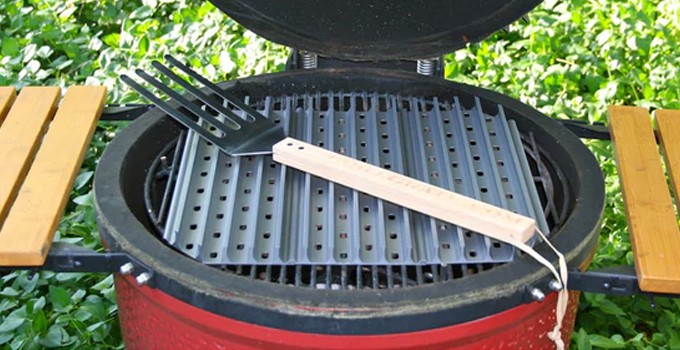 Round Kamado Grills
Round kamado charcoal grills aren't precisely round. Instead, they have an egg shape but radiate heat to a central point.
Uniform Heat. They radiate heat uniformly, which suits baking, smoking, roasting, or anything you can think of.
Multi-level Cooking. Some models feature racks with heat deflectors, meaning you can still achieve indirect heat within the charcoal grill. You can get both direct and indirect heat simultaneously.
Small but Mighty. Round kamados are generally smaller than elliptical models, but the smaller shape makes it perfect for portability and limited spaces.
Ceramic Kamado Grills Vs. Metal Kamado Grills
Ceramic and metal are the two popular materials available for the kamado grill. Ceramic is the classic/traditional choice used back before metalworking was possible. The modern ceramic grills offer more features and control and are the top choice for those seeking authentic kamado cooking. Metal kamados have also become popular and provide unique benefits and a way around the inherent flaws of ceramic constructions. Here's what to know about the two choices: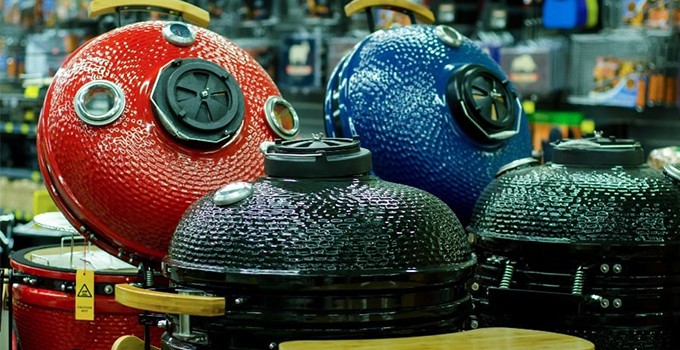 Ceramic Kamados
Ceramic offers excellent heat absorption and evenly radiates the heat back into the cooking chamber, making it highly fuel-efficient. Not only will you use less charcoal fuel, but you will also maximize the heat generated. Ceramic absorbs and radiates heat evenly and in a more controlled fashion, giving you exactly what you need for grilling, baking, and BBQ smoking.
While ceramic is a fragile material, don't let that discourage you from cooking on your own ceramic kamado grill. Its high heat retention provides you greater temperature control than metal kamado grills.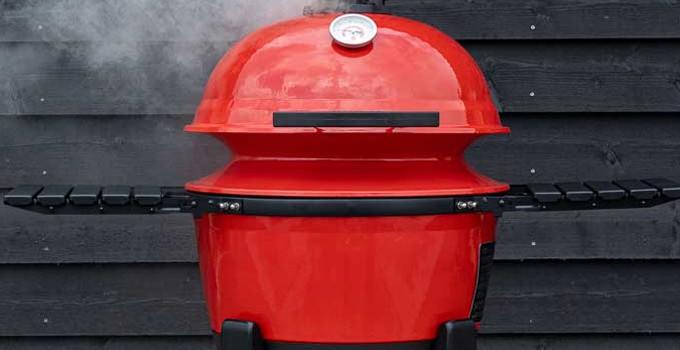 Metal Kamado Grills
Metal kamado charcoal grills are the only other option available and bear a distinct appeal, including the strength and reliability of the material. Steel and aluminum kamado grills are lighter and easier to move around. Metal grills will withstand the elements and survive explosive blasts. The structure reaches high temperatures quite fast, so you can control the internal temperatures.
Steel and aluminum won't retain heat as efficiently as ceramic, so they generally consume more fuel in the long run.
Setting Up Your Kamado Grill
You have two main options for setting up your kamado grill. You can purchase a movable cart or install the grill in a built-in unit in your outdoor kitchen. Each option has unique benefits and drawbacks, as illustrated below: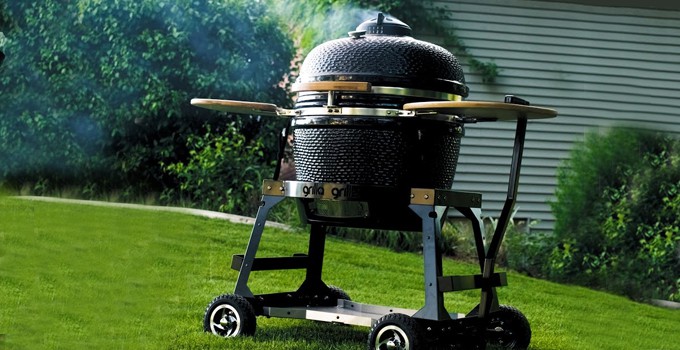 Kamado Charcoal Grills on a Cart
Placing your kamado grill on a cart is the popular choice for many families and comes with many advantages.
Mobility. You can move the cart anywhere, place them beneath a protective grill cover or store them in the garage.
Easy to Clean. Carts also make it easier to clean off the ash using a vacuum cleaner or standard dust broom.
Optimal Airflow. The top and bottom vents of kamado grill carts gives you the freedom to control heat and temperature.
Wide range of styles. Choose from cypress tables, stainless steel, and spider carts that best fit your personal style.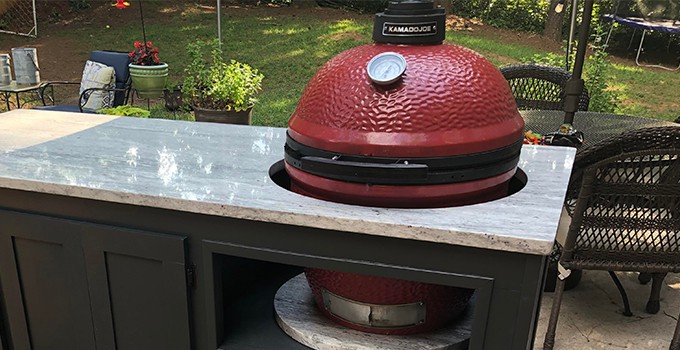 Built-In Kamado Charcoal Grills
If you have an outdoor kitchen, you can install the kamado charcoal grill in a built-in unit for an extra cooking appliance.
Two ways to install a built-in kamado grill: drop base and classic drop.
Precise cooking height and efficient airflow to make your cooking experience all the better.
Drop-in kamado grills work with BBQ island cutout and require access doors for easy cleaning and maintenance.
The access doors for improved airflow and greater temperature control.
Best Kamado Grill Brands
You'll encounter several kamado grills and brands, including ceramic, steel, and aluminum designs. Each brand also provides a range of options with unique features, sizes, and shapes. Labeling a single brand as the best might be subjective considering the varied preferences across families. Some designs suit specific needs, while others offer unique perks or general features like kamado accessories, hood lift assist, chimneys, and vent hoods. You can still identify top-rated models that suit your needs. Here's an overview of three popular and highly reputed brands for kamado charcoal grills: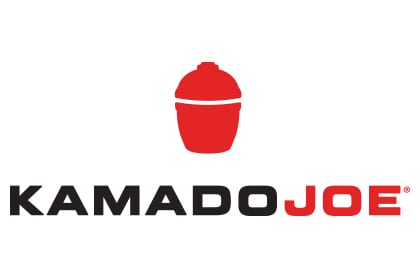 Kamado Joe
With collections such as Big Joe, Joe Jr., and much more, Kamado Joe is one of the leading brands for families looking for ceramic kamados. The brand has many kamado charcoal grill models with unique features, including an airlift hinge, wire mesh gasket, ash drawer, divide & conquer cooking system, hyperbolic inset, and control tower top.
Kamado Joe offers premium quality ceramic kamados with plush finishes and safe handling. Kamado Joe has many sizes to fit your built-in backyard space.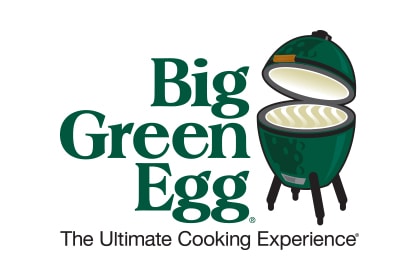 Big Green Egg
The Big Green Egg brand provides an impressive range of high-quality egg-shaped ceramic kamados and boasts more than 50 years of experience. Save more with BGE Kamados and still get premium designs and features. The kamados offer a simple starting point but are more famed for their safety and easy cleanup.
BGE focuses on providing sturdy cooking, and their kamados will last for many years. You can also find intuitive table packages, stands and nestles, for instant setup. The brand also boasts the largest selection of kamado charcoal grills.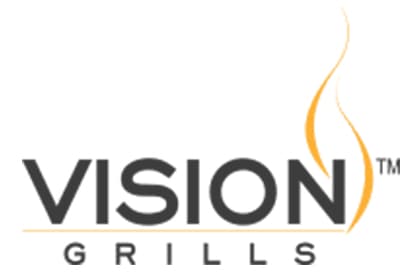 Vision Grills
Known for its Professional C and S and Diamond-Cut B series, Vision Grills is another noteworthy brand with top-quality kamado charcoal grill designs. The models are smaller and suit families looking for quick setup outdoor kitchen grills. You can move them around thanks to convenient casters.
Vision Grills also excels in adding visual appeal and texture to its designs. Their kamados are the most aesthetically pleasing with innovative features. You'll also save more and can pick from an extensive range of designs, shapes, and sizes.